The widespread availability of Over-the-top (OTT) messaging services has significantly impacted the telecommunications industry worldwide. Many countries, including India, have started analyzing the effects of OTTs. In the telecommunications sector, the dominance of voice services has been gradually replaced by data services with the rise of Internet Protocol (IP) networks. Surprisingly, data-powered communication apps such as WhatsApp, Telegram, Facetime, Google Meet, etc., offered by OTTs have encroached upon the voice business of traditional telcos, thereby impacting their revenues.
In its recent paper addressing the regulation of OTT applications for messaging and voice communication, the Telecom Regulatory Authority of India (TRAI) noted that this shift in India is part of a global trend where telecom service providers are experiencing a transition from voice and SMS to data as their primary revenue source, due to the increasing usage of OTT platforms for messaging and, to a lesser extent, voice communication.
Let's dig deep into the matter.
Monthly ARPU Structure of Wireless Service Providers
In the dynamic landscape of Indian wireless access service providers, a remarkable story of transformation unfolds when examining the average revenue per subscriber per month between 2013 and 2022. While the total average monthly revenue per subscriber surged 18.7% to reach Rs 146.96 between June 2013 and December 2022, a closer look reveals an intriguing trend.
In this digital age, it is data usage that steals the spotlight. Telecom providers reported a jaw-dropping spike of 1,148% in data usage in the last decade – between the quarter ending June 2013 and December 2022 – with revenue per subscriber per month skyrocketing from Rs 10.02 to an impressive Rs 125.05.
It's a breathtaking leap that showcases the power and influence of data in shaping the telecom landscape. Interestingly, the ARPU share of data usage has undergone a seismic shift, expanding more than tenfold from 8.10% in June 2013 to a commanding 85.1% in December 2022. This phenomenal rise signifies the immense significance of data as a revenue driver for wireless telecom subscribers.
However, the same cannot be said for voice calls and SMS. As internet-based calling and messaging apps gained widespread popularity, telecom operators witnessed a notable decline in revenue from these traditional services.
Over the past decade, the monthly ARPU from voice calls has taken a significant hit, plummeting by 79.6%. Similarly, the monthly ARPU from SMS has declined by a huge 94.2%. These figures paint a vivid picture of how internet-based alternatives have reshaped communication preferences among consumers.
The ARPU share from voice calls has undergone a noteworthy transformation, dwindling from 58.6% to a mere 10.1% of the total ARPU. Similarly, the share from SMS has diminished from 3.22% to a mere 0.20% of the total ARPU. It is clear that these traditional communication channels have lost ground to the rising tide of internet-based services.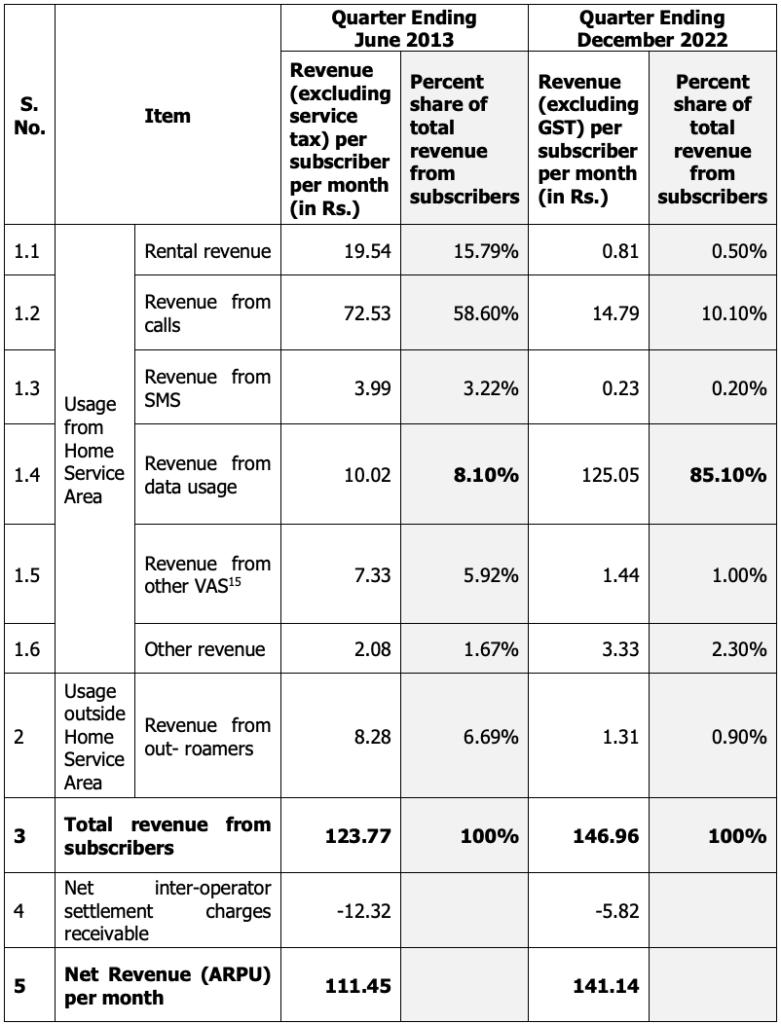 Another report from TRAI reveals that data consumption in India soared to unprecedented heights during the December quarter of 2022, with an average wireless data usage per subscriber per month reaching a staggering 17.11 GB. This is a 14.3% increase from a year ago period when data usage stood at 14.97 GB.
In this dynamic landscape, data usage has emerged as the dominant force, reshaping the revenue structure of wireless access service providers. The growing popularity of OTT applications and the allure of data-driven possibilities have propelled data usage to the forefront of telecom revenues.
As we move forward, it is evident that the era of data-driven communication is here to stay, revolutionizing the way we connect and communicate in the ever-evolving world of telecommunications.
Driving Forces Behind India's Soaring Data Consumption
The significant growth in data usage in India can be attributed to two major factors: the increasing number of smartphones and internet users.
Firstly, the proliferation of smartphones has played a pivotal role in driving high data usage. The number of smartphone users in India has witnessed a remarkable surge, reaching an estimated 829 million users by 2022. The accessibility and affordability of smartphones have enabled a large portion of the population to connect to the internet. With the advent of budget-friendly smartphones and the availability of low-cost data plans, more people have been able to access online services, stream videos, use social media platforms, and engage in various data-intensive activities.
Secondly, the rise in internet usage across the country has contributed to the surge in data consumption. As internet connectivity becomes more accessible and extremely affordable, people are increasingly relying on it for various purposes. This includes online communication, entertainment, e-commerce, education, banking, and more. The expansion of internet infrastructure, including the growth of broadband connections and the spread of 4G and now 5G networks, has further fueled the adoption of internet services across the country.
Reliance Jio and Airtel Bharti have played significant roles in driving the rapid adoption of 4G and 5G internet services across cities in India.
These factors have resulted in a substantial increase in the number of internet subscribers in India. The internet subscriber base has expanded more than fourfold, growing from 198.39 million in June 2013 to an impressive 865.90 million by December 2022.
This remarkable surge in internet subscribers in India signifies the rapid adoption of internet services by the population, reflecting the increasing digital connectivity in the country.
The increasing number of Internet users in India has led to a dramatic surge in broadband service usage, transforming the country's telecommunication landscape. Historically, voice telephony and SMS were the dominant telecommunication services in India until around 2012. However, the landscape underwent a significant transformation as internet services, particularly broadband, experienced extraordinary growth.
Interestingly, the broadband subscriber base in India has witnessed an astounding 55-fold increase, surging from a mere 15 million in December 2012 to an impressive 832 million by December 2022. The compound annual growth rate (CAGR) of the broadband subscriber base in India from 2012 to 2022 stood at an impressive 49%. This substantial growth underscores the nation's commitment to meeting the rising demand for high-speed internet services.
Explosive Rise in OTT App Offerings
India is the world's second-largest telecommunications market, boasting a significant number of telephone subscribers. As of March 31, 2023, the country had a staggering 1.172 billion telephone subscribers.
The shift in consumer preferences from traditional telecommunication services to OTTs, particularly in messaging, can be attributed to several factors. One of the key reasons for the surge in OTT-based applications is their ability to offer a wide range of features that go beyond the conventional offerings of voice and video-based internet-based calls and messaging.
For instance, Instant messaging services provided by OTT applications offer more comprehensive functionalities such as "one to many" broadcast messages, enabling users to reach a larger audience with a single message. Additionally, they provide private or direct messaging options, allowing individuals to engage in one-on-one conversations.
What sets OTT messaging apps apart is their extensive capabilities, including the ability to send voice and video messages (e.g., WhatsApp, Facetime, Skype), leverage geo-location information for messaging purposes (e.g., Ola, Uber, Zomato, Swiggy), and facilitate photo sharing (e.g., Instagram, Snapchat).
Overall, the rise of OTT applications in messaging and other domains is driven by their ability to go beyond conventional voice, video, and messaging services.
The unprecedented rise of OTT streaming platforms such as Netflix, Disney+ Hotstar and Amazon Prime Video in India has played a crucial role in increased data consumption, especially on mobile devices. They all are leaving no stone unturned to entice Indians by offering their services at quite affordable prices. For example, Netflix's mobile-only plan in India is available at just Rs 149. At the same time, the role of online shopping and social media apps in growing data consumption can't be ignored either.
India's telecommunication industry continues to evolve, fueled by the growth of data usage, the popularity of OTT messaging applications, and the surge in broadband services.
Now it will be interesting to see how traditional telecommunication service providers will adapt to the changing dynamics and competition from OTT messaging platforms. And what innovations and advancements can we expect in telecommunications as India strives to enhance digital connectivity and bridge the digital divide!