Meta-owned WhatsApp has revolutionized the way people communicate by providing a user-friendly messaging platform. Although WhatsApp has many advantages, spam continues to be one of its most considerable downsides. It poses a big challenge for its users who wish to maintain their messaging experience streamlined and hassle-free. To give users a more secure experience, WhatsApp will soon roll out a new feature dubbed the "Expiring Groups". This feature, currently under development, will remind users to delete the group after a set duration, ensuring that groups remain relevant and free of unnecessary messages over time.
WhatsApp has been plagued by spam for quite some time now, and the problem persists through various means. In addition to receiving unsolicited calls from unknown numbers, users are often bombarded with messages from unknown numbers that may contain unwanted content, such as promotional or advertisements.
As a result, WhatsApp is now concentrating its efforts on offering the best user experience while assuring safety.
Apart from this Expiring Groups feature, Meta Platforms, Inc. (NASDAQ: META) is also developing a "Silence Unknown Callers" feature that will allow WhatsApp Android users to silence calls from unsaved contacts. This silence calls feature is still being developed, and is expected to be released soon for testing.
How does WhatsApp Expiring Groups feature work?
Until now, anyone can create a group on WhatsApp and add a number of friends and family members to it. This group will continue to exist until the group owner, who created it, deletes it or all members exit. However, the WhatsApp Expiring Group feature allows the group owner to set a deadline to delete the group.
In other words, the WhatsApp Expiring Group feature will simplify and secure the user experience.
WABetaInfo discovered that WhatsApp recently submitted a new update, version 23.5.0.71, through the TestFlight beta Program. This beta version includes a new feature called "Expiring Groups" that is still being developed, in addition to several bug fixes and general improvements.
This feature will allow WhatsApp users to set an expiry date to clean up the group. Users can select different group expiration options in the settings, such as a one-day, one-week, or custom duration. Once the expiry date arrives, WhatsApp will send a prompt to "clean up" the group chats. There will also be an option to remove the expiration date if the group owner changes his/her mind. However, it's important to note that this personal decision will not apply to other group participants.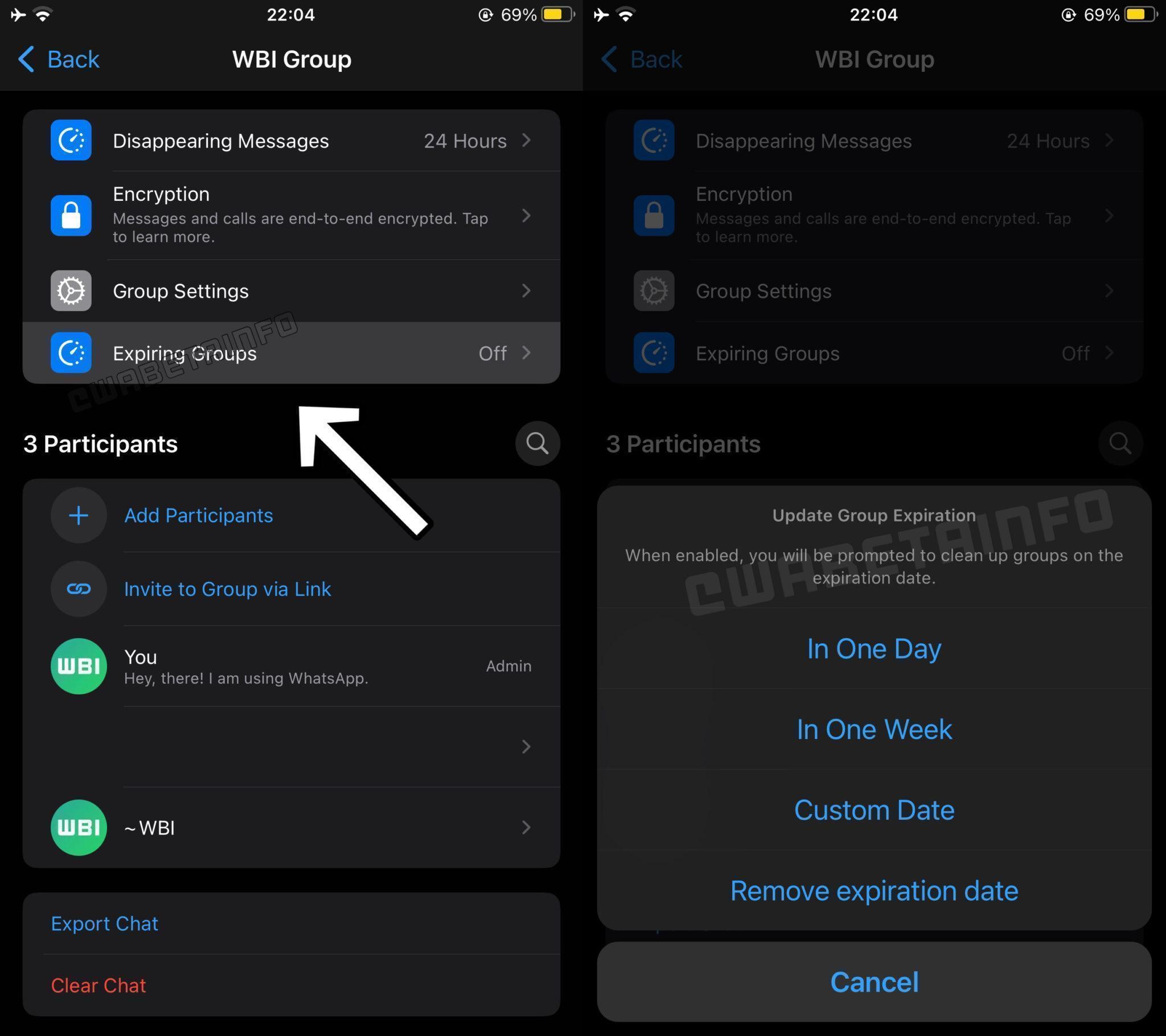 The Expiring Groups feature by WhatsApp currently appears to be the best solution for users with multiple inactive group chats cluttering their WhatsApp. Every WhatsApp user is a member of at least one WhatsApp group, which contains hundreds of idle chats about birthday party invites, former classmates, ex-colleagues from past employment or any business discussions for past conferences.
With the rollout of the Expiring Groups feature, users can declutter their WhatsApp, thereby reducing the size of their chat backups and simplifying migration to a new device. This feature is a significant step towards an improved user experience and better storage management.
In addition, WhatsApp is currently testing another new feature that would allow users to edit messages that have already been sent, a function already available on platforms such as Telegram and iMessage. Furthermore, the messaging platform owned by Meta is developing a newsletter feature, which will enable creators to send messages to many users, similar to the channels feature on Telegram.
Bottom Line
WhatsApp's introduction of Expiring Groups is the company's latest attempt to offer its users the ability to send self-destructing messages. For users who frequently share sensitive information or content they wish to keep private, WhatsApp already provides several features on its messaging platform, including disappearing messages, message recall, and restricting image viewing to a single recipient.
The Expiring Groups feature benefits users with inactive group chats that take up unnecessary space on their devices. Additionally, this can help maintain user privacy by ensuring that sensitive information shared in group chats does not remain accessible to individuals who may not have been authorized to view it.
Although the WhatsApp Expiring Groups feature has been released on the iOS TestFlight beta program, no date has been set for its general public release. WhatsApp has yet to announce a rollout date for the feature, which means it is only available for iOS devices enrolled in the TestFlight beta program.
Whatsapp's commitment to enhancing user experience and ensuring user safety is evident through its continuous development of new features. By prioritizing user needs and listening to feedback, the company is making strides to keep its users engaged and satisfied. With new security measures and user-friendly features, WhatsApp is on track to maintain its position as the world's most popular messaging platform. Overall, this dedication to user satisfaction shows that WhatsApp is a company that values its users and strives to meet their needs.