Meta-owned WhatsApp has revolutionised the way we communicate with each other! It's a lifeline that connects you with your friends, family, and colleagues, no matter where they are in the world. However, some unpleasant and unwanted things always come with good things. WhatsApp messages, especially from unknown numbers, may include advertisements or spam. According to the latest survey by LocalCircles, 95% of WhatsApp users in India have reported receiving at least one spam or promotional message every day.
Shockingly, 41% of them even receive four or more annoying messages on a daily basis!
Since 2021, LocalCircles has been receiving complaints from WhatsApp users in India regarding unsolicited commercial messages, and these complaints have been on the rise in 2022. To quantify the issue, LocalCircles conducted a user survey in late 2022. The research firm escalated this issue to the Ministry of Electronics and Information Technology (MEITY) while including the Telecom Regulatory Authority of India (TRAI) in the correspondence.
Despite the complaints from WhatsApp users, no action has been taken by MEITY and TRAI to address this issue. Therefore, LocalCircles conducted a follow-on survey to determine if the situation had changed. Over 51,000 citizens in 351 districts of India responded to the survey, with 61% of respondents being men and 39% being women. 44% of respondents were from tier 1 districts, 35% from tier 2, and 21% from tier 3 & 4 districts.
Circulation of spam messages on WhatsApp on the rise
The first question in the survey asked WhatsApp users how many promotional or spam messages they received on their phones daily. Surprisingly, a whopping 95% of the 13,462 respondents reported receiving at least one unsolicited commercial message on WhatsApp daily. This suggests that a significant number of people in India use this messaging platform to either promote their businesses or scam people.
The report further highlights that 54% of surveyed users received between 1 and 3 spam or promotional messages on WhatsApp daily. This is followed by 30% of users who received between 4 and 7 unsolicited commercial messages daily, while 11% received as many as 8 or more such messages.
Only 5% of these surveyed Indians can call themselves lucky as they received no unwanted spam or promotional messages on WhatsApp.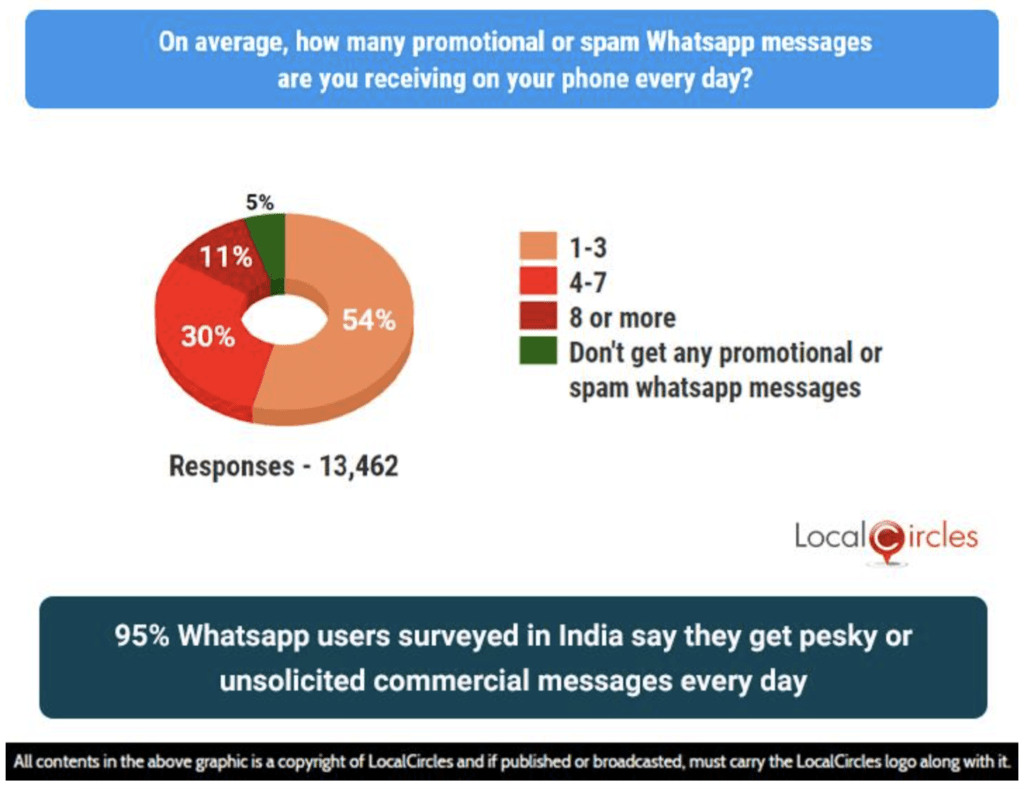 Industry-wise promotional/spam messages on WhatsApp
A whopping 73% of the total 13,437 respondents claimed to have received WhatsApp messages about selling financial services, while 69% received related to selling real estate. Another 58% reported receiving messages about employment or wages, while 54% reported receiving messages about healthcare and pathology services.
Other spam messages included RO repair, spa, beauty and massage services (38%), online gaming (25%), mobile talks/data plans (23%), and other unspecified categories (25%).
A survey question about how to handle promotional or spam messages on the WhatsApp app revealed that 73% of 12,673 respondents blocked unwanted numbers. Another 3% archived such chats, 5% muted them, and 19% ignored them.
About 76% of surveyed 12,215 WhatsApp users have reported an increase in unsolicited commercial messages based on their conversations with WhatsApp business accounts and their activity on Facebook and Instagram.
60% saw a definite increase in spam messages, while 12% felt no such thing. The fact that users are still receiving such messages despite the privacy policy is concerning.
In a nutshell
Overall, the LocalCircles survey reveals that 95% of WhatsApp users receive unwanted commercial messages regularly, with Indian users reporting the most common topics being financial services, real estate, job opportunities, and healthcare services. Despite 76% of users utilizing the block or archive feature, the problem persists. Additionally, 76% of users report seeing unwanted messages based on their activity on WhatsApp business accounts, Facebook, and Instagram. This is a concerning issue, especially with the new privacy policy allowing for relevant advertising on Facebook/Instagram based on WhatsApp business chats but not directly on WhatsApp in the form of unwanted messages.
On October 14th, 2022, the Supreme Court of India dismissed the pleas made by WhatsApp and its parent company Meta Platforms, challenging an ongoing investigation by the Competition Commission of India (CCI) into the messaging platform's 2021 privacy policy. However, the court stated that the antitrust regulator's investigation could not be halted or stopped from passing final orders.
In 2021, the CCI investigated whether WhatsApp's privacy policy compromised the protection of individualized data. At the same time, the Government of India also asked WhatsApp to clarify whether the platform conducted profiling of users in the country. As a result, the government requested that WhatsApp withdraw its new privacy policy, citing concerns that its proposed changes could "make invasive and precise inferences about users."
The shocking statistics show that Indian WhatsApp users are concerned about their privacy and data security on the platform. Therefore, the social media company should take its users' feedback seriously and take the necessary steps to address the issues.