Currently, Social Media connects over 2 billion people of the overall global population. In spite of being the only digital medium that interconnects such a humongous number of people, Social Media Marketing accounts only 9.9% of overall digital marketing budgets, as seen in The State of Social Marketing 2015 report created by SimpleMeasured. However, industry experts have estimated that by the next 5 years social media marketing will account up to 22.5% of the overall digital marketing budgets.
Social media has come a long way from being a mere online networking platform generally used as a dating platform in its early days into a global platform today that marketers are using for branding, business networking, lead generation, and a vital sales funnel component. Although, social media has evolved to be an essential part of our lives, it is still in its infancy when it comes to being fully adapted to a separate division of marketing.
The Role of Social Media in Marketing Strategy
With a troop of 76,000 social media professionals globally, companies around the world have started giving the much-needed importance to the field of social media marketing. These professionals emphasize more on improving engagement on their company's social media profile to help their brand reach the targeted audience in the market. Social media marketing is no longer about making friends/followers/fans and building networks but it has evolved as a new expertise through which professionals can raise awareness about their brand, drive engagement, set goals, and build opportunities for new customers and generate leads.
The rise of social media marketing at a professional level can be easily reviewed by the new hierarchy set up by major brands worldwide to assign different tasks for each social media professional in their respective workforce. As per the SimplyMeasured report which involved over 350 social media marketers, the role of a Social Media Manager is the most favored in the corporate world according to 60% of all the respondents.
Many of these companies also hired social media professionals for the role as Director of Social Media (28%), Community Manager (30%), Social Media Strategist (31%) and Social Media Analyst (23%). This division of different roles assigned for a social media marketing team itself proves the vastness of social media as a platform. It no longer is a job of a single person. As newer social networking platforms and tools emerge, catering to each one of them is a big task in today's scenario. And to make the most of it, proper strategic planning and analysis is required before executing any tasks. Looking at the Social Media Marketing Industry Report 2015, though 92% of marketers have admitted that social media was important to their businesses and 90% also reported an increase in exposure of their brand or business, companies shying away from having a robust team addressing all requirements of digital marketing is bound to affect them negatively.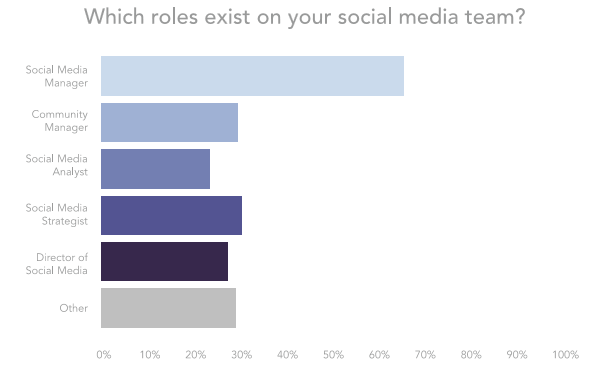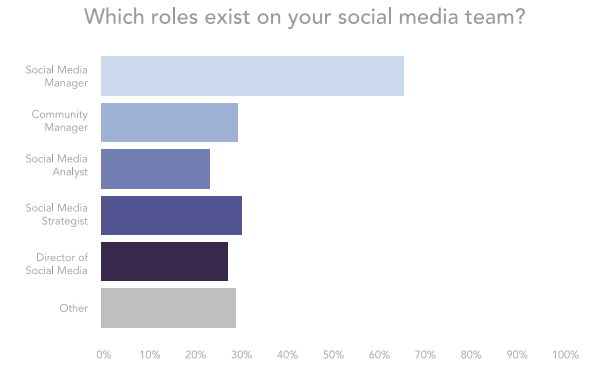 Also, in spite of so many different roles introduced in the field of social media marketing, many companies still don't believe in hiring a large enough team of professionals to optimize it's potential. In the survey, social media marketers answered that 65% of the teams only have 1-3 professionals dedicated to social media.
According to the Social Login Trends observed in Q1 2015, most consumer brand-focused sites with a social login capability have reported having an increase in engagement. 53% of businesses that spend six or more hours a week on social media marketing campaigns have reported increase in sales, which is a testimony of the fact that fulfillment of the sales cycle can now be integrated well into the digital marketing efforts.
Social Media Challenges in 2015
Social Media is a growing platform that currently connects more than 28% of the World's total population. Every major brand around the world is aiming to target their customer base through social media. However, in spite of having a good team of social media professionals, they are facing some tough challenges while quantifying their efforts.
In another survey partnered with TrustRadius involving 600 social media marketing professionals, SimplyMeasured found the three major challenges faced today by the marketers:
Estimating the ROI from social media campaigns
Lack of faith in Social Media for specific business outcomes
Not enough technologies or tools to quantify social media activities
In order to raise the budgets for social media campaigns, it is a must for the marketers to estimate the ROI from these campaigns. Unlike other digital marketing fields such as Web, Email or Paid, Social Media is tough to analyze in numbers, as it is hard to tell what update could go viral among the followers and what won't. Hence, 60% of all the marketers surveyed placed "Measuring ROI" as the biggest challenge.
Given the nature of social media that solely relies on influence and nature of the content, companies are finding it tough to rely merely on the platform for its goals. The primary goal of a social media campaigned is considered as "Improving Brand Awareness" according to 71% of all the respondents in the survey while less than one-third are focused on generating leads (32%) or drive conversions (28%). As a matter of fact, "Brand Awareness" has been the sole driver for all kinds of businesses whether small, medium or large enterprises engaging in social media marketing till now.
Owing to an absence of a full-fledged social media analytics tool on the web, Marketers often have to rely on multiple technology applications to appraise their social media activities. According to the survey, 65% of the respondents relied upon native analytics offered by social media networks while 62% used 3rd party tools like Hootsuite or Buffer. 59% respondents also agreed that they often used a web analytics tool such a Google Analytics to gauge their social media efforts while 46% believed in manual efforts using spreadsheets.
The Current Scenario
Today, YouTube holds the title for 100% adoption rate among the Top 100 Global Brands whereas Twitter and Facebook fix their position at 2nd and 3rd position with 98% and 96% adoption rate respectively.
Looking at the current trend, Facebook at 1.44 billion MAUs and Youtube at 1 billion MAUs record the highest number of monthly active users compared to any other social media platform. In spite of low monthly active users compared to Facebook and YouTube, Twitter is also among the favorites as 98% of the top 100 brands are highly active on this micro-blogging social platform.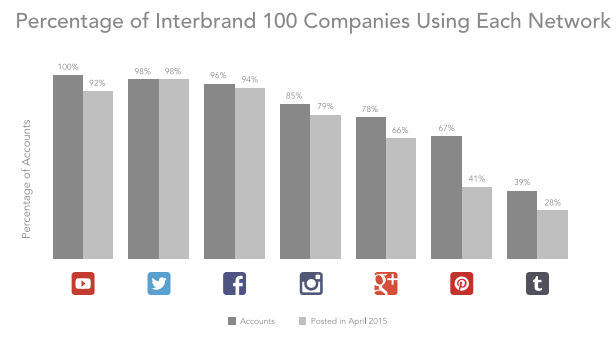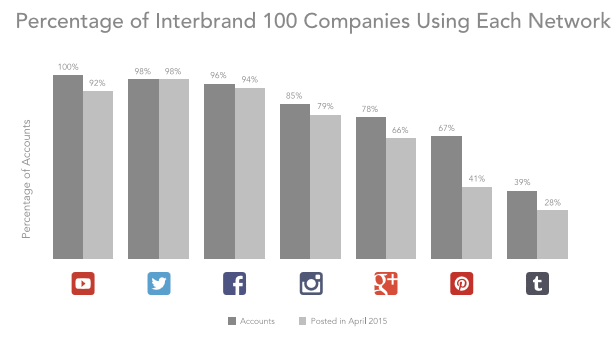 Finding Instagram in the 4th place with 85% adoption rate and 79% brand activity among the top 100 brands, it is clear that today brands are not just focused on a single media or content format but exploring different types of content media in order to influence and improve brand identity.
The Big Shift
While awareness and engagement is one thing, all sellers look at their P&L statements to judge revenue through sales. To make the most understood ROI parameter available to weigh among other aspects, these Social Networks have started to include Buy buttons (Google Buy button, Pinterest Buy It button), Selling options (Facebook Group Sell Something option) and other call-for-actions that result in end-of-the-line fulfillment.
All these point at the same direction. The adoption of Social Media Marketing is not enough. A more focused, well strategized and well executed approach is required to take utmost advantage of this marketing trend. And this calls for team work. And all potential consumers with money to spend, are asking the same question, "Where IS the team?"