The world's online population continues to indulge into social media sites. There is no slowing down with the way social media is becoming an integral part of our daily lives. GlobalWebIndex (GWI) have been minutely putting down figures, quarter after quarter, giving us a detailed insight of how each social networking portal is shaping up, what is their user base, and who out beats whom!
Along with networking sites, the world has become app-centric. There is an app for everything. Among all, messaging apps have received the most recognition in the last 12 months. GWI surveyed around 170,000 internet users across 32 countries and compiled report of Q1 2015, we get a grip how the social face is changing, globally.
The top highlights of the report are:
Almost 1 billion active social networking users across 32 countries are aged between 16-64. While PC/Laptops, to login into social media, are facing a steady decline, mobiles and tablets are on high rise, fuelling the growth of social networking sites steadily. Reports suggest, almost half of the user base of Facebook Inc. (NASDAQ: FB) logged in using the official app.
Gone are the days when focus was concentrated on one thing. In this era of multi-tasking, average internet users have around 5 accounts and use almost 3 every month. Despite multi-networking gaining momentum, Facebook remains unbeatable. Outside of China, 9 out of 10 internet users have a Facebook account..
GWI's research across various platforms conclude that half of the account holders are active users, except for Google+. Facebook, although is leading, has seen a decline in the number of active users.
YouTube surpassed Facebook in terms of visitation rates, with YouTube having 3 times more monthly visitors as active users.
Active users on Facebook are more likely to converse with their friends, in comparison to G+ or Twitter Inc. (NYSE: TWTR) , since the number of 'Likes' is more than the number of hits on '+1' or 'favourites'
Top Activities of Social Media Users
Facebook happens to be the only big networking platform that experienced a drop of 9% in 2014 in its active user base. In Q3 2014 report by GlobalWebIndex, 45% of the total Facebook users and 50% of teens said they used Facebook less because now they are getting bored. With Multi-networking setting in, 91% of the users between age groups 16-64 (Excluding China) visited other channels like YouTube, Facebook, Twitter or Google+. Almost 19% have reportedly visited all four.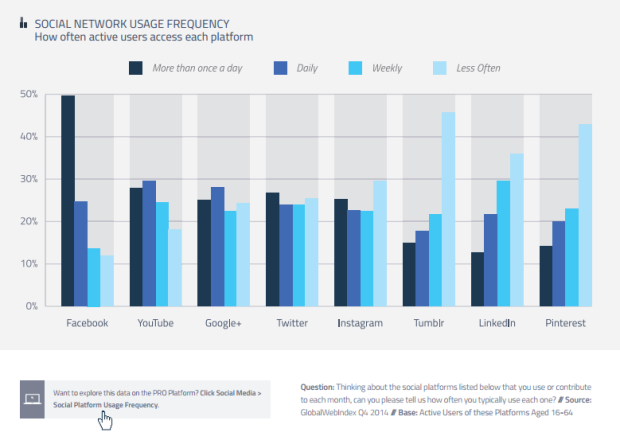 Tumblr and Pinterest are rising in terms of number of users. Outside China, more than 80% of internet users have a Facebook account. Google+ has a low ratio of 36% of active users only in comparison to other networking sites. For other sites, almost half the account holders are also the active users. Twitter and YouTube have more active users every month in comparison to Facebook.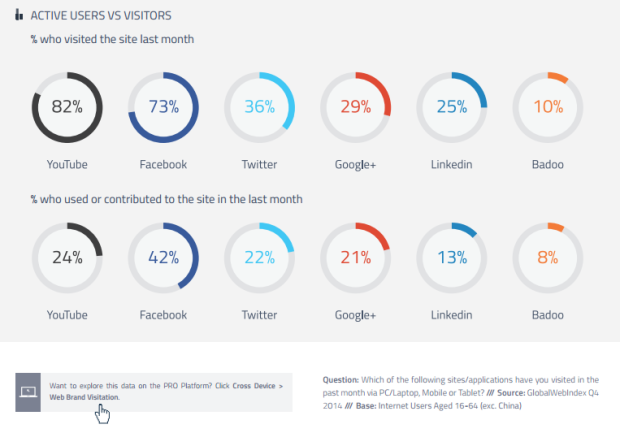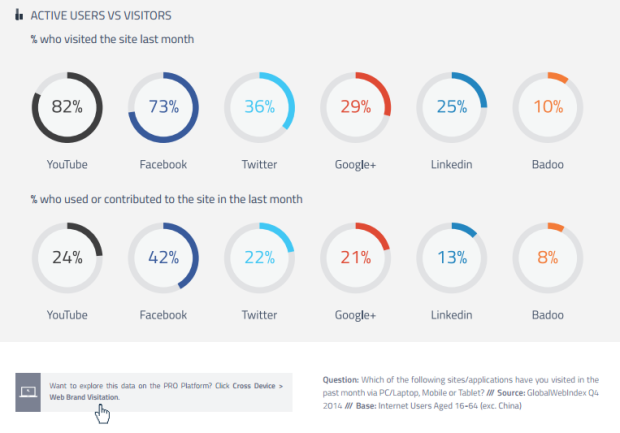 Facebook still takes the lead with more number of 'likes' than users on Google+ or Twitter hitting +1 or Favoriting. Hence, Facebook is still top in terms of user interactions.
Out of 10 users, 3 started following a brand on Facebook. With Twitter, the number id one-quarter and Google+ has 20% of users who started following a brand. However, it also calls for notice that almost 25% of the total Facebook users unfollow the brand pages.
Only 33% of active users click on the +1 button in Google+ while 70% of the Facebook users are prone to clicking 'Like' button.
Facebook Is On Decline While Others Rising
In the last quarter of 2014, active users on Tumblr and Pinterest rose steadily with an increase of 120% and 111% respectively, closely followed by Instagram with a rise of 64% from the first quarter 2014. Almost 40% of Facebook users had said that they simply log in to browse through the news feed for updates, without having posted any updates or comments recently. Despite being one of the biggest networking platform, Facebook showed a steady decline from Q4 2013 to Q4 2014.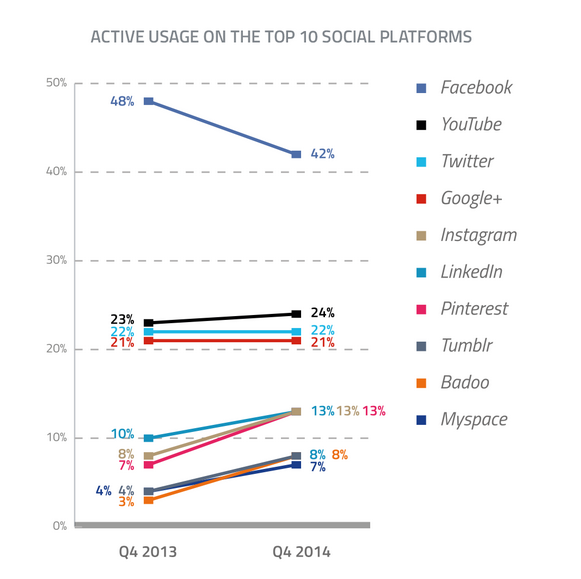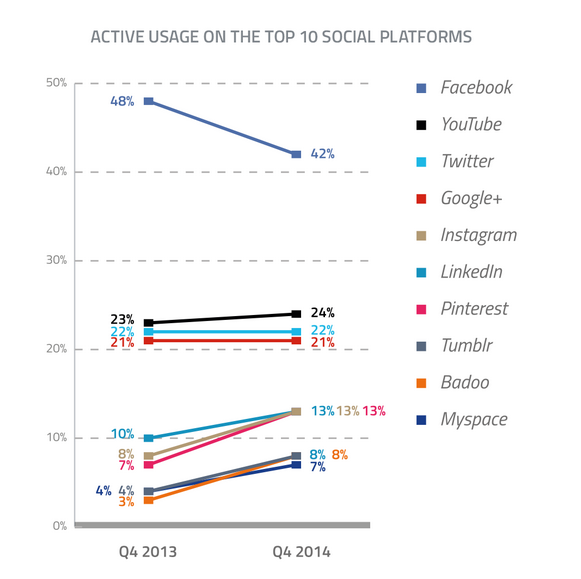 When Facebook's messaging app acquired Whatsapp at a whopping $19 billion, it painted a clear picture of Mark Zuckerberg trying to split its services out into a constellation of mobile apps. Facebook has turned into a passive hub. The burning fact that most people are using Facebook app to log in in-turn justifies the low engagement rate. This is because, while browsing from the phones, users are devoting very less time. All they manage to do is maybe 'like' a photo or two. GWI survey indicates the maximum slide among teens, who cease to do much on Facebook. Janson Mander, head of trends on GWI says Facebook is not being abandoned, but "People are using Facebook less intensively or actively than before".
The reasons for this decline have been documented by the rise of other social media apps-
The steady rise of Instagram has acted as a catalyst for people to migrate from Facebook when it comes to posting photos.
Popularity of messaging apps like Whatsapp or Snapchat indicates that people have taken their conversations on other platforms now.
The foremost reason is the increase in the number of Smartphone users. Browsing on small screens have led to time constraint. People are more prone to just swipe down or browse than typing out a comment. Facebook is now home to the passive form of engagement, where people prefer to look through than have a real-time interaction.
This trend has led Facebook to make their revenues strong. Since, users are now more into "browsing down/up" or rather 'look through', it is more evident that Facebook ads will catch eyeballs. This in-turn ensures steady in-flow of profit.
The reason Instagram and LinkedIn got a boost in its active user base, 47% and 38% respectively, is because people are in search of more niche networks that they can easily connect to via Facebook. Of all, it was YouTube who walked away with the winning cup with an 82% share of internet users outside of China visiting and sharing videos every month. YouTube is closely followed by Facebook at 73% of the total internet population.
Social Media will continue to be an important part- whether it is business or personal life. The unfaltering need to'share' is sure to stay. However, the competition is now growing fierce, with social giants like Facebook and Twitter trying to retain their market and other social sites like LinkedIn, Pinterest, YouTube competing hard to grab the spotlight.