The Q3 2014 report released by GlobalWebIndex (GWI) has pointed out that instant messaging apps like Snapchat, WhatsApp and Facebook Messenger are growing rapidly. In most cases, they were seen to be growing at the cost of networking sites. It also showed how teens are moving away from Facebook, preferring to be active on 'younger' platforms like Tumblr and Instagram instead. Meanwhile, mobile usage has also been seen to be on the rise.
GWI studied 170,000 internet users from 32 countries to present this report on latest trends in social networking before presenting this report, which is a valuable resource on levels of engagement across various social platforms as well as current behavior across devices and age groups.
Though Facebook Remains the Most Popular Networking Site, Teens Are Bored Of It
While Facebook continues to be the most popular of all networking sites, its popularity is waning, particularly among the younger people. Almost half the respondents say they do not frequently use the site as often as they used to earlier. The rate of those visiting the lesser than before was much higher (almost 64%) in the case of 16-19 age group or the teens that make up the site.
The top reason for all US and UK based audience now staying away from the popular platform was cited as, "I'm just not as interested in using Facebook as I used to be." The figure was 45% overall though it rose to 54% in case of teenagers. The second reason i.e. "I'm spending less time on social networks generally" was cited by 43% of the total audience (37% in case of teens).
37% of the respondents said they were bored of Facebook, with the figure climbing to 50% in case of teens.
28% said they were avoiding the site because of privacy-related concerns, though that reason deterred only 18% of the teenagers from logging in to their Facebook accounts.
Facebook users are becoming passive as well. Since the last two years, photo sharing and messaging between friends on the networking site has fallen by nearly 20%.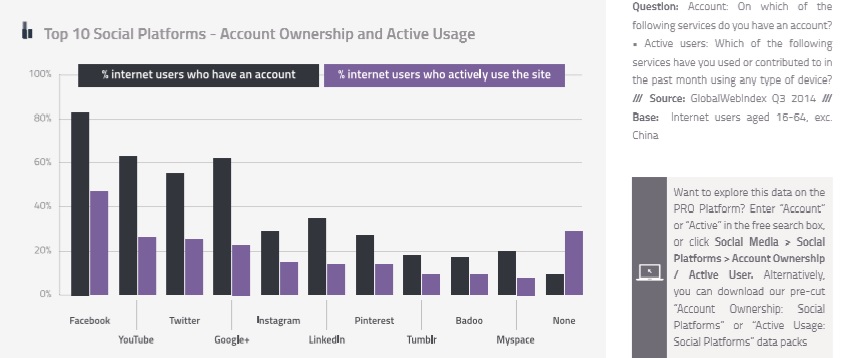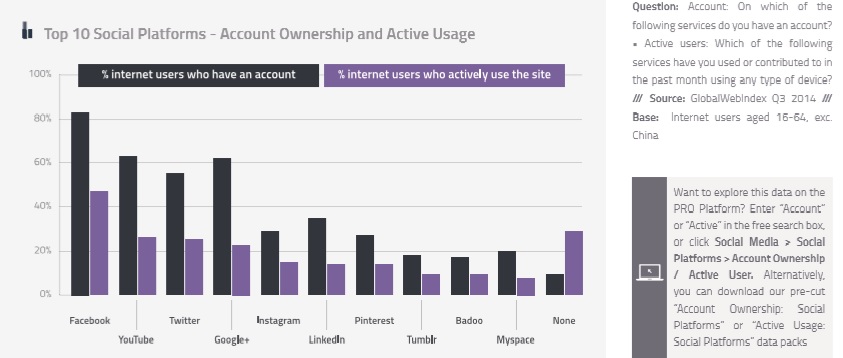 In spite of all those gloomy figures, Facebook is entrenched firmly as the king of all networking sites. Almost 80% of internet users outside of China have a Facebook account, the site being most popular in Latin America where 93% of active internet users were seen as having a Facebook account.
Not only that, Facebook is bigger than the next three sites – Twitter, YouTube and Google Plus – combined in terms of monthly active users.
Nine out of every ten users in the 16-24 age group from across the world excluding China (91% of them) were seen to be active on more than one social sites. 19% of them said they were active on all four most popular sites namely Facebook, twitter, YouTube and Google+.
Tumblr, Pinterest and Instagram Audiences Grew at the Fastest Rate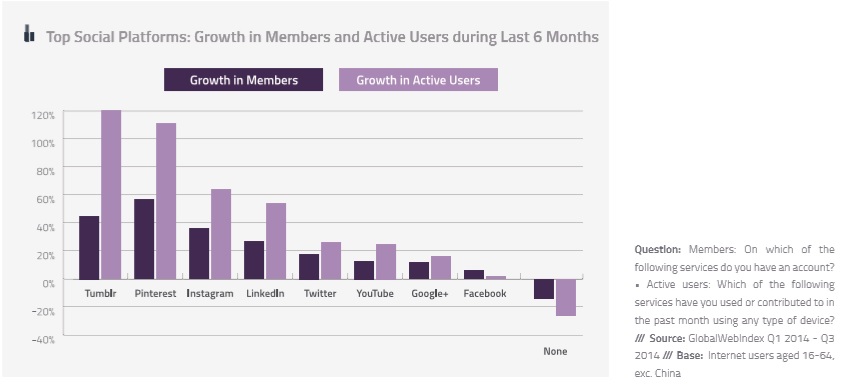 Tumblr user base has more than doubled over the last six months, and shows a growth rate of 120% since Q1 2014.
While Pinterest users have also more than doubled in number the growth is slightly lower (111%) in the case of the popular pinning site.
ALL social networks saw an increase in active usage during Q2 and Q3 2014, thanks to the World Cup fever gripping audiences across the globe. the soccer extravaganza became a major talking point in the online space. The number of people who did not have accounts on any of the 35 leading networks covered by the GWI report fell by 14% during this period.
Similarly, the number of people who were not active users of any of the networking sites also fell by 26% during the last six months.
Facebook is the only networking site which is showing a fall in the active usage among the 16-24 age group. Though a 0.5% fall can hardly affect the colossal site, the downward trend becomes a cause of concern when viewed together with rising audiences for other sites.
Tumblr and Instagram have the Youngest Audiences Than Facebook
Tumblr has the youngest audience out of all networking sites, with 38% of their users falling in the 16-24 age group.
Instagram is not too far behind. 37% of their users are also less than 24 years of age.
In case of both Tumblr and Pinterest, a greater part of their audiences are younger. 70% of the Tumblr users and 71% of Instagram users are less than 44 years of age.
60% of YouTube viewers are less than 44 years of age, with 31% of them falling in the 16-24 age group.
Of all the social platforms, the Facebook audience is the oldest. 46% of their users were seen to be above 44 years of age.
Snapchat Registered the Fastest Growth Rate among Social and Messaging Apps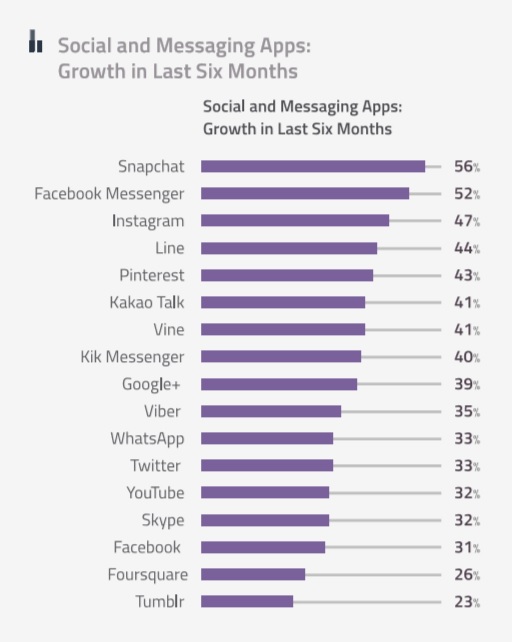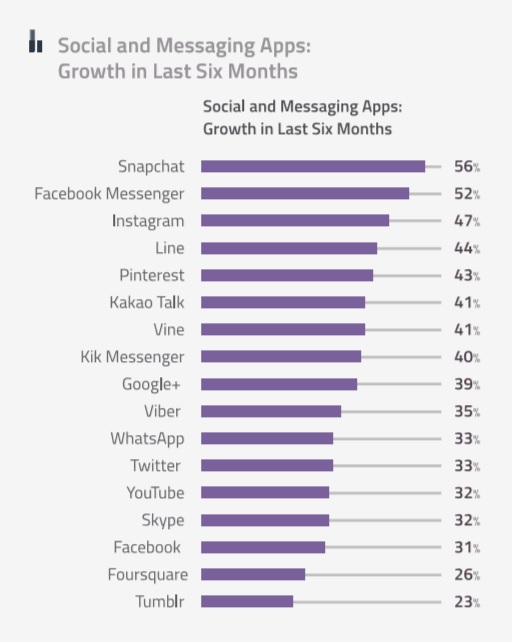 Though WhatsApp is the most popular messaging platform in the world with 600 million users and it registered an impressive growth rate of 33% over the last six months, the rate of growth was slow as compared other chat messengers.
The most impressive growth rate was seen in the case of Snapchat- it grew by 56%, with Facebook messenger at the second place when talking of growth rate. It touched the 500 million user milestone, growing at a rate of 52%.
Facebook messenger was second in terms of user base as well.
As in the case of the main site, Facebook's standalone messaging app was not seen to be very popular with teenagers. They tended to prefer Snapchat more than any other chatting platform, "with the highest usage rates among this audience coming in key markets such as the UK, Canada, the USA and Australia (where the figures range from 25-40% among online teens, often putting Snapchat ahead of Facebook's messaging apps). Snapchat also has the youngest audience of any social or messaging app."
Mobile Usage Continues to Rise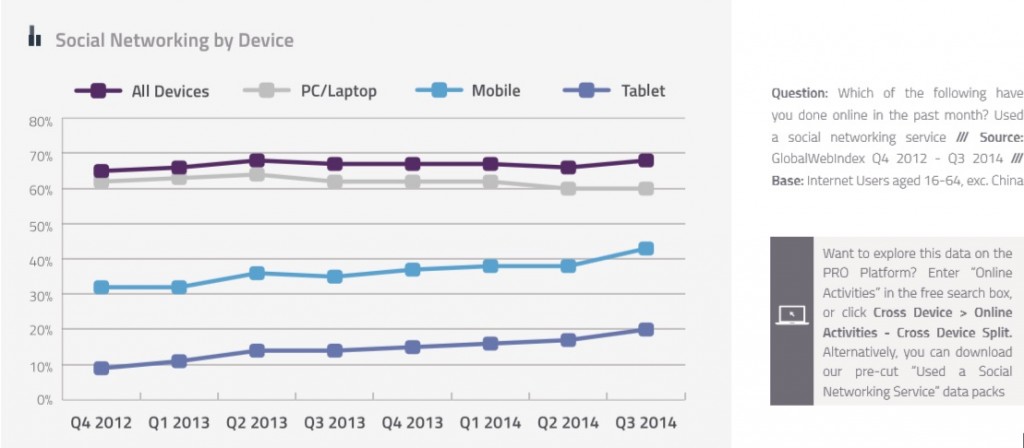 The audience accessing the networking sites over smartphones and tablets registered an increase, as compared to PC/ laptop users- they were seen to be losing ground.
Maximum logins to social sites continued to be affected through computers- almost 60%.
The difference was not very pronounced by sex- male and female audiences showed similar patterns. The difference was more pronounced in terms of age of users. users in the 16-34 bracket had a huge lead (52%) over other groups with the older audience (55-64 age group) were seen to be the worst performers with only 19%.
Mobile users were seen to be the most young and prosperous as well. "It's also within the top income quartile (49%) that this activity reaches its peak."
Striking variations were also seen at regional and national levels. More than 50% of the users from Latin America and Middle East and North Africa (MENA region) were seen to access networking sites through their mobile devices. Only 38% of their European and North American counterparts were seen to be doing so.
Mexico is the global leader while talking of logging in from mobile devices, with 70% of their population choosing to do so. All thirteen markets where a majority of logins to social sites were through mobiles are fast growth nations.
Takeaway
Though the leading networking site, the section of the society which is most important to the growth of any platform (i.e. the youth) is deserting Facebook for other networks like Tumblr and Instagram. Either the owners of this site need to introduce some sweeping changes to make the site more appealing to the younger section once again or else die a slow and painful death.
The site owners also need to address the privacy concerns of users, due to which the users are moving over to other networks where they are assured greater privacy.
Chatting and messaging apps have contributed to the decreasing popularity of Facebook in a big way- people find It convenient and safer to share messages, pictures and videos with each other personally and in groups of like minded people over apps like WhatsApp and Snapchat. But since the other networks continued to grow inspite of the presence of these apps, Facebook looks like heading for a tough time.