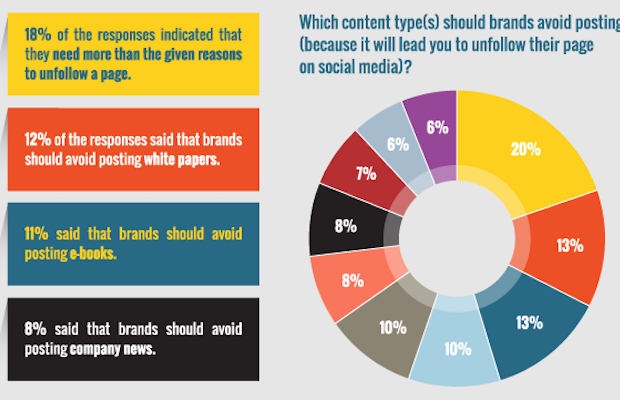 There is no doubt that online businesses are turning to social media sites in order to increase followers and retain them. Marketing Donut Contributor recently released an infographic showing how social media can be used to leverage the B2B business in 2015. While brands are becoming more conscious in managing their online presence, another trend that is setting in is the 'Unfollow Algorithm'. Although Facebook Inc. (NASDAQ:FB) took the lead with 1.35 billion users in the last quarter of 2014, surprisingly Facebook has the highest rate of unfollowing among all the social media sites.
Fractl and BuzzStream recently conducted a survey of around 900 social media users to get an overview on why people unfollow brands on social networking sites. Some interesting findings are:
Facebook has the highest unfollow rate of 25%, followed by Twitter Inc. (NYSE:TWTR) at 12%.
19% respondents said they unfollow a post on Facebook is content is repetitive or boring. Also, if updates are too frequent, say more than 6 posts, then they unfollow.
21% unfollow social media sites due to repetitive content.
Around 8% said to leave Twitter due to lack of customer engagement.
Almost 28% people unsubscribe from emails because their inbox gets crowded and they want less clutter; while 33% unsubscribe due to overly frequent emails.
39% think brands are likely to engage with them if they follow on Facebook while 27% think nothing much will change in terms of engagement.
On Twitter, 36% think brands will engage with them in real-time conversation while 33% are of the view that no change will happen.
Most people simply unfollow the brand, without doing anything else. 20% of the respondents agreed that they hide the brand's posts from their news feed, while only 12% said they issue a tweet mentioning the change.
From the survey, it became a clear picture that if the content is repetitive or boring, and brands are unable to conduct real-time customer engagement, customers will leave without a second thought. There are few more interesting findings that brands should take notice of-
22% social media users prefer images while 15% vouched for videos.
Only 14% are interested in company news and only 7% are interested in e-books and white papers.
12% of social media users said companies should avoid posting white papers while 11% said they do not want any e-book posts.