Everything coming from this social giant creates a ripple in the internet industry. And why not? When one-fifth of the world's population hangs out here, sparks are bound to fly. Yes, we are talking about Facebook Inc. (NASDAQ:FB); the online social networking titan hits the headlines on Tuesday with its announcement of rolling out a new messenger feature- in-app money transfer to friends for free.
Want to send money to your friend? Or Waiting for your friend to send you money? Facebook hopes that you opt for the messenger app instead of using other payment services. The social networking site mentioned loud and clear, no charges will be incurred for any transactions. Users will need to feed in their MasterCard or Visa debit card details. Once done, they can send money by tapping the dollar sign while conversing over the messenger itself. Hence, Facebook cleverly rules out the need to shift to some other app for money transfer. All can be done here, on messenger itself.
For now, Facebook has introduced the new service only to its users in the US, however, it's not so difficult to believe that after settling the initial hickups, the service would be extended to all of its users across the globe.
Will Money Transfer Feature be helpful for Facebook?
Though Facebook rolled out compulsory messenger download to chat on smartphones, the number of messenger users is not satisfactory. Despite having a user base of 1.41 billion, only 500 million users are on messenger, as reported by Statista. This new revelation from Facebook can be touted as another step to bring in more active users to messenger.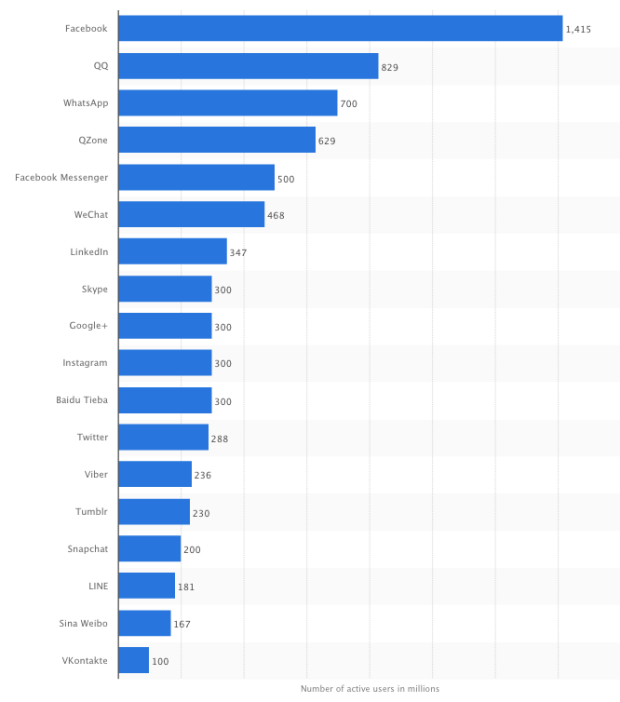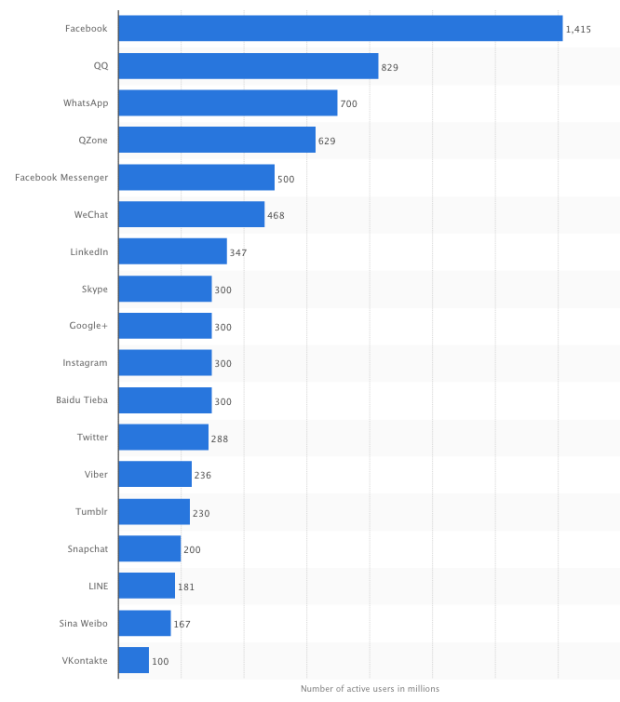 The social giant is all geared up to venture into a market that is already overcrowded with money transfer apps like, Venmo – an authorised delegate of PayPal. But, needless to say, with the kind of user base Facebook boasts, every other competitor is sure to feel the wave. It was only last year in November that ephemeral messaging app SnapChat joined hands with payment processing company Square to introduce SnapCash. SnapChat users could transfer dollars to their friends at the touch of a button. Similarly, PayPal's Venmo and Square's own money transfer app, Square Cash allows users to transfer money and splitting bills by linking their debit cards.
It can be vouched for that Facebook's attempt to club in money transfer feature with messenger will let Facebook dominate the mobile app messaging industry. This is not the first time Facebook tried to take over mobile app industry. The acquisition of Whatsapp last year was one such attempt to leverage its own online presence.
Facebook is NOT trying to build a payment business
The technology that Facebook is looking to implement in its messenger app is almost similar to PayPal's Venmo, but it would be wrong to state that Facebook is up on building a payment business. Facebook earned a revenue of $3,598 million in Q4 2014, as per Earnings Report from Facebook. What pushed Facebook to add this new feature is to encourage more user engagement.
Even Facebook couldn't ignore the potential of M-Commerce
It needs no explanation that people are now in search of apps for everything. They do everything on-the-go, whether it is shopping or interacting with friends or conducting a business meeting. The app market is already crowded, and we can expect more to feature in the app stores in the coming days. Instead of building a stand-alone app, Facebook decided to integrate money transfer feature with its existing messaging app. The first question is, why? Why did Facebook feel the need of introducing this feature?
The answer that automatically pops up is- smartphone users are increasing steadily. Thanks to 3G and 4G networks and cheap prices of Smartphones, the number of Active smartphones users will cross the 2.6 billion mark by 2016. More than 1.2 billion units of smartphone were sold on 2014 alone, reports Gartner.
This is the time for mobile payment.
Google Inc. (NASDAQ:GOOGL) introduced its mobile payment service, Google Wallet sometime in 2011. In its first years from the launch, the company failed to create enough traction. However, in the last twelve months Google Wallet has started gaining grounds and has tied up with number of merchants, including Visa and MasterCard, and made it available in every major market and on every growing platform and devices.
Chinese smartphone maker Xiaomi, also known as Apple of China, who had sold more than 53 million smartphones in 2014, is also testing a mobile wallet. However, to make it more adorable by mobile users the company has reportedly decided to pay interest on the amount people maintain in its wallet.
After the US, India is the second largest country for Facebook by the number of users. It is also the fastest growing smartphone market in the world with over 200 million smartphone devices and 930 million mobile subscriptions. The country is witnessing a sudden boom in the adoption of a mobile wallet service, especially after the exploded adoption of community apps like Uber and OlaCabs. E-commerce giants Flipkart, Myntra, Snapdeal are trying to push the envelope further. Consequently, Mobile payment apps such as PayTM, that recently got an investment from Ratan Tata, and a whopping investment of $575 million from Alibaba, are steadily proceeding to soon out beat e-commerce giants like Flipkart and Snapdeal. PayTM allows its users to have money filled its cloud wallet so that any payment can happen on the go. Even if money is not credited in the wallet, by entering card details and saving it once, can ensure smooth payment services whenever needed. PayTM has over 25 million active wallet users and supports almost 3,00,000 transactions on a daily basis.
It takes no Einstein to see how mobile apps are growing. Along with apps, mobile wallets are gaining popularity. In such a time, Facebook's decision to club the payment feature with its messenger is sure to upscale its messenger app usage.
Facebook will take care of the Fraud risks
Nothing comes without some amount of risk. As mobile payment solutions are getting popular, so are the risks of frauds. Avivah Litan, VP and prominent Analyst at Gartner addresses this issue in her blog. Ms.Litan proclaims this being one of the weakest issues in the m-commerce industry. However, Facebook highlighted during its announcement that this issue will be taken care of very seriously. It will employ an anti-fraud team to supervise all transactions, and that these records will be stored separately.
Facebook already advocates more than 1 million transactions every day on its website. For security reasons, Facebook will allow only debit cards to be used for this feature at this moment. This not just reduces the fraud risks but also does not incur any additional charges, unlike Venmo that lets users transact money with credit cards in return of 3% fees on each transaction made.
Facebook's new payment feature will be available in few months to iOS, Android and Desktop users. The company believes, people have so many conversations regarding paying rents or bills on messenger. Why not let them end these conversation on messenger only, rather than having them shift to some other app!
Once Facebook releases the feature in US and worldwide, it will be worth noticing if users will comply and carry on their transaction over the messaging app.