Across the five largest European markets 17% of smartphone buyers made the switch from Apple Inc. (NASDAQ:AAPL) iPhone to Galaxy S5. However, the marketing strategies of Samsung Electronics Co., Ltd. (KRX:005930) have somehow failed to make Galaxy S5 the largest selling smartphone in Britain. The device still lacks behind Apple iPhone 5S and iPhone 5C, claims Kantar Worldpanel Comtech in its latest Smartphone Sales Report Of 3 months, ended May 2014.
"The Samsung Galaxy S5 has had some success in attracting former iPhone owners across Europe.  In general, consumers buying the Galaxy S5 were primarily attracted by its large screen size. This is something Apple is likely to address with the rumoured larger screen iPhone 6 launch expected in late September," said Dominic Sunnebo, strategic insight director at Kantar Worldpanel ComTech.
The sales of Android smartphones has again delighted Google Inc. (NASDAQ:GOOG) as Android share in the EU5 market went up from 71.8% in the three months, ended on May 2013, to 73.3% for the same period in 2014, recording a Y-o-Y growth of 1.5%. The EU5 countries include UK, Germany, France, Italy and Spain. Apart from Android, iOS and Windows Phone devices also witnessed a marginal increase.
Windows Phone maintains its Growth in Six Countries
Despite of having a low market share, Windows Phone OS has maintained a small but positive year-over-year growth in Great Britain, France, Australia, Italy, Japan and Spain. In Spain, the share of Windows Phone sales more than doubled from 2.1% in the quarter ended on May 2013 to 5.4% for the same period in 2014. Since the smartphone penetration is already high in these developing nations, urging the users to switch from their existing devices to Windows Phone is not a feasible move. In spite of all such factors, Windows Phone has managed an impressive show except in Germany, USA and China.
Chinese users largely lean towards low-priced Android smartphones from home-grown vendors, and very few OEMs are dealing in Windows Phone OS powered devices. However, Microsoft's recent strategy to offer free Windows Phone OS to all smartphone and Phablet vendors could influence the presence of Windows Phone devices in positive way.
iOS Fails to Entice Consumers in Homeland
Call it lack of innovation, strategies or marketing gimmicks but Apple has failed to capture the market in a big way, although the fact that it is the only OEM dealing with its own operating system, iOS, and still having a sizeable market share is no less feat. iOS has registered gradual, but positive growth in Great Britain, France, Australia, Japan, Spain, EU5 in general. In Spain, it has almost doubled its market share to 6.2% in the quarter ended on May 2014 from 3.7% in three months ended May 2013. Spain and Australia are the only markets where all the operating systems, except Android, have registered a positive growth.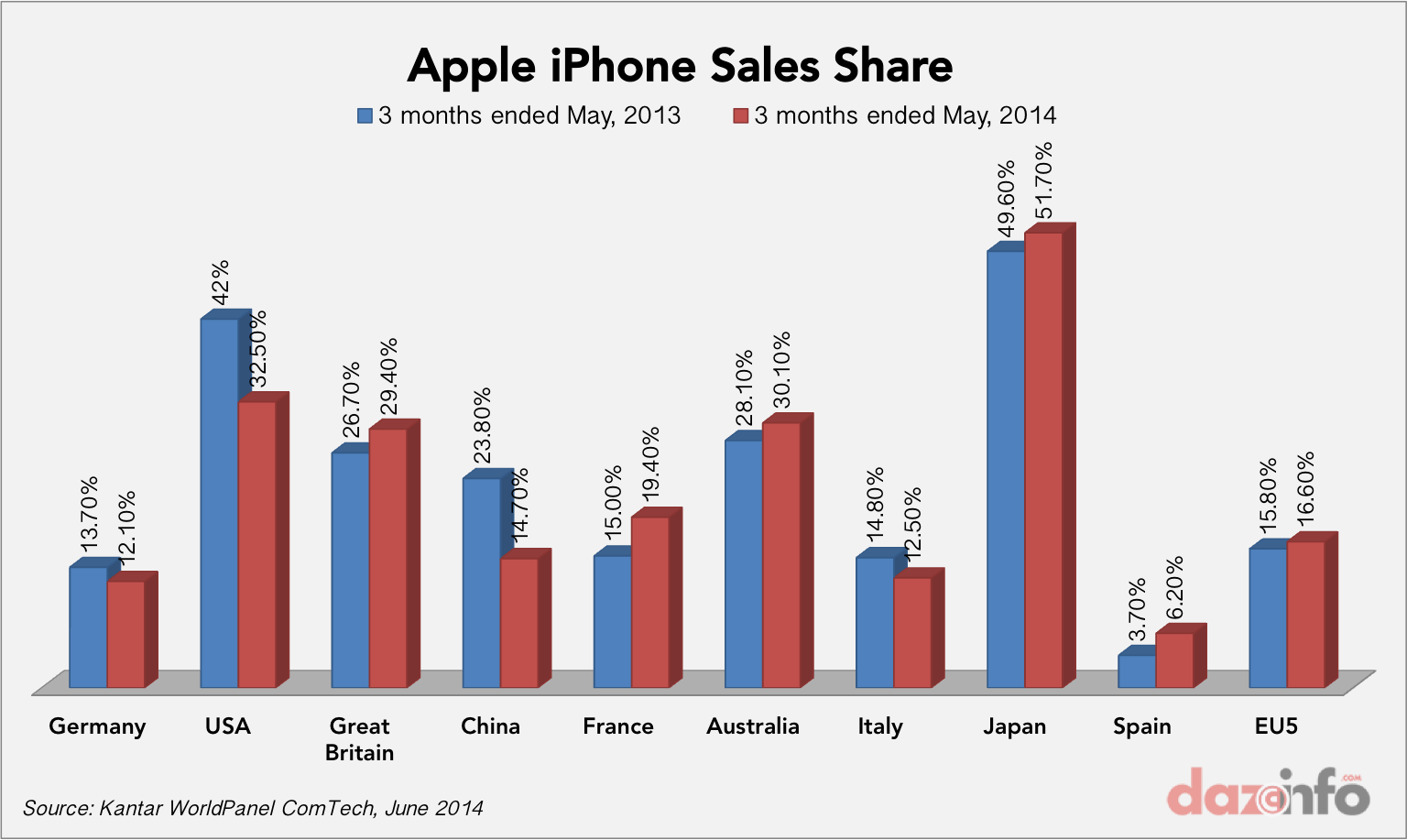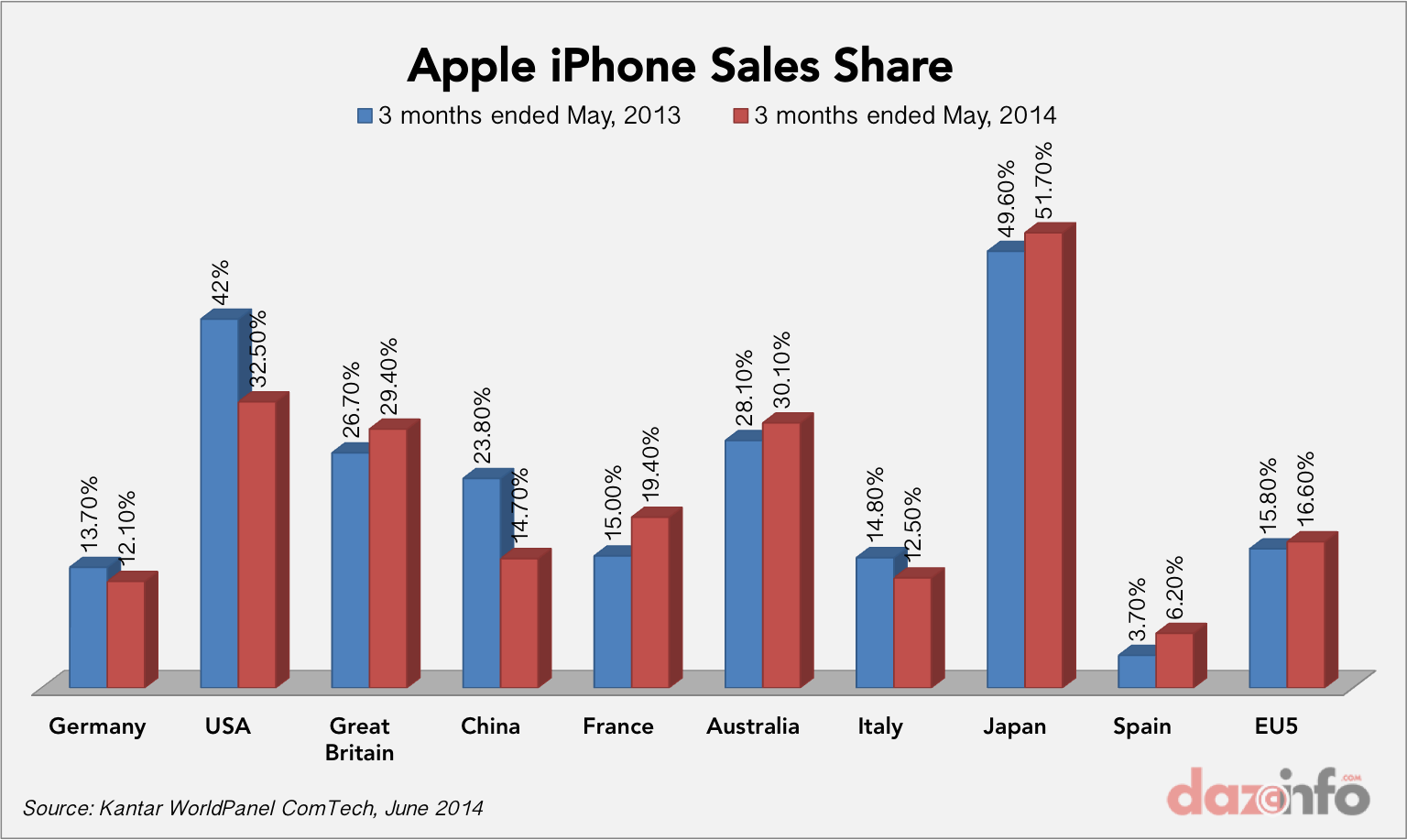 The decline faced by Apple in the major markets, such as USA and China, can't be ignored. Last year, for the same quarter ended on May 2013, China was one the biggest markets for the iPhone maker. But now, since the advent of local vendors that deal in low-priced Android smartphones, no other OS is able to make a mark in the country. As the smartphone shipments in 2014 is expected to reach 450 million in China, Apple needs to rework its strategy in the country if it wants to sustain in the rapidly changing market. A similar phenomenon was observed in USA where Android grew at the cost of iOS. In three months, ended in May, a year-over-year decline of almost 10% in both the countries is a cause of concern for Apple.
Android Continues to Lead the Pack
The sales of Android powered devices grew in all countries except France, Spain and Australia. However, the sales-share of Android smartphones is more than two-third in all these three countries, including 87% in Spain. In almost all the countries, barring Japan, the smartphone sales share of Android-powered devices hovers around 60% or more; in Japan, it has not even reached 50% while in China and USA, the growth of Android smartphones remains phenomenal at 11.3% and 9.9% respectively.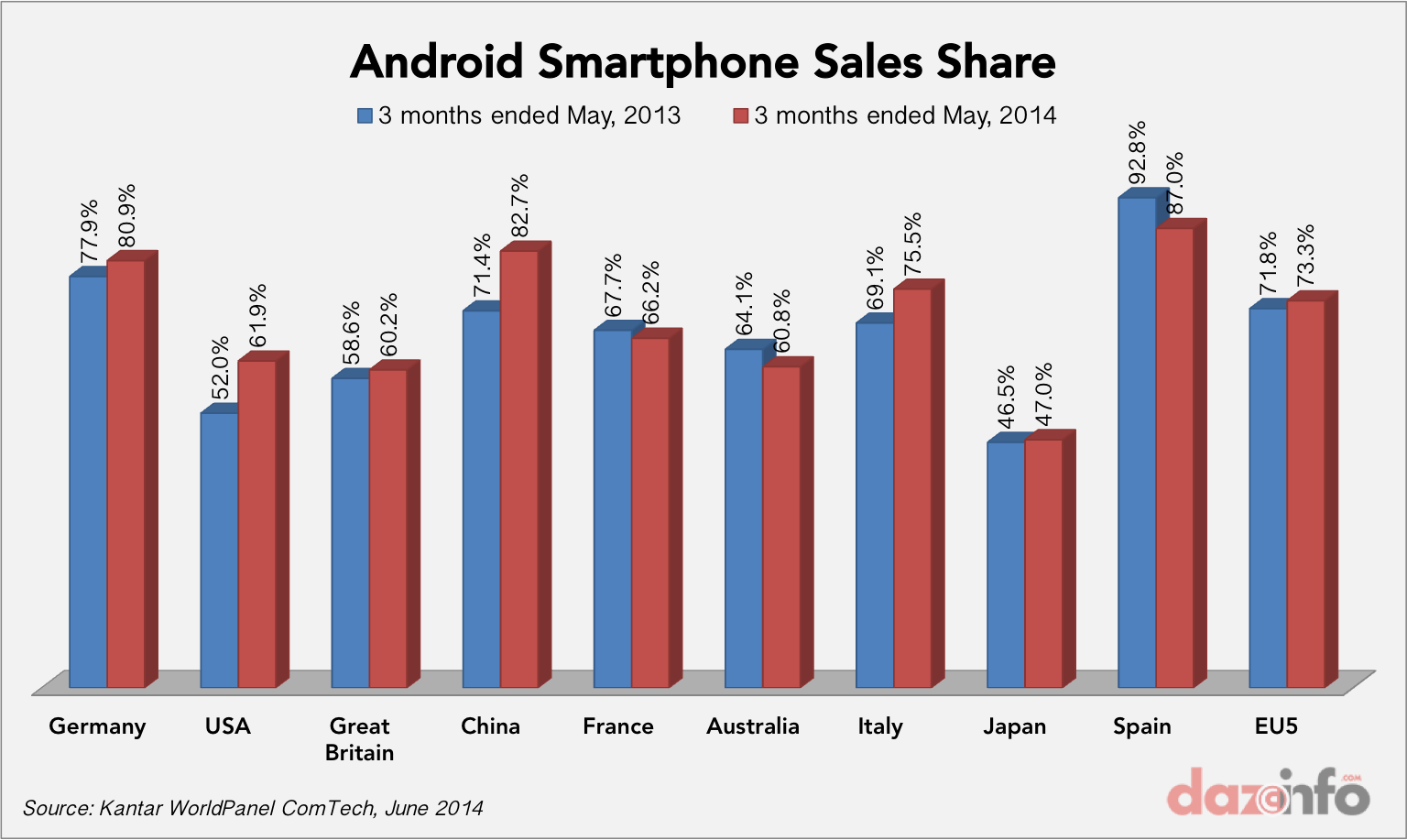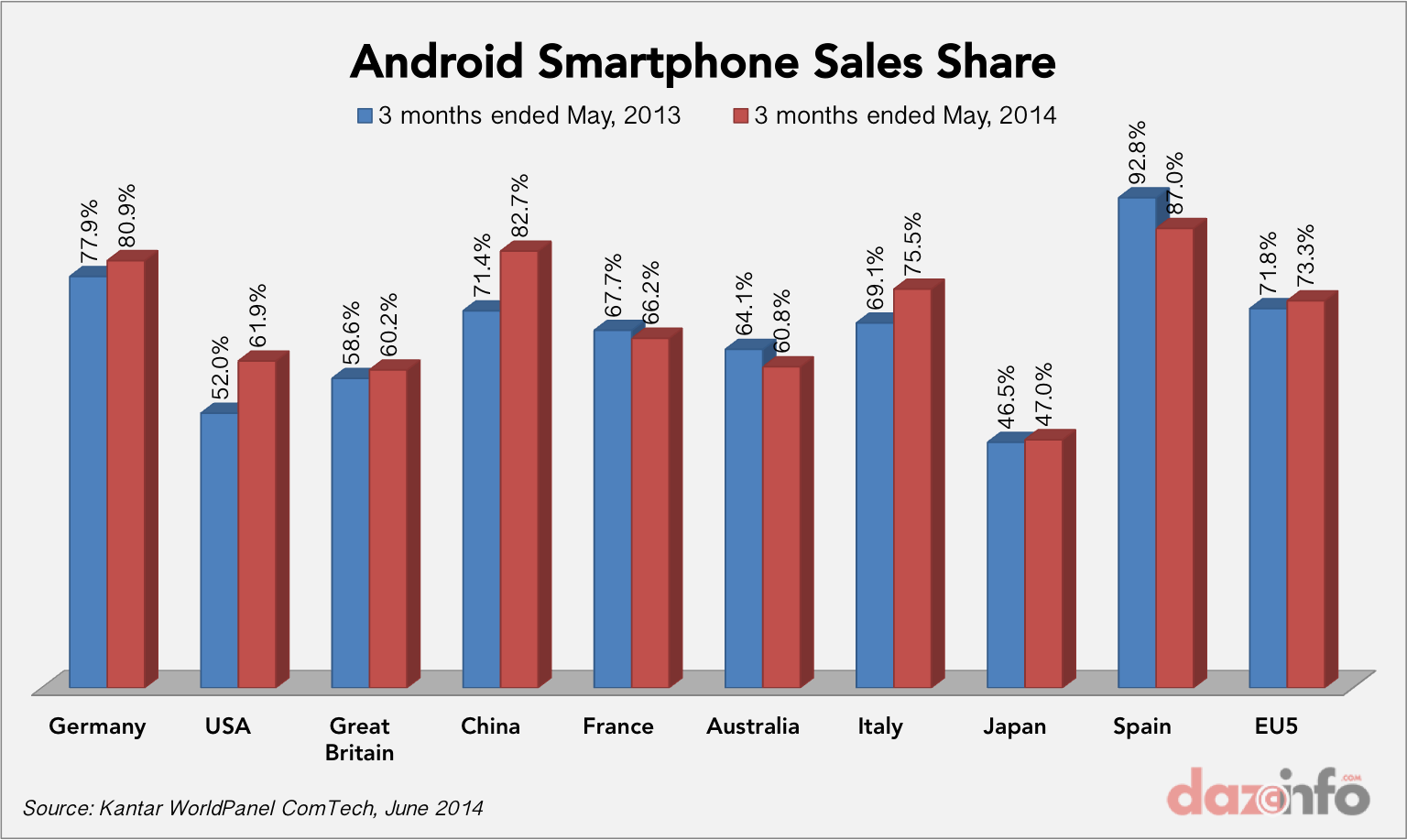 The fact that so many OEMs are venturing into the smartphone market with devices at all price ranges seems to accelerate the growth of Android powered smartphones. All these OEMs prefer Android as their first choice for operating system. Moreover, the cost of Android smartphones and availability of free apps in abundance on the Google Play Store is fuelling the desire to possess the smartphone. The new home-grown vendors are stretching out from their home-network and making their presence felt in the global smartphone market.
Blackberry Records Positive Growth in Three Countries
Considering the declining sales and market share, a positive growth in some major markets is definitely a boost up for Blackberry. Though marginal, Blackberry recorded a positive growth in USA, Australia and Spain. In USA, it doubled its smartphone sales share from 0.6% in the 13 weeks ended on May 2013 to 1.3% for the same period a year later. The share of blackberry smartphone sales in Spain went up from zero percent in 3 months ended May 2013 to 0.3% for 3 months ended in May 2014.
The three months ended May 2014 data shed some light on the scenarios in the major smartphone markets, though the trend hasn't changed much since the three months ended April 2014 report. The advent of local vendors is fuelling the sales of low-range budget Android smartphones. Furthermore, the Windows Phone devices are also doing well and availability of Windows 8.1 in all devices is likely to fuel this growth. As far as iOS is concerned, the launch of large-screen iPhone 6 may turn the tables in favour of Apple as a majority of consumers are waiting for the device.