As the holiday shopping season is about to end in the next 30 odd days, brands are hustling with revised offers and deals to ramp up the sales rate and grab a majority of customers. The first 29 days of November-December 2013 holiday shopping season recorded$20.6 billion sales, an increase of 3% versus corresponding days last year. Black Friday 2013 (November 29) saw $1.198 billion in desktop online sales, an increase of 15% compared to Black Friday, 2012, making it season's first billion dollar day and the heaviest online spending day to date. Thanksgiving Day (November 28) recorded a 21% increase from $633 million in 2012 to $766 million in 2013.
More Than 66 Million Americans Opted For Couch Commerce! Kick-Start Of Holiday Shopping Stores Shifts To Online Channel!
comScore (NASDAQ:SCOR), a leading researcher of digital trends, reported detailed statistics about sales and revenues amassed by shoppers in the prevailing holiday shopping season. Couch commerce saw latest trend inhabited by a majority of shopaholics as they avoided standing in long queues or shopping amidst heavy rush in offline stores. Thanksgiving day recorded well above the average growth rate (21% as mentioned above) and is the fastest growing online shopping day over past 5 years.
The retail federation reported that 92 million people shopped, up from 89 million last year. More than half the shoppers preferred the online mode especially on Black Friday, according to the retailers' survey, while traffic at brick-and-mortar stores was down by more than 11% (according to ShopperTrak) on that day. The average online order was up more than 18% on Black Friday to about $172 per order.
(Above figures denoted in the table are in millions ($))
comScore chairman Gian Fulgoni – "While Black Friday – and now Thanksgiving Day – is the traditional kick-off to the brick-and-mortar holiday shopping season, both days continue to grow in importance on the online channel. Clearly many consumers prefer to avoid the crowds and lines typically associated with Black Friday by shopping from the comfort of their own homes, and we saw a record 66 million Americans do that this year. Also interesting is that the recent trend of kick-starting holiday shopping by opening stores on Thanksgiving Day seems to be having a spill over effect on the online channel.
As internet penetration is at an all time high in the U.S, a majority of folks preferred shopping sitting at comfortable places on desktops and mobile devices. The overall sales through home and work desktop computers in the first month of shopping season rose up from $19,956 million(November 2nd-30th) to $20,574 million (November 1st – 29th). Due to the rising costs of products, shoppers are increasingly opting for the showrooming technique, more than 61% of North Americans are price conscious and are likely to visit an offline shop and buy the same product online at discounted rates. Amazon Inc. (NASDAQ:AMZN), eBay Inc. (NASDAQ:EBAY), Walmart (NYSE:WMT), BestBuy Co. (NYSE:BBY) and Target Corp. (NYSETGT) was amongst top 5 most visited website on Black Friday, 2013.
Apparel And Accessories Was Leading Product Category Accounting For 28% Of Total Online Sales!
Apparel & Accessories emerged as the leading product category accounting for 28% of online spending by consumers. Next in line was Computer Hardware with 19%, Consumer Electronics with 7%, Consumer Packaged Goods 5% and Shipping Services (5%).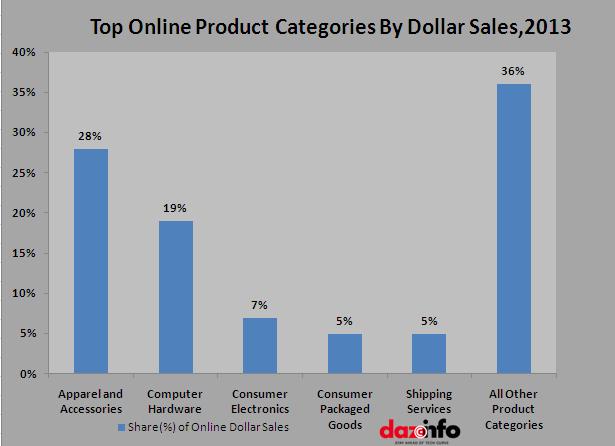 The Apparel & Accessories category is posting particularly strong sales this holiday season as compared to the rest of the year with nearly double its baseline (i.e. January through October) market share. Even the Computer Hardware sales are galloping at faster rates, outperforming its baseline market share from past ten months.
Facebook And Twitter: Platforms For Shoppers And Brand Owners!
We know that more than 48% of shopaholics prefer social media for planning their holiday shopping schedule. More than 42% of Facebook brand fans who engage actively expect coupons or discount offers. Retail brands have opted for innovative tactics to attract customers based on their needs, well in advance before Black Friday or Thanksgiving Day, as most of the brand fans post about Thanksgiving and Black Friday during the two days before and two days after Thanksgiving Day. More than two-thirds of users who post about Thanksgiving and Black Friday are females.
Major brands and retail shops were found offering Facebook users who like their pages, dollar discount or percentage off purchases, and these offers were exclusive to Facebook fans. Offer door-buster coupons or early entry passes to ensure a quick start to the shopping day, Free coffee and donuts for coupon-holders and Mystery discounts that can only be redeemed in-person. The internet is overflowing with retailers, hence each of them should look to provide an edge to their fan base over other retailers, a coupon offer that is exclusive to a particular brand's Facebook page is likely to trigger a sale.
Consumers engage on social media sites actively during the holiday shopping season and are loyal to their favourite brands which have served them well. About one in six Facebook user posts related to Black Friday mentioned specific retail stores. As a result, retailers have increasingly been offering Loyalty programs, to extend the shopping season momentum to a longer duration beyond the year. According to a study by Nielsen, nearly 76% of North American folks prefer purchasing at retailers providing Loyalty programs. More than 82% of North Americans prefer discount or free products as part of Loyalty programs. A few marketing tactics opted by retailers are summarized below. Free shipping and extended warranty & service period were other incentives opted by retailers to attract customers.
If we consider the Black Friday buzz on Twitter Inc. (NYSE:TWTR), more than 2,465,562 tweets were tweeted world-wide. Engagement rate increased steadily when the epic shopping day arrived, and zoomed up sky-high on Black Friday. More than 55% of Tweets were by Female users and 45% by male users. Amazon and Walmart were amongst brands spoken about on Twitter, while iPad, HD TV and Camera were the top accessories mentioned about on the micro-blogging site.