Users of Facebook Inc. (Fb) are way more selective now about connecting with brands as they are with their friends. Consumers use branding community to share their opinions about a certain brand, and by responding to certain comments by the community, brands create engagement with consumers. Using the platform of Facebook page brand popularity has now increased upto 28% of brand fan since the year 2010, and each Facebook fan is worth $174 for a brand. According to the new research conducted by Syncapse the prime reason people liked a major brand was that they already owned or used product in the real world. In a 25 minute online survey of 2,080 U.S consumers in Q1 2013, researchers learned that 78% of Facebook Fans were already using their respective brands, which ranged with consumer packaged goods to fast food restaurants and big-box retailers. Exception may occur with passion and aspirational brands that are price prohibitive; such as, the one brand that demonstrated this phenomenon was BMW, where the usage rate for Fans was only 36%.
Reasons
Here are the top ten reasons that people Like a brand on Facebook:
To support the brand I like (49%)
To get a coupon or discount (42%)
To receive regular updates from brands I like (41%)
To participate in contests (35%)
To share my personal good experiences (31%)
To share my interests / lifestyle with others (27%)
To research brands when I was looking for specific products/services (21%)
Seeing my friends are already a fan or "liked" (20%)
The brand advertisement (TV, online, magazines) led me to fan the brand (18%)
Someone recommended me to fan the brand (15%)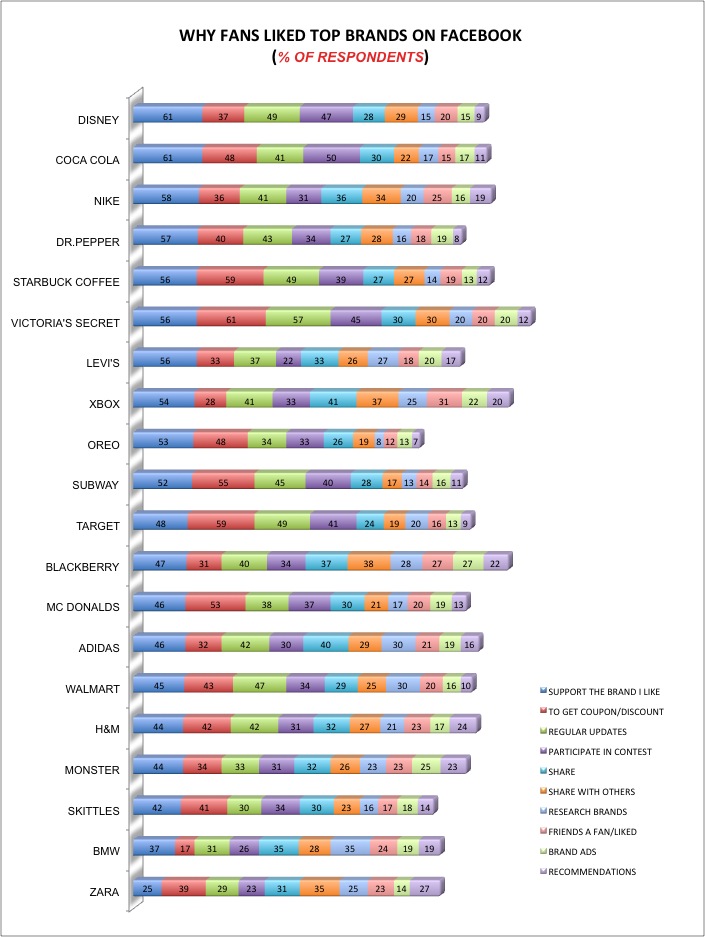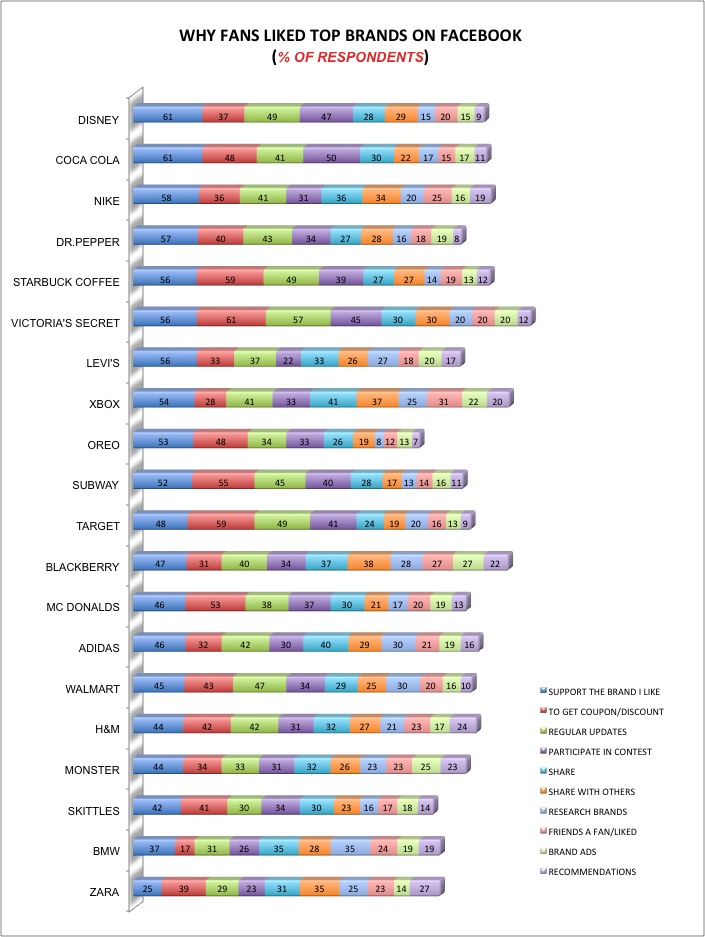 Building an engaged audience on any social network will always involve a little give and take. People like brands on Facebook as a sign of support. They shop in stores, appreciate the service which has been provided. Consumers have some sort of relationship with respective business or organization. But, they also expect a certain value in return. For a number of fans, that value comes through coupons, discounts, and other special offers. For others, that value comes from being the first to know when a new product in respective store or an event coming up.
Value of a Fan
The average value of a brand fan on Facebook in key consumer categories increased to $174 in 2012, from $136 in 2010, according to a new report from . The 28% increase was driven by Facebook fans' tendency to be super consumers: On an average fans spend 43% more than non-fans in respective categories, despite not having higher incomes. The study, examined the Facebook fan performance of 20 top brands. It estimated the value of a fan by looking at spending, media value, acquisition cost, loyalty, and the propensity to recommend a brand to others.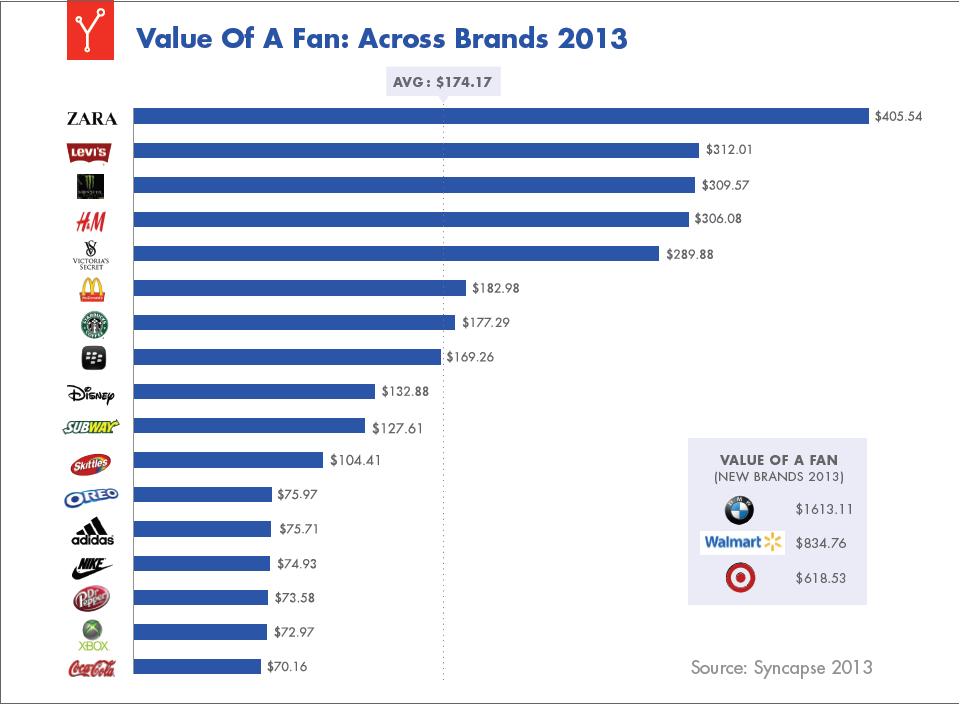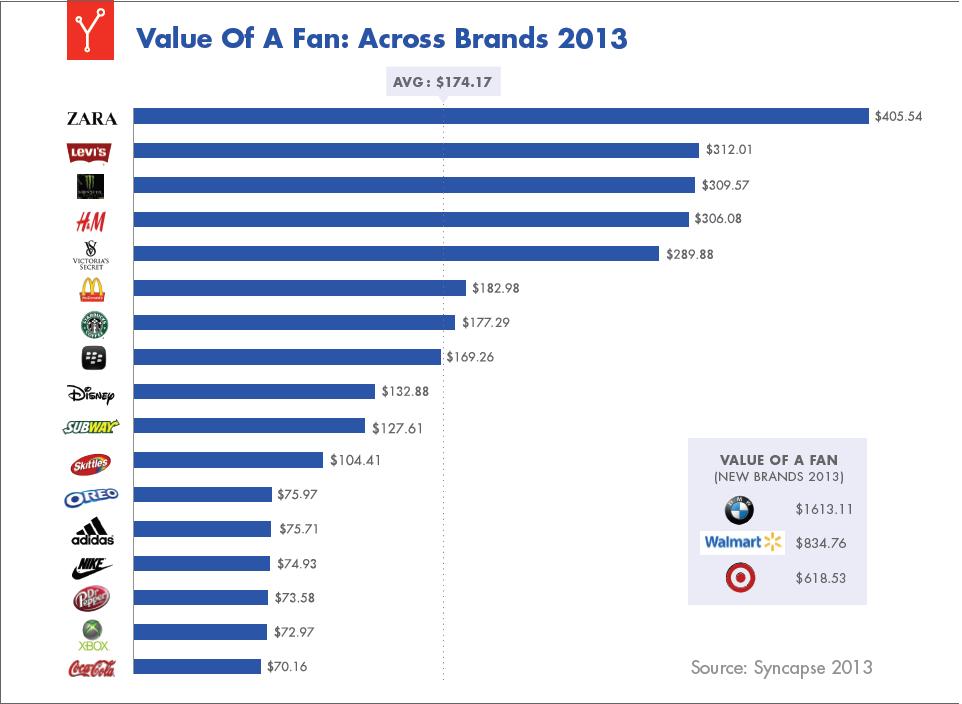 Below, extra key findings
Brands with lower retail prices or with frequent repeat purchase cycles have smaller fan values. For example Coca-Cola ($70) and Skittles ($76).
Brands with higher retail prices, or higher category purchases, have higher fan values. For example Target ($618) and BMW ($1,613).
Facebook brand Fans have proven highly valuable in key consumer categories. Marketers' work gives knowledge that they are aware of the market's need and have a control over need of consumers. A brand value incorporates various benefits including spending, loyalty, propensity to recommend, earned media value, acquisition cost and brand affinity for fans.