Social media has introduced numerous opportunities for brands to engage directly with customers on Facebook Inc. (NASDAQ:FB), Twitter Inc.(NYSE:TWTR), YouTube, Vine and Instagram. More than 79% of world-wide brands communicate their message or market their content in various rich media formats and connect directly with consumers like they had never done before. But risks come bundled with opportunities in this case. Risks like – a damaged brand reputation,  regulatory  violations, privacy issues, intellectual property compromises and phishing.
Social media adoption by brands is increasing day-by-day. Social media teams of every firm are trying hard to meet consumer demands on different social media platforms. Nearly 77% of the Fortune 500 use Twitter, 70% use Facebook, and 69% of them advertise their brands in video format to their customers on YouTube. But this increasing list benefits due to its unique, highly interactive, complex, and almost uncontrollable nature of the interactions and is accompanied by a large number of risks which Social media is likely to cause to a brand name. Risks like damaging the reputation of a company, releasing of confidential information, regulatory and compliance risks, or identity theft can demolish the brand image within a short span of time. Cloud-based brand protection provider Nexgate, summarized a few commonly seen risk scenarios and issues in social media.
Fraudulent Social Media Brand Accounts On Rise!
 Creating fake accounts on various social media sites has become a multi-million dollar business now. Spammers and cyber maniacs are creating fake accounts enacting top personalities or brands and trying to dupe fans and followers into increasing the number of views or likes on their destination pages. It is vital for every brand to recognize all fake accounts using their brand name and report them to the social networking site's team. Brand followers are likely to follow or like the fake brand account page/account unknowingly, which will surely bring harm to the user base of the original brand account. More than 83 million Facebook accounts are fake.
For every 7 new social media accounts, 5 fake ones are found. Twitter had earlier introduced a verification mark
 to establish the authenticity of identities of key individuals and brands on Twitter. This move was initiated because most Twitter users love following and hearing their favorite personalities, politicians or celebrities on the micro-blogging site and the increasing number of fake accounts was disrupting user experience to a remarkable extent. Facebook too recently copied Twitter's feature and introduced a blue badge 
 next to a verified profile or Page's name of celebrities, journalists, Popular brands and businesses.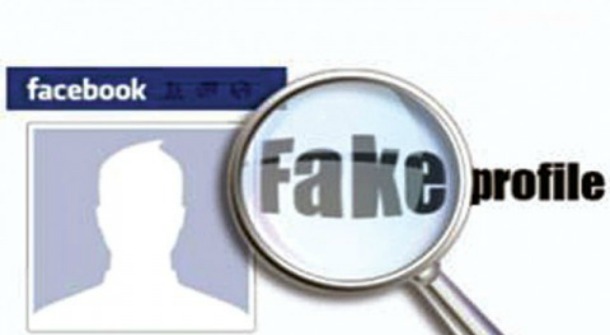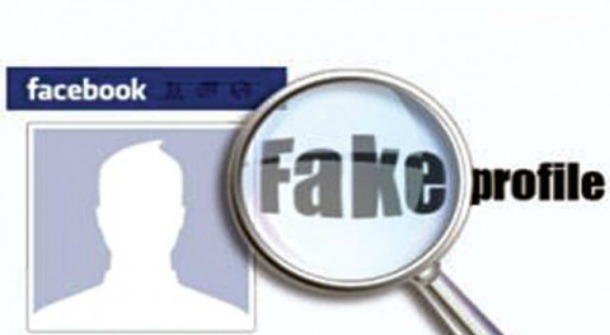 It is important for other departments within a firm to co-ordinate with social media teams for detecting fake brand accounts. Marketing and IT teams must assist the Social media team in detecting fraudulent activities. Involvement of legal team  is required to notify the social media network with a request  to  terminate the fake accounts and notify marketing team once the request is completed.
Social Media Brand Accounts Getting Hacked
Hackers across the globe are having a devastating effect on social media accounts of some of the users, top firms or brands across the globe. According to ClubCloudComputing, nearly 3 in every 4 people already have or will have their data compromised at some point in their lives. Social media titan, Facebook which boasts about its massive 1.189 billion user base, has Logins compromise rate as high as 600,000 Logins every day. One or more social media accounts are compromised and unauthorized content is published on those accounts causing devastating impact on brands and organizations.
Internet pranksters have made several high-profile attacks which have caused great hazards to the top most firms or organizations across the globe. According to YourSeoToday, more than 90% of all businesses will have or already had data breached during 2013. It is vital for a firm to have a special dedicated team which is active 24 hours in detecting the hacking of organization's social media accounts and make sure there is no delay in stopping them and preventing hazardous effects.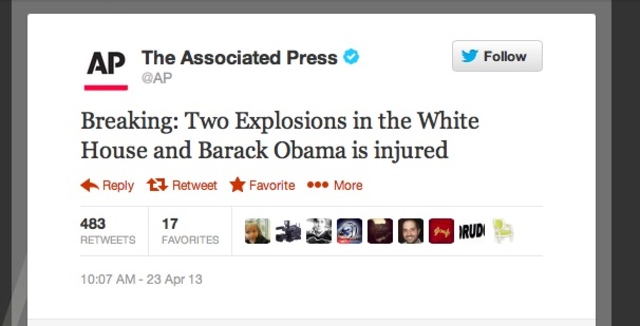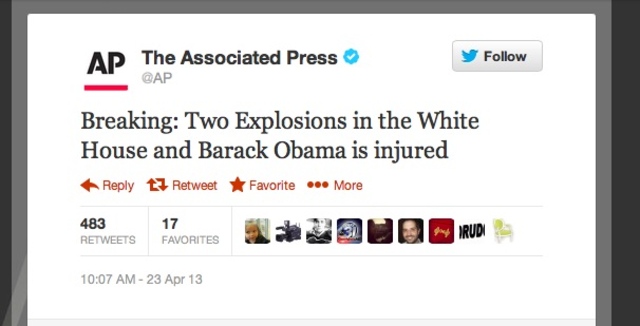 Most of the top brands across the world whose accounts were hacked have faced such terrors, an example being – the  multi million dollar loss in value, which was erased from the U.S. stock markets after a fraudulent tweet,  supposedly from the  Associated  Press, was sent out about an explosion at the White House. Hacking of BBC's weather Tweet feed, Jeep's Twitter account and Burger King's Twitter hack have caused heavy brand damage to these firms resulting in loss of millions.
Organizations should be very tactful when it comes to handling responsibilities related to posting updates and tweets on social media brand accounts. Social media teams should have at max 2-3 people who will be accessing the account on a regular basis and who could be entrusted with the password and the responsibility of posting on behalf of your organization. Social media teams with agency support should focus on monitoring all social channels and prevent it from being hacked. I.T securities should investigate and respond to each incident as a security breach and take action to prevent such mishaps in future.
Increase In Spam And Malware In Social Media Accounts Causing Hazards!
Social media spam has increased by over 355%  in the first half of 2013, with Facebook and YouTube emerging as the spammer's favorite channels to spread spam content. Malware content present on various social media brand accounts must be identified and eliminated with immediate effect to provide better engagement for fans or followers.
A spammy message on brand account page is not just viewed by its fans and followers but also by their friends if the fan or follower Shares, Likes or Retweets the same. It is important for social media teams to moderate brand accounts 24/7 and make sure they are spam free. Automated technology must be implemented to detect spam content within a brand page and measures must be taken to avoid similar content being posted in future. Link spams, text spam or spammy images must be filtered out on a regular basis from brand pages.
Yet another major social media threat for the brands is the release of customer data either by the customers themselves, brand accounts or by hackers. Whichever mode it is, the effects are bound to burn brand image to ashes. Whenever customers registers or shop from any brand page they expect their personal details like email identity, address, profile links and bank account details to be safe and secure.
Brand pages must take care to prevent any phishing attacks which allow spammers to gather personal information from victims, which may prove useful in accessing their bank accounts. Such instances are likely to demolish a brand's image and put the brands into a legal tussle. It is vital for brands to avoid revealing any personal data and provide a safe gateway for customer to make online payments. Establishment of the trust factor amongst customers is important for a brand to build a long relationship with them.
Community managers should identify such incidents using technologies devised by I.T security teams and collaborate with social media teams to audit and report such issues regularly to the legal team. Necessary policy changes must be implemented by the legal team after monitoring such incidents.
A majority of firms use social media for various purposes, 59% use it to engage with their customers, 49% to advertise, 35% to conduct a research on their customers, and 30% to conduct a research on competitors and new products. Whatever purpose the brand aims at, care must be taken to maintain it properly, in order to promote better user engagement and protect the brand's image.