Digital transformation of marketing technology doesn't seem to be fitting well for majority of marketers of various firms across the globe. Marketing technology has changed much in last 2 years than it did in last 50 years; because of which most of the marketers across the world still prefer adopting marketing technologies on trial and error basis. According to a survey by Adobe, hardly 40% of marketers have expressed confidence in their company's marketing ability. This indicates that rapidly fluctuating marketing world is creating concerns for marketers so as to 'which strategy to adopt' and pressure to deliver ROI is creating major concerns for them.
What High Performance Companies Do! Low Performing Companies Yet To Embrace With Latest Trends!
The study between marketing staff, marketing decision makers, digital marketers and marketing generalist of various firms revealed following statistics and information:
Nearly 71% of high performing companies believe in investing in digital channels/programs when compared 52% in case of low performing companies.
About 53% of high performing companies stress on hiring staff with digital expertise compared to 40% in low performing companies.
If we look at budget allotment on digital marketing technology, 73% of high performing companies voted up, compared to 53% of low performing companies.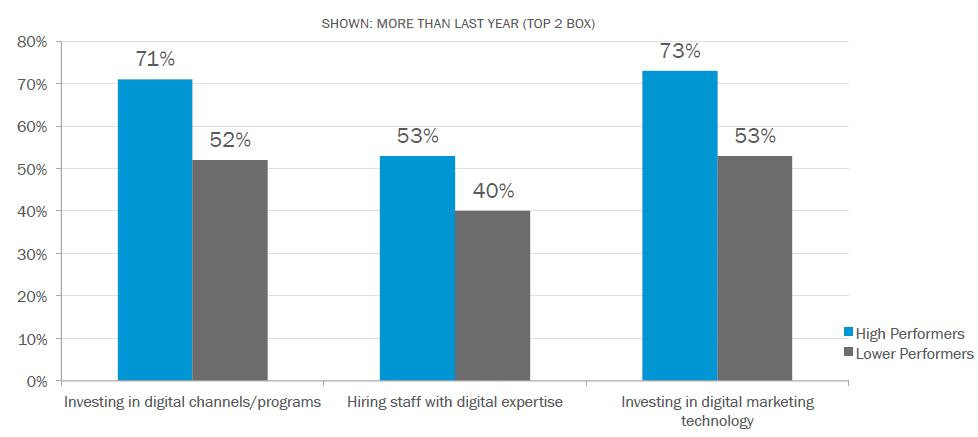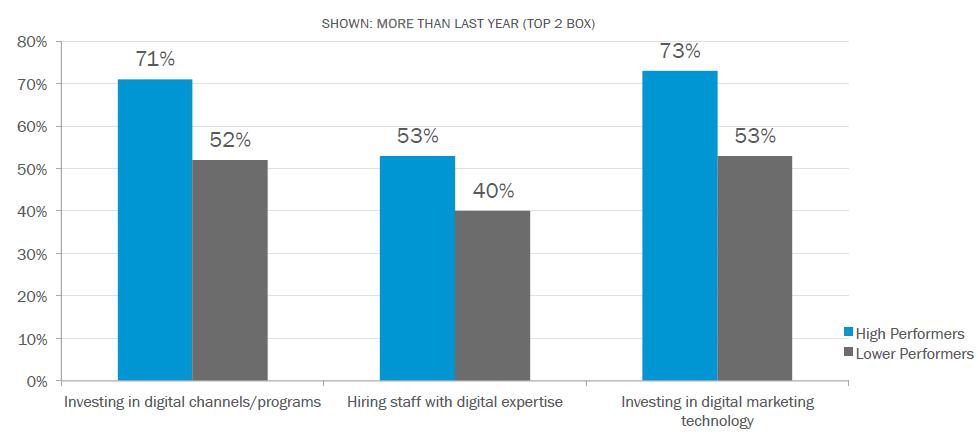 Above statistics clearly signify why high performing companies are performing well and are confident about their marketing strategies. It is important for marketers to embrace with latest trends and update their marketing strategies accordingly. Companies should hire employees who are expert in digital marketing arena. Marketers are aware of importance of digital marketing but very few know how to go about it.
Marketers are facing issues with high level fluctuation in digital marketing trend; almost every single day 1-2 new marketing techniques evolve and marketers are unable to analyze its effects if adopted. Sometimes predicted results might not match with the obtained one; Smarter option would be to invest marginally equal budget for various latest marketing options in digital arena and check for progress. Depending on periodic results, modification of future plans is possible.
Majority Of Professionals Handling Digital Marketing Learn By On-Job Experience!
One of the main reason why marketers are concerned about digital marketing technology is that, it is new and is changing rapidly; there are very few experts around the world who might be able to match the predicted results with derived one of any particular digital marketing technique. When majority of marketers who participated in the survey were questioned about their expertise in digital marketing area, following interesting facts were derived.
Nearly 85% of them agreed to have gained knowledge by On-Job experience, 36% of them had an eye out on other brands and companies and they followed similar methods. About 25% of them preferred to attend trade conference and seminars related to digital marketing trends and just 18% of them had in-person training in the area.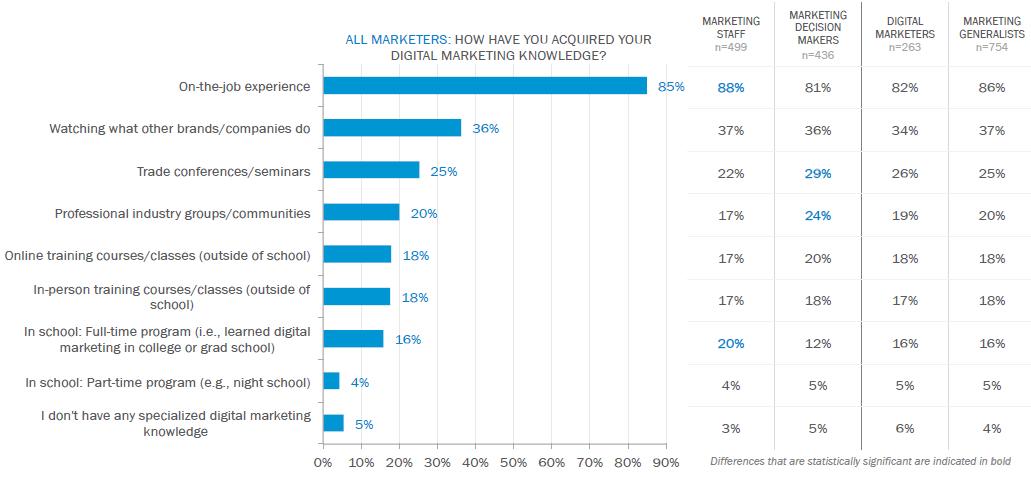 From above statistics, it is quite evident that 'Digital Marketing' is like a new subject of study for marketers and most of them have gained experience after working in the area. There are plenty of resources available online but most of them narrate a different story which might not suit well for every business. Marketers should try studying various sources and results obtained by different firms and try to generalize them by predictive analysis methods. Results might sometime be varying from predictions in such cases change of strategy seems best option. Digital marketing will continue to be an experimental platform for next couple of years until a whole generation of marketers get embraced with the technology; couple of failure missions are likely to occur but the results will be much more rewarding (if strategy is successful) than any other traditional marketing methods.
via Adobe report