Smartphone in the US have penetrated 60% of the total mobile market during the three months ending in July. 143.3 million people in the US now own smartphones, reported comScore. Apple Inc. (NASDAQ:AAPL) gained the top spot among smartphone manufacturers with 40% OEM market share. Google Inc.'s (NASDAQ:GOOG) Android stood out as the numero uno smartphone platform with 52% market share.
Top Smartphone OEMs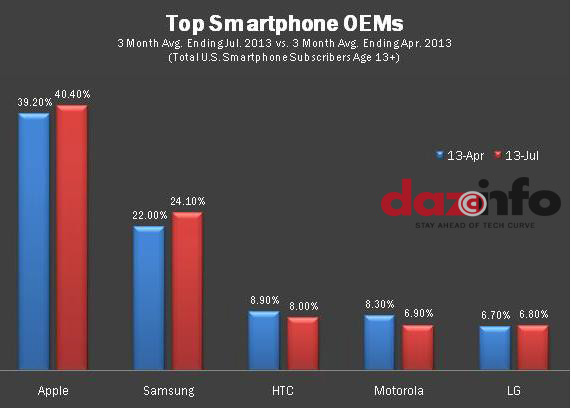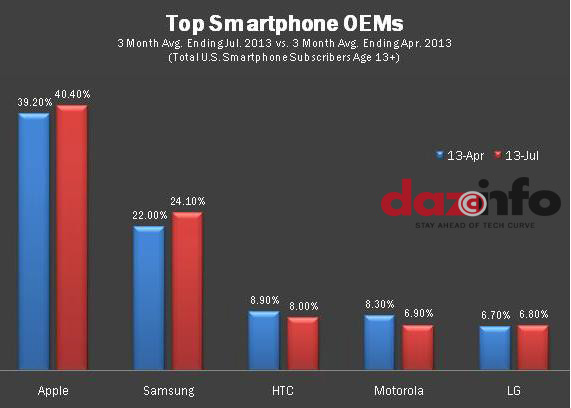 Apple was leading the race as the top smartphone OEM and saw an increase in the number of its subscribers by 1.2%, following closely was Samsung (KRX:005930), whose subscribers increased by 2.1%, most probably with the launch of its Galaxy S4 smartphone. HTC's (TPE:2498) subscribers dropped by 0.9%, as HTC One faced fierce competition from devices like Sony Zperia Z, eating away its shares. Interestingly, LG (NYSE:LPL) registered a growth of 0.1 percent although it stood at the bottom of the top 5 list, owing to the success of Nexus 4.
Top Smartphone Platform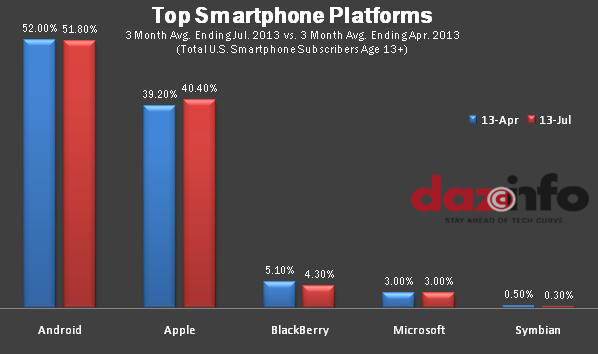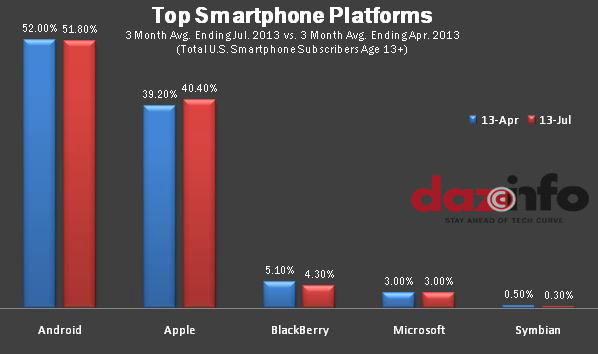 Android bagged the crown in with 51.8% market share in July, which is although 0.2% less than it was in April, but still enough to keep it on the top spot. Apple's market share increased from 39.2% in April to 40.4% in July, indicating that users aren't too keen to wait for the yet-to-be-launched iPhone 5S as they have the option to upgrade. BlackBerry's (NASDAQ:BBRY) market share dropped to 4.3% in July from 5.1% in April, as the new OS failed to create any ripples in the global market. Microsoft Corporation (NASDAQ:MSFT) maintained a steady share of 3% throughout, which isn't as bad given the company's delay in responding to the smartphone growth in recent years. The decrease in Symbian's share came as no surprise to us and only indicated the shift towards smartphones.
Top 15 Smartphone Properties and Apps
Facebook ranked as the top smartphone app with 76.1% reach, followed by Google-owned apps: YouTube (53.6%), Google Play (53.6%), Google Search (53.5%), Google Maps (46.2%) and Gmail (45%). Apple App Suite (iTunes, App Store, Game Center) registered 43.9% reach to app audience.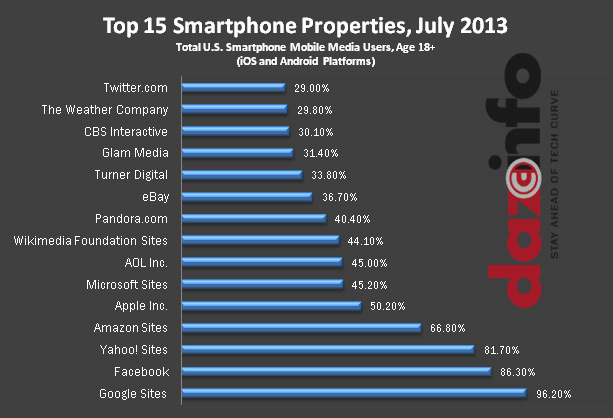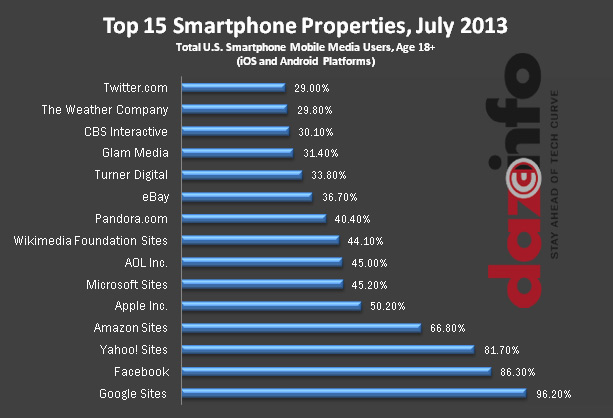 On the properties side, Google sites registered as the top property on smartphones, reaching 92.6% of the mobile media audience, followed by Facebook, Yahoo! and Amazon sites, with 86.3%, 81.7% and 66.8% reach, respectively.
Source: comScore