Without question, privacy is one of the biggest concerns rapidly emerging from the online community. The Internet has many channels for those seeking to connect with other users through social media, shop from the convenience of their own home, and partake in many other online activities. However, with such convenience also comes the risk involved with giving out information online. Internet activity is certainly not an exclusive aspect of our culture, but it does typically require one prerequisite — your willingness to divulge some personal information. Unfortunately, when compromised, such data can put your identity at risk.
The Study
A recent study performed by the Ponemon Institute surveyed consumers about which organizations "are most committed to protecting the privacy of their personal information." The study, which this year showed stark differences from years previous, asked consumers to rank the organizations they trusted most. You may be surprised at which companies turned out to be the most trusted overall.
The Results
Of the 20 companies the study listed as most trusted online, Microsoft, Mozilla and United Healthcare were new additions from previous years. Perhaps, what is more noteworthy than the new entrants to the list, is the number of companies that failed to make it after being included in the past.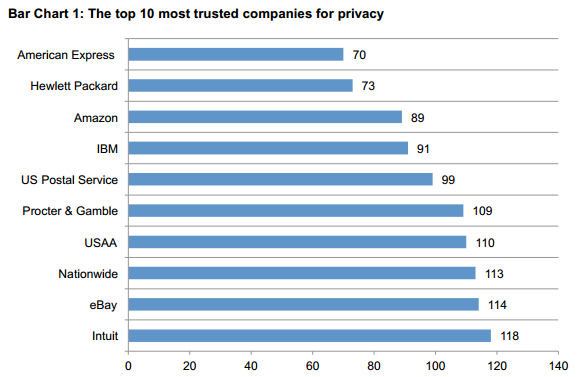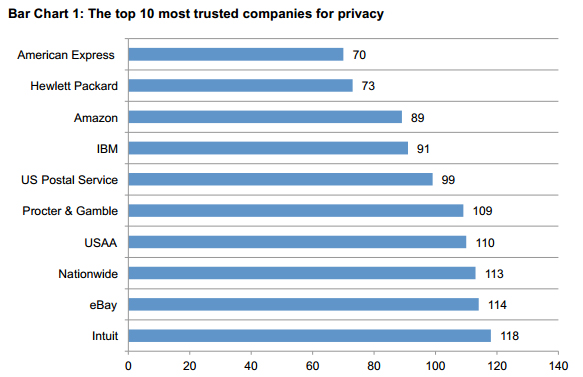 For instance, as one of the world's leading technology companies, Apple Inc (AAPL) did not make the list this year. Neither did other tech companies such as Google Inc (GOOG), Yahoo Inc (YHOO), AOL Inc, Dell Inc (DELL) and Facebook Inc (FB). The latter may not be all that surprising, however, as the social media giant, Facebook, has come under fire basically from the get-go for its privacy policies.
Protecting Your Data
In addition to the ranking of companies that were most trusted, the study also found that Internet and social media companies in particular were the least likely to adequately protect consumer data. Furthermore, the findings also cited identity theft, as well as government surveillance, and other breaches of personal data as the most substantial privacy threats on the Internet. More specifically, nearly more than half of the 100,000 adult consumers surveyed responded that they had received notification of one or more such breaches of their personal data in the past 24 months. Additionally, of those consumers, more than 75 percent said that receiving such news damaged their opinion of the reporting organization.
Based on such alarming information, it is seemingly quite difficult to avoid such breaches in personal data, except to take the necessary precautions to protect your most valuable information. Of course, you can choose not to associate with organizations not on the 20 most trusted list. However, even the most trusted companies are not impervious to breaches in data. So, whether you are giving your personal information to companies not on the list, like Apple and Facebook, or you are utilizing more trusted services like those from Mozilla, it is always best to think about protection. Companies such as Lifelock offer sound protection against identity theft even when your data is at its most vulnerable.
Conclusion
Often times there is no indication more powerful than that of your peers. When it comes to personal data, 100,000 of them ranked only a select few organizations as those to be truly trusted with your data, and even then, there are no guarantees. So, whether you attempt the nearly impossible, and quit associating with Internet and social media companies all together, or you utilize an identity theft service, be sure to take the necessary steps to protect your personal information. After all, it does hold the key to your identity.