Google Inc (GOOG) app store "Google Play" may be closing the gap with Apple Inc (AAPL) App Store by recording higher growth in app numbers, but App Store still remains the biggest revenue generator – so far – by recording more than twice the revenue of Google Play in Q1 2013. According to the latest report from App Annie, Google Play recorded nearly 90% of Apple Store app downloads in last (calendar) quarter with record quarterly growth. However, App Store is still leading with a significant margin of 2.6x in terms of revenue generated by Google Play.
Undoubtedly, Google Play is pacing fast to match App Store. In Q4 2012, revenue gap between Apple Store and Google Play was roughly 4X which has been narrowed by 35% in just one-quarter. Though App Store is enjoying a sizable leap over Google Play but with respect to Q-o-Q, Google Play App revenue grew by 90% compare to App Store 25% in Q1 2013.
Top Contributors In Downloads
Developed countries have played a favorable role for Apple's App Store to maintain its lead over Google Play in terms of number of app downloads. United States, Japan and United Kingdom are the top 3 countries from which maximum downloads were triggered. Including China – at fourth position – these top countries are driving closely half of App Store downloads.
Interestingly, scenario is quite different with Google Play as, besides United States, none of App Store contributors are engaged in Google Play downloads. United States, South Korea and India are the top 3 countries, followed by Russia and Japan, maximum downloads are being originated from for Google Play. Nearly 40% of total downloads came from top 4 countries in the list.
The demographic of app downloads clearly showcases how Smartphone users across the geographies are different from each other. While iOS is leading in world's two largest countries in terms of mobile subscribers, Android has got tight grip over India – the third largest country with maximum number of mobile subscriptions.
Top Contributors In Revenue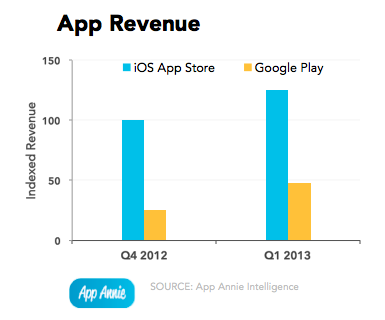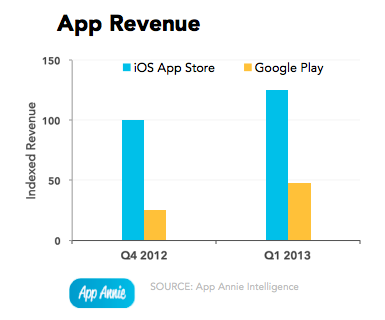 App Store recorded 2.6x the revenue generated by Google Play in Q1 2013. Though, the list of Top revenue contributors for App Store looks identical to top downloads contributor, the positions have been shuffled. United Sates and Japan together contributed almost half of revenue of App Store. However, the biggest surprise came in the form of China that jumped to forth position in the list, followed by United Kingdom, from 6th position in Q4 2012.
Surprisingly, Japan and South Korea top the list of Google Play Revenue contributors, followed by United States and United Kingdom. Japan and South Korea improved their ranking by beating United States in Q1 2013. However, all together these three countries contributed close to 70% of Google Play revenue in Q1 2013. In spite of holding the maximum number of mobile subscribers and also being at 3rd position in top downloads, India failed to contribute significant share of revenue proving Android users in India are still fascinated towards free apps.
Top Fascinated Categories
Games unanimously dominated over every aspect of both the Stores, be it revenue or number of downloads. This could be the main reason countries like Japan and South Korea, excessively obsessed for Games, are among the countries triggering maximum number of downloads and revenue for App Store and Google Play.
Entertainment and Social Networking remained the other popular categories for downloads and revenue.