Adopting social media marketing channel in your marketing is one of the best tactics to improve your business. Its said that marketing professionals world-wide focus on social marketing this year. And, social media spending as a percentage of marketing budgets will be increased to more than two folds over the next five years. So social media has a great fortune in terms of marketing.
Take a look at this fresh report from Edison Research and Arbitron, which specifies about brand following behavior and social platform at which consumer see brands. The survey was conducted in 2012, which included over 2000 people.
Brand following behavior on social sites
The graph shows that, in just two years of time gap 17% increment in terms of following a brand on social networking sites has improved.
Patricia Redsicker, an expert in the Edison Research exploration concludes that free offers and special deals for existing customers and interesting entertaining content may be pointed out as the major reason why users follow brand pages in social media networks. So, promoting special offers from your website/brand page on your social media isn't a bad idea at all. These offer may include free research reports, webinars, or giveaways with products and/or services.
Also, its important to get creative and vary special offers as often as possible to keep the users interested.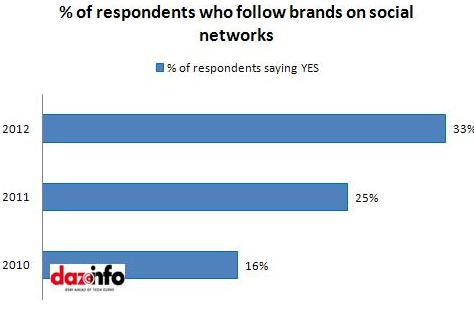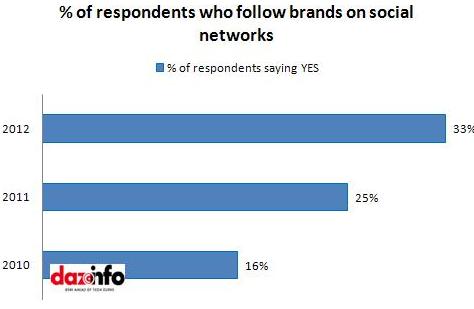 Facebook users dominate in brand following behavior
79% of users prefer using Facebook to connect with brands and products, while only 9% of users prefer using Twitter.
Patricia Redsicker notes why Facebook is chosen to follow brands compared to other sites, Facebook is a well known territory. Consumers spend a lot of time in social networking sites communicating with their relatives and friends; that is why it is not difficult at all to connect the brand.
And, Facebook users are strongly inclined to trust the opinion of their friends. If their friends like the brand they will most certainly "like" it as well he explains.
 And finally, Facebook has more convenient and visually interesting interface that other platforms do not have. This allows brands offering daily deals, contests, prizes, etc. with maximum efficiency.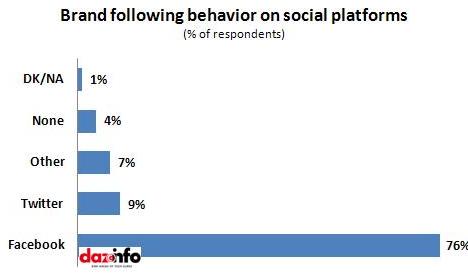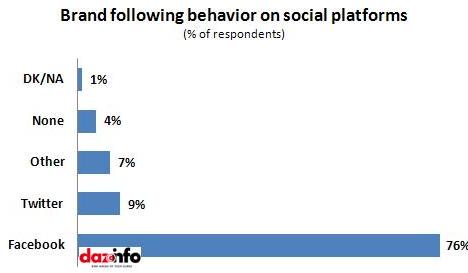 To conclude, the best trick to increase the number of subscribers on Facebook, it is a better option to consider giveaways and providing some entertaining content, so that it holds the consumers to your brand page.
The study also highlights that there are 21% of users on Facebook who use the site from 3 years to less than 5 years, 26% of them use from 2 years to less than 3 years. So, these stats shows that Facebook really knows how to hold its users intact, now brands have to just think about how to convert these users into real-time consumers.