WhatsApp is really one of the most popular messaging apps today. Over the past two years, the app has made a number of records related to downloading. But while there's a discussion about user engagement on the app, the reality of WhatsApp comes in front of everyone's eyes. However, it's tough to believe, but it's true that WhatsApp is still quite behind the number of apps in terms of user engagement.
Hidden Weakness Of WhatsApp:
According to a report from a research firm Mobidia, which conducted a comparative study between WhatsApp and its major rivals, and chose a threshold point of 2 MB per month to make sure the active messaging app consumers, only 40% users in Brazil use WhatsApp actively. On the other side, the proportion of such active users in the countries like China and the U.S. are even lower than Brazil; the number of active WhatsApp users in China is just 20%, followed by the U.S. with 10%.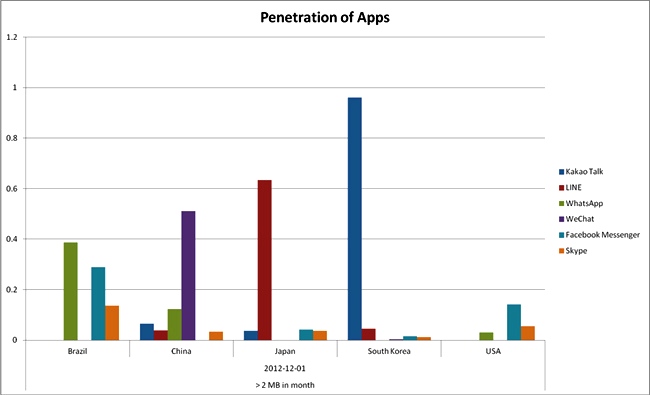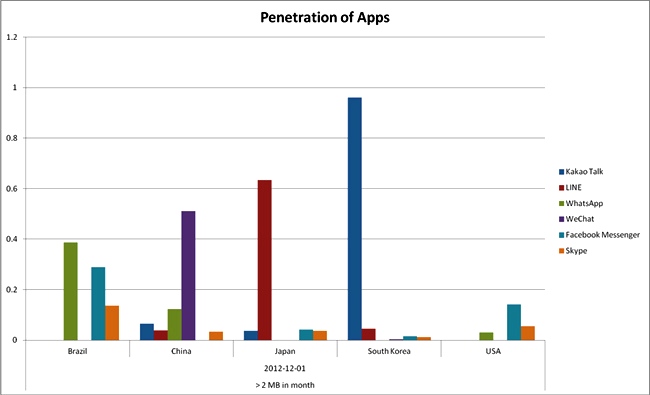 In comparison, many WhatsApp rivals have already achieved a dignified status in their domestic markets. In context, we may consider WeChat, which has made a whopping 50% market penetration in homeland China. On the other side, in Japan, the messaging app "LINE" dominates 60% of messaging app market. More importantly, Kakao Talk, a messaging app, has 90% market penetration in South Korea. But in America, we could see a mixed response of users for Skype, WhatsApp, and Facebook Messenger. In simple words, the impact of the world's one of the most downloaded messaging apps "WhatsApp" is almost negligible in some countries like Japan and South Korea.
Breaking out some facts related to other app categories, one of the most popular gaming apps Rovio's Angry Birds, which has recorded a behemoth of over 1.7 billion downloads and has high-brand recognition, isn't even at No. 88 on the U.S. iPhone app revenue chart. On the contrary, Rage of Bahamut, a gaming app, isn't even in the list of the top 1000 iPhone download charts, but it holds no. 15 spot on the iPhone's apps revenue chart.