Social networking sites have literally brought the world together. It brings in a feel of unity. This unity can do lot more than we think of doing. Did you know that these sites would become a prominent element for social good ?? Yes, a new study says that the unity we have in social networking sites can be definitely helpful for a good cause. And, it's also said that the top source of information about a cause is from social networking sites itself.
Recently we represented a study that non-profit organisations will increase their social media budgets this year. But, it was quite speculating that why would social media users look for charities and donations.
But now a new study, released by Georgetown University Center for Social Impact Communication and Waggener Edstrom Worldwide's social innovation practice proves that users of social sites actually are more willing to do charity/donation for a good cause. So, the idea of non-profit organisations to increase their budget isn't bad at all. The study by Georgetown and WE interviewed 2,004 digitally engaged US adults who care about causes.
Among survey respondents, four distinct categories of supporters emerged—referred to as Mainstreeters (active on social media, but only support causes offline); minimalists (only support causes online); moderates (balance offline support with online actions, such as liking a cause on Facebook); and maximizers (support an average of 12 different causes—nearly twice as much as any other category—online and off).
The study found that 55% of digitally active, cause-savvy American adults were likely to do far more than simply "like" a cause. Social engagement towards a cause prompted 68% of them to donate money, 52% of the respondents said that they donate personal items/food, 43% attend/participate in an event related to the particular cause, 53% of them even volunteer.
And interestingly, this scenario is true even for the respondents who only support their chosen causes offline.
"More than idle chatter and pop-culture memes, social media is being used as a force for good that leads people to action," says Denise Keyes, executive director, Georgetown University Center for Social Impact Communication. "The study demonstrates that these tools can go beyond just building awareness and creating connections to compel meaningful, measurable action."
Other findings from the report:
Social networking sites helps a cause, 54% of respondents indicate they are more likely to support a cause through social sites rather than offline.
55% of the respondents who engaged with causes via social networking sites have been inspired to take further action.
 Also, 76% of them polled agree that it's important to them to influence others to care about the charities and causes they care about.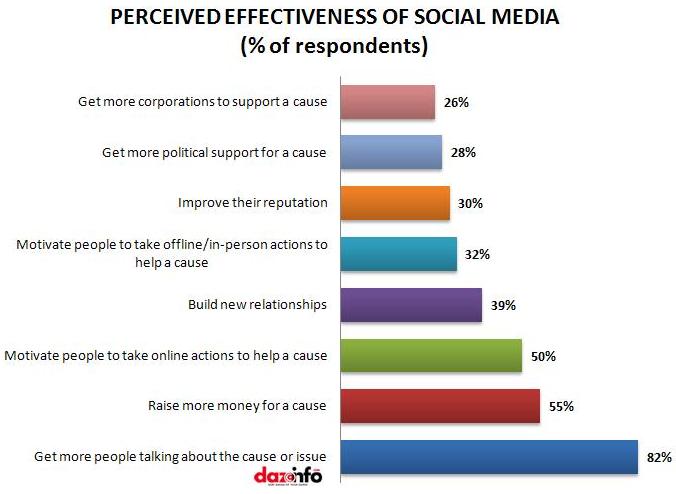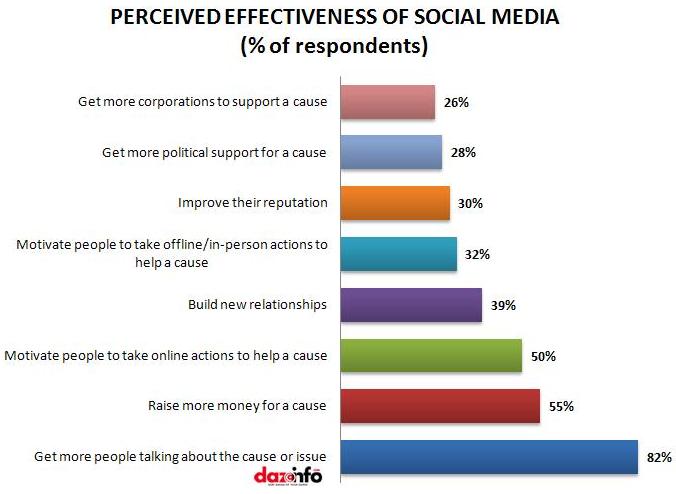 82% agree that social media is effective in getting more people to talk about causes or issues.
Social media plays an important role to gather users for a social cause, the most popular way people get involved in global causes is by supporting on these social sites (38%), followed by mailing a donation (27%), and making a donation online or signing an online petition tied at 25% each.
The study also reveals that respondents recognize the growing role of social media in effectively getting the word out about global causes.