Google has just updated the market share distribution of Android versions. As per the latest information, Android Jelly Bean–Android 4.1 and 4.2 versions–is still growing, while on the other side, it's tough to predict whether or not Android 4.0 version will surpass even 30% marks. Meanwhile, the market share of Android's smartphone version (Gingerbread) dropped to 45.6% as of February 4, 2013, from 47.6% a month before. Till February 4, 2013, 13.6% of Android users updated their device to Jelly Bean, while 29.0% were using Ice Cream Sandwich version.
Initially, adoption of Android 4.0 version was fueled by robust shipments of Samsung Galaxy SIII, which has now surpassed 40 million units figure in terms of sales. However, availability of Android next iteration (Jelly Bean) forced manufacturers to move with the the latest version. Just a month before, the adoption Android Ice Cream version reached to peak 29.1%.
Android Jelly Bean was introduced at Google I/O event last year, and Nexus 7 Tablet was the first device running on the OS. Later, Jelly Bean version was provided to Nexus 4 and Samsung Galaxy Note II. Of course, the strong sales of these devices boosted to the Android's version adoption across the world. However, Android 4.2 has seen a minor 0.2 % growth to 1.4% as of February 4, from 1.2% a month before.
The sales of Google Nexus 4 smartphone is expected to surpass the 1 million mark, according to Xda-developers forum member draugaz, who has been estimating Nexus 4 sales by keeping the track record of the serial numbers of the shipped devices. More than 375,000 units of Nexus 4 were expected to be shipped by the beginning of January 2013.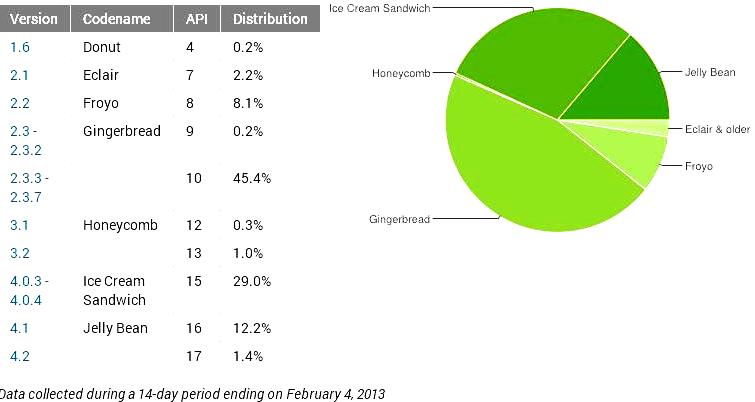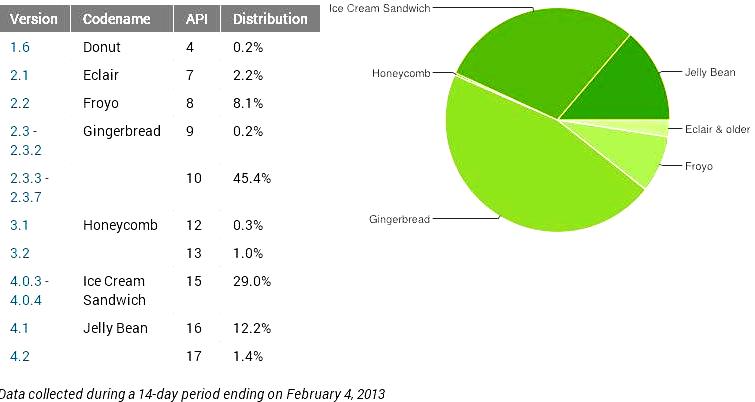 Of course, Nexus is one of the Google's shining star, but the device isn't as much popular as Galaxy and iPhone lineups are. As per the court documents, about 500,000 units of Galaxy Nexus, the predecessor of the Nexus 4, were sold between November 2011 and August 2012. In comparison, Google (in conjunction with LG) sold twice Nexus 4 units in about three months as it (with Samsung) sold Galaxy Nexus during first nine months. More importantly,  the Nexus 4 is still facing supply and availability constraints. In other words, Android 4.2 running Nexus 4 is far better than Samsung Galaxy Nexus in terms of sales.
However, it wouldn't be rationale to compare the shipments of Nexus 4 with Galaxy S3 or the iPhone 5. Due to limited supply, Nexus 4 is still out of reach from a significant number of the device enthusiasts. Besides, limited availability is one of the the reasons that has impacted on the sales of this device; the device is still not available in number of emerging markets like India, China and Brazil.
We could easily see a sharp decline in market share of Android Gingerbread version, as significant number of Android users are switching to latest versions. As Android Jelly Bean running devices such as Galaxy S3, Galaxy Note II and Nexus 4 are still selling, we can easily predict a surge in the Android Jelly bean version's market share in coming months.