Google Inc (GOOG) released its Platform versions distribution statistics for Android on Tuesday. With new algorithms to collect data Google is tracking the platform distributions which is based on the number (frequency) of the times a user visits the Google Play Store compared to previously measuring the total devices that are checked in to Google servers, Google aims to collect more accurate information on the users in the Android and the Google Play network.
Android Versions Market Share Growth
The graph shown below gives the last 14 days results and there have been many milestones reached by Jelly Bean 4.1 and 4.2 crossing the 20% barrier. With an enormous growth of 8.1% in the Android Jellybean 4.1 version and 0.4% growth in the 4.2 version there seems to be more orders for this new desert in the last two weeks.
On the other hand Android Ice Cream Sandwich 4.0.3-4.0.4 released, in October 2011, showed an increase of just 0.7% from 28.6% to 29.3%. The previous version, released on December 2010, Android Ginger Bread 2.3-2.3.2 which just decreased from 0.2% to 0.1% but the later versions like Android Gingerbread i.e., 2.3.3-2.3.7 decreased to a considerable amount of 4.3% from 44% to 39.7%. But astoundingly, it still maintains a major share in the pie. Compared to last year's ratings on June-12 we see that Ice Cream sandwich had 64.6% share which has considerable decreased to 28.6.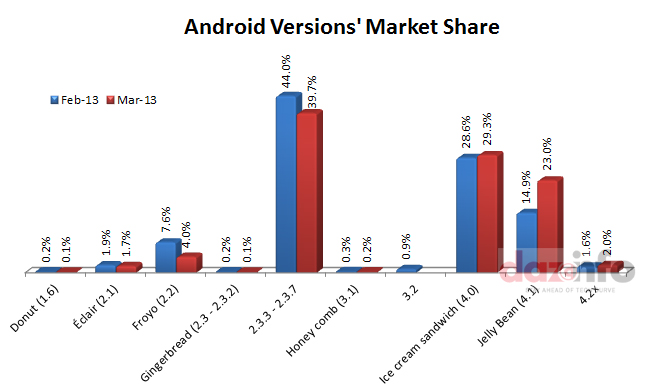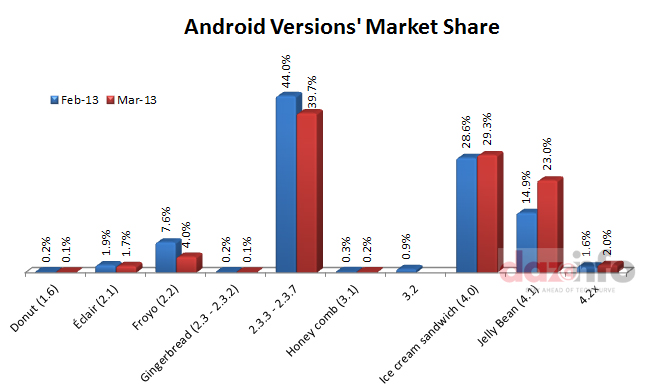 Android Honeycomb 3.1 decreased lesser than 0.1% which was having a 0.9% of the whole distributions. however the Android Honeycomb 3.2 version decreased from 0.9% to 0.2% showing signs of going less than 0.1% as well. Older versions like the Donut 1.6 and Éclair 2.1 also decreased from 0.2% to 0.1% and 1.9 to 1.7% respectively. Following the older versions trend, Android Froyo 2.2 plunges from 7.6% to 4% but still keeping the third biggest piece of the cake.
Updates and New Phone Releases Promising Jelly Bean Top Spot
Samsung's highest selling models Samsung Galaxy S3 and the S4 are already being sold with Jellybean. And, with new firmware updates for the older Samsung S3 models, Samsung Galaxy S2, Samsung Galaxy Note, Galaxy Nexus, available from last month through major carriers. We will also be seeing an enormous growth for Jellybean grabbing a bigger market share in terms of updates.
Google's own product family is now running with the Jelly Bean though, holds a small market share it would certainly add-on to the Jelly bean's market. Other vendors such as Sony, HTC and Motorola have also given Jelly Bean updates to their Android phones.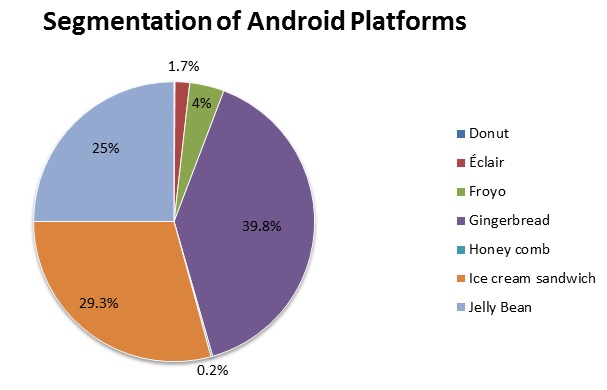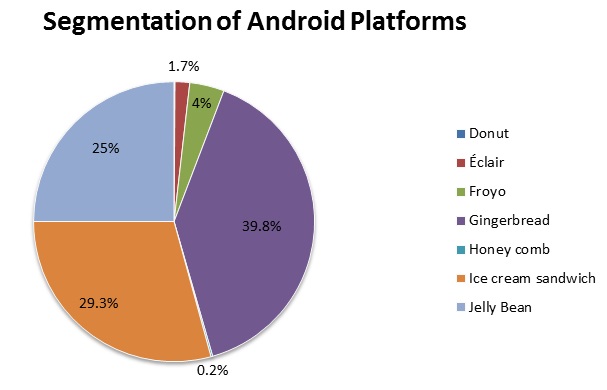 Also we could easily see a sharp decline in market share of Android Gingerbread version, as significant number of Android users are switching to latest versions. We could also expect the same with the ICS but at a slower rate. As Android Jelly Bean running devices such as Galaxy S3, Galaxy Note II and Nexus 4 are still selling, besides HTC One and Sony Xperia Z/ZL, the much awaited Samsung Galaxy 4 is yet to be shipped out.
We can easily predict a surge in the Android Jelly Bean version's market share in coming months. Not only the premium Android handsets are getting Jelly Bean updates, Samsung's small entrants Galaxy Star and Galaxy Pocket Neo are also posing with the Jelly Bean 4.1. With such increase in Jelly bean powered Smart Phones, the future developers can gear themselves with a good arsenal of applications.
Android holds 68.8% market share and recorded 88% Y/Y growth. Last year, out of 713 million smartphones manufactured, Samsung alone shipped 228 million smartphones (94% running on Android OS)  grabbing a market share of 32% in Q4 2012 and jumping to 35% in Q1 2013. This sets the Korean electronics giant to win the race in terms of sales targeting  to ship 390 million smartphones this year. With such massive number of smartphones, running on Android OS, coming out to the market Jelly Beans looks to take a comfortable seat in the future.