Samsung is currently quite aggressive with its Smartphone business, and it wants to widen the  gap in terms of mobile handset shipments with Apple. Undoubtedly, last year, Android succeeded to create a halo effect around the world with its strong mobile ecosystem. According to a recent survey report from ChangeWave, covering planned purchases for next 90 days ending March 2013, the demand of Samsung Smartphone surged unprecedentedly during Q4 last year, compared to the previous quarter.
Till the end of the last year, 21% users (respondents) were interested to get their hand on Samsung's Smartphones in next 90 days, up from 13% in quarter ending September 2012. Of course, the demand of the device reached to its zenith level till the end of last year. An arrival of Samsung Galaxy SIII Smartphone and Galaxy Note II Phablet in the last year fueled the company's Smartphone shipments in Q4 2012.
Shipments Of Samsung Galaxy Smartphones Surpassed 100 Million Units
Samsung has recently announced another Smartphone sales record; the shipments of Galaxy S series has surpassed 100 million units figure since May 2012. Interestingly, more than 100 million Galaxy Smartphones have been shipped in just 2 years and 7 months. The company sold 30 million Galaxy S III Smartphones in 5 months, and crossed 40 million units figure in 7 months since its launch. The company is currently selling an average of 190,000 Galaxy Smartphones every day.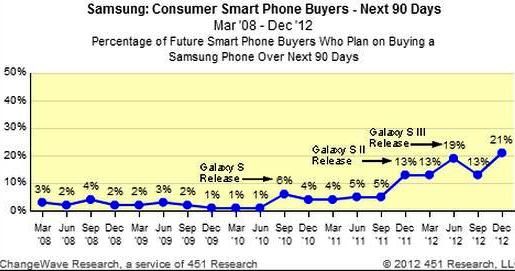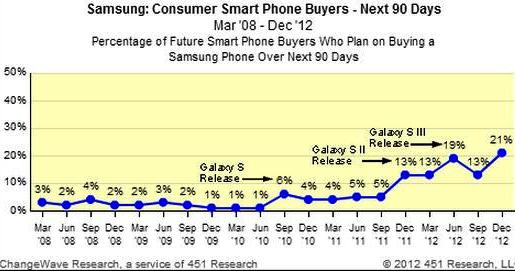 Demand Of Apple's Smartphones To Drop In Q1 2013
It's pretty much clear that Apple has cut iPhone 5's components orders due to weaker (expected) demand of the device in the current quarter. And the company's decision has impacted on its stock market; dropped to its lowest value ( on yesterday) in last one year. However, the firm (ChangeWave) revealed, as of September end last year, 71% users were willing to buy Apple's iPhones. But the scenario had changed at the end of last year; just 50% of consumers were willing to get their hand on Apple's Smartphones in next 90 days, ending March 2013.  It has been noticed that the demand of Apple's iPhones increases after the launch of every new iteration. The trend has been followed since the launch of iPhone 3GS, and reached to maximal level when iPhone 5 was launched.
Despite, majority of people are still willing to own Apple's Smartphones. The company is leading in terms of the largest interest market share among single manufacturer, followed by Samsung . Breaking out the Samsung's Smartphone sales, which are likely to show continuous growth in next 90 days. On the other side, Apple's upcoming iPhone 5S could reach higher levels of consumers interest by the mid of this year.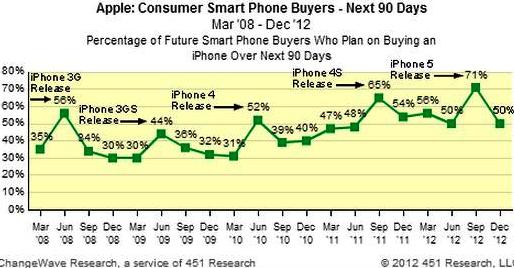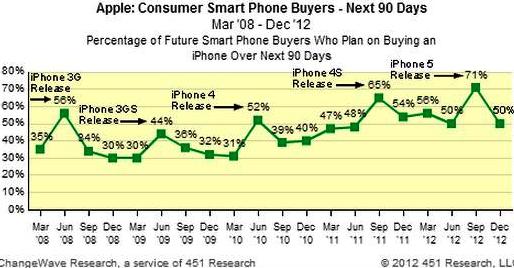 As per the survey report, which has been conducted in North America, Samsung Galaxy was the most desirable Samsung's handsets; 69% of people, those are likely to buy a Samsung's handset in next 90 days, are willing to get their hand on the Galaxy S3. However, Samsung Galaxy Note 2 comes second with 23% of people's interest. Furthermore, an arrival of Galaxy S4 could be an arch-weapon for the company to sustain its dominance in the market this year.