Google Inc's (GOOG)  stats illustrates that the latest epitome of Android versions 4.1.x and 4.2.x codenamed Jelly Bean are the versions which are driving the growth. Over the past month, Jelly Bean's usage share called distribution by Google has elevated by 3.4%. Jelly Bean has slowly but surely hobbling its way towards overtaking the other platforms of Android i.e. Gingerbread and Ice Cream Sandwich.
Google Android Growth
Jelly Bean's growth is at the expense of other Android versions in particularly Ice Cream Sandwich and Gingerbread. To notify the developers about the growth and decline of Android versions yet again Google has updated the monthly platform distribution numbers in its developer dashboard. The numbers are based on devices accessing the Play Store over the last 14 days (ending May 1st).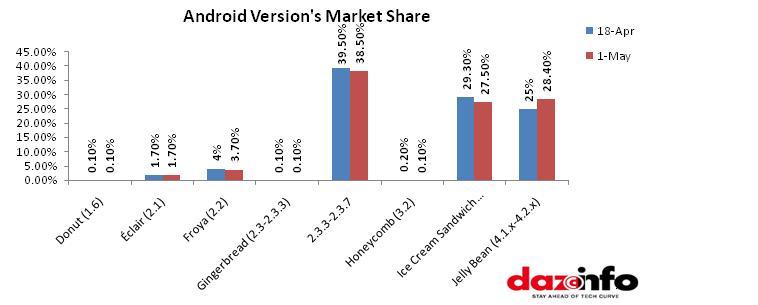 There has been a decline in Gingerbread and an elevation in Jelly Bean. Gingerbread has dropped from 39.8% to 38.5%; however jelly Bean has seen a remarkable shift, rising 3.4% from 25% to 28.4%. Éclair and Donut are sitting still at 1.7% and 0.1%, Froyo has dropped a mere 0.3% and Honeycomb has dropped another 0.1%.Ice Cream Sandwich is down by 1.8% from 29.3% to 27.5%.
This means that Jelly Bean is now the only version of Android that is enduring growth, now that the market is getting less fragmented this will act as an advantage to the developers.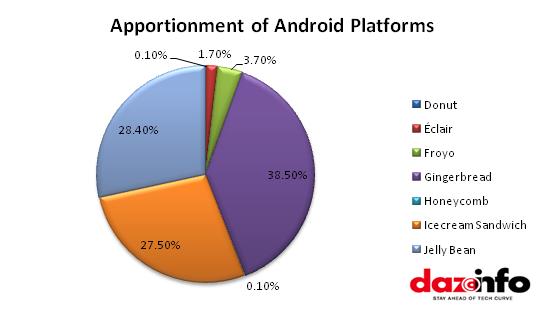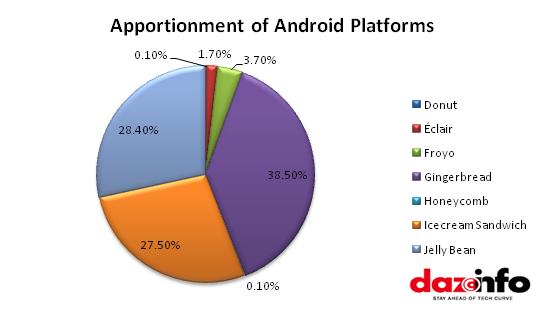 We can also see that there is a sharp decline in market share of Ice Cream Sandwich and Gingerbread. And the other versions are showing no growth. Donut, Éclair, Froyo is not showing much improvement it is in a stagnant position. According to another study Android alone claims a whopping 68.8% market share and recorded 88% Y/Y growth.
Android Jelly Bean version is used in many Smartphones, out of 10 devices minimum 8 devices use Jelly Bean version. It has already been running devices such as Samsung Galaxy 4, HTC One, Sony Xperia Z/ZL, Galaxy S3, Galaxy Note 2 and Nexus 4. So all these hints that Jelly Bean is here to stay and has clasped its place. Even though Jelly Bean is doing so well, it looks like Gingerbread will still be the preferred one by many. And there are rumors that Google is announcing a new version of the platform, Android 5.0 Key Lime. Though Jelly Bean is appreciated it is not embraced by many due to its poor adoption issues. It seems like Google wants to take its Android to a higher level and it does not want to take any risks or lose its Market Share for IOS.