Majority of publishers are seeing their future on mobile platform, and they have started to monetize their websites for the platform. Indeed, it has become a matter of consideration that number of companies like Facebook has continuously been working on monetization of their mobile app. And mobile ad spend is expected to surpass TV ads spend soon, which is now accounting for more than $100 billion (as revenue) on the annual basis.
Of course, rising of smartphone adoption among consumers has created a huge opportunity for marketers to make their presence among wider audience. This time, mobile marketing is done through mobile search and display, QR codes, mobile apps, SMS message, and placing ads within apps.
Advertisers still believe that mobile ads lack the disruptive quality that makes TV so valuable. According to a recent report from a market research firm–Forrester–mobile ads are far more interruptive and annoying compare to TV ads. More than two-third (70%) of mobile users believe that automatically served in-app ads are quite interruptive, and nearly the same number admits that the ads are annoying them. It's pretty clear that the proportion of mobile users (those are annoyed by in-apps ads) is higher than the number of users those who feel that TV and web-based ads are annoying them.
In context of mobile ads, only 12% find that these ads are engaging them, while 14% and 17% think they're relevant and interesting respectively. Despite of these, a significant portion of mobile users (49%) accepts that these mobile app ads are based upon their personal interests.
It's true that mobile advertising will remain valuable as long as brands would leverage on mobile users' unique advertising preferences. 68% of users (respondents in survey) accept that these apps don't interrupt their app usages, while 59% of users want to be offered with reward in exchange for watching/interacting with them.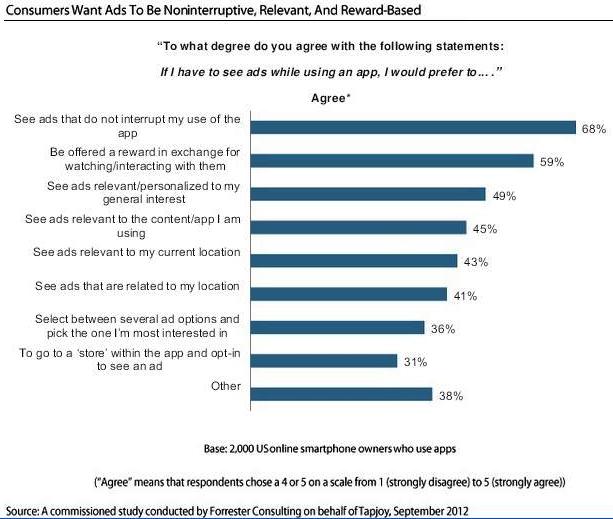 Apparently, in-app ads are somewhat less desirable than ads those interrupt a favorite TV program. Still, mobile users will have to go with these ads because marketers have invested a lot in mobile campaigns. But it's really tough for marketers to convince the consumers that the growing number of in-app ads (being served on their mobile) is actually a nice thing for them.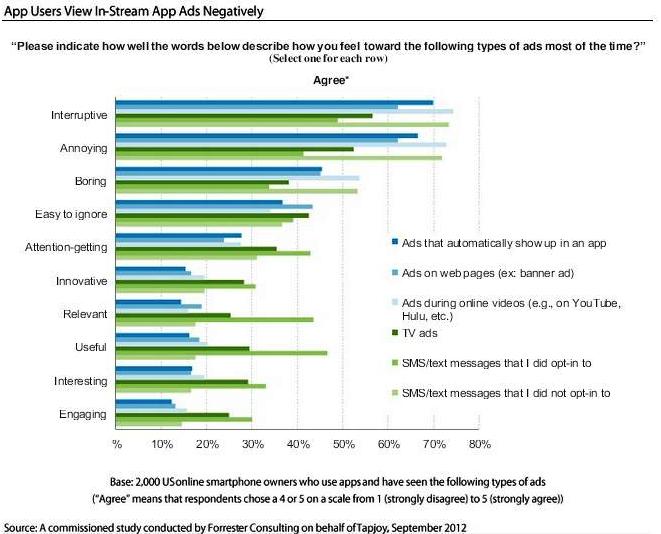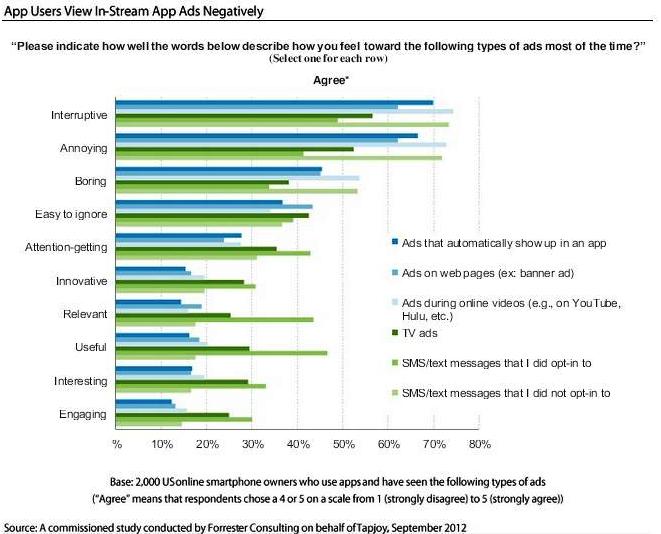 Furthermore, mobile advertisement provides marketers an attractive advertisement environment. Today, smartphone owners are more willing to spend their time on mobile apps; 75% of mobile owners uses their mobile apps daily, while 76% use the device for internet browsing everyday. The survey report also reveals that more than half of users have 6-20 apps, whereas 29% of mobile users own apps between 21 and 50.
Indeed, it's time for marketers to look out of box (beyond traditional ad formats), for their marketing. In addition to this, they should also consider what users are demanding for. As user experience is imperative, marketers really need to take care about this fact.