The day before yesterday, we discussed that Samsung led the market in terms of overall PCs shipments (desktop, portable PC, Tablet and smartphone) in Q3 2012, followed by Apple and Lenovo. In Q3 2012, Samsung succeeded to grab 21.8% of overall PC market share (in terms of device shipments), while Apple and Lenovo managed to grab 15.1% and 7.0% shares respectively. During the quarter, Apple shipped 45.8 million devices, up 12.7 million compared to the same quarter of the last year.
But, according to a recent report from a supply chain analysis (NPD DisplaySearch), Apple was responsible for 84% of total mobile PC shipments in Q2 2012. However, this report has included the stats for Q2 2012, while previous report reveals overall shipments of PCs (including Smartphone, Tablet, desktops and portable PCs) for Q3 this year. Interestingly, we could not expect so much of difference just in a single quarter. If we consider shipments of mobile devices (Tablets and smartphone) only, then Samsung was leading in Q2 2012. And also, we should not be messed up with overall PC shipments. Of course, Samsung is quite ahead of Apple in this space.
However, our discussion here is not about who is winning or losing, but it's about what made Apple to achieve such niche position in Q2 2012. Undoubtedly, increasing demand of iPads and iPhones (worldwide) have boosted Apple's mobile PC market share around. On the other side, LG Display reaped off the benefit from an increasing demand of its  mobile PC panels–thanks to its partnership with Apple.
Apple launched its third generation retina display Tablet–new iPad–in early March this year, which incredibly fueled the company's Tablet market share in Q2, 2012. Besides, Apple also reduced the price tag of its iPad 2 prior to the launch of new iPad. This is the reason why demand of iPad 2 surged over past couple of quarters. Still, iPad 2 is the most popular version among other versions (of iPads). Yesterday, we explained why marketers need to focus more on iPad 2 compare to other versions of iPad.
For Apple, it would not be easy to sustain its dominance in mobile PC space (in terms of shipments) because other manufacturers like Samsung and Lenovo are also hitting the nails with their hammer. They will be looking to build stronger supply chain relationship with touch capable notebooks (Windows 8) and ultra-slim PCs in coming quarters.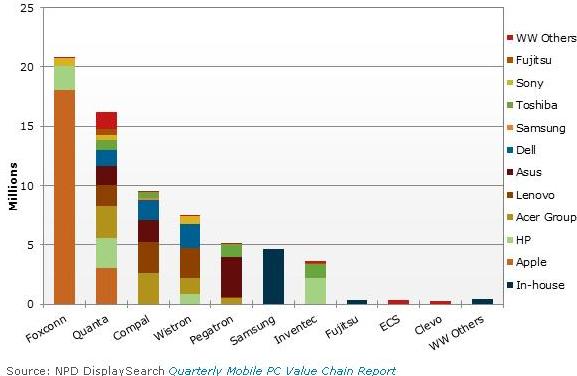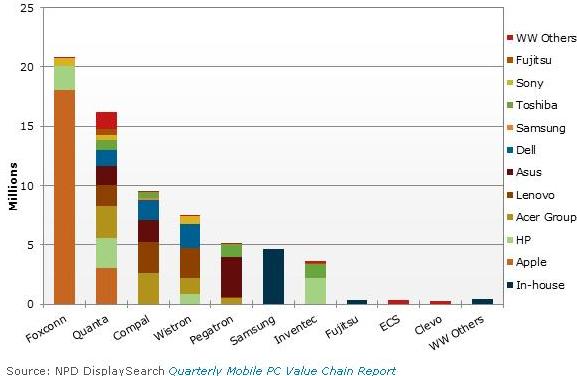 By the end of this year, notebook PCs are expected to show off around 2% Y/Y growth, while mini-notebook categories will be dropped by 28% Y/Y. Furthermore, shipments of tablets are expected to demonstrate around 75% Y/Y growth by the end of this year.
Eventually, Apple's market share (mobile PC shipments) is ramping up due to overwhelming demands for its latest fifth generation iPhone. This time, Apple is facing a strident challenge to fulfill the demand of the iPhone 5. The relationship of the company with Samsung (largest component suppliers to Apple) has worsened due to legal patent maneuvers around the world.
It's expected that Apple could sell 47.5 million iPhone 5 this quarter. As demand of iPad Mini and iPad 4 is on the peak, it's not be procurable for other manufacturers to rule over Apple. In addition, 26 million units of iPads will be shipped in this quarter–iPad Mini and fourth generation iPad are going to play a significant role in the shipments.