Apple launched its third generation retina display Tablet (new iPad) in March this year; the device recorded 3 million shipments in three days of its launch. Besides, it also launched iPad Mini and fourth generation iPad in early November this year. However, iPad has always been on the top in terms of Tablet traffic generation as well as consumers engagement. At the time, five versions of iPad are available in the market. But the question is: Which version is most lucrative for marketers ?
Of course, marketers will prefer the version most (for their business promotions) which has highest users engagement or generating highest web traffic.  A mobile analytic firm–Localytics–has revealed that "iPad Mini" and fourth generation iPad accounted for just 2% of overall iPad traffic during first month of its availability. Interestingly, the cumulative sum of traffics (generated by iPad Mini and iPad 4) is quite less than even original iPad. The iPad Mini comes with a brand new form factor, while the fourth-generation iPad has some improvised internal component upgrade like addition of a lighting port.
The third generation new iPad managed to surpass original iPad in terms of overall market share in just two months of its launch. In context of iPad Mini and iPad 4, the LTE versions of both these devices were launched with some delay. It might be one of the reason why these devices could not get so much of hype as "new iPad got" in its first month of its launch.  Especially, those users who were willing to buy low screen size Apple's iPad along with 4G LTE compatibility, they opted to wait for the launch their 4G LTE versions in November.
If we consider the stats, then the new iPad (third generation iPad) climbed to 14% of overall Apple Tablet market share in just a single week of its launch. And of course, 2% market share for both new models (iPad Mini and iPad 4) in one month doesn't look impressive by anyhow. Still, iPad 2 remains the most popular version overall, holding 53% of overall iPad market share alone.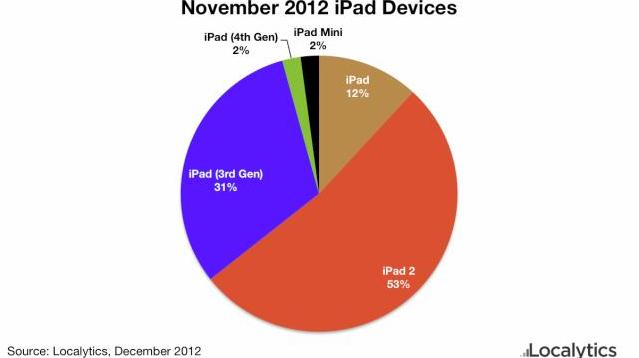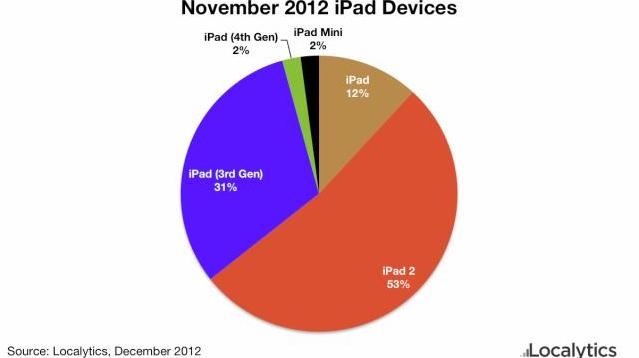 The firm has also reported users' engagement (based on iPad session length) on different versions of Apple's Tablets. Although original iPad is dominates over other versions in terms of engagement, but we can't ignore iPad 2 and new iPad (3rd-gen). Apparently, session length (in seconds) on iPad 2 and new iPad is quite impressive, and also, these platforms have wider audience.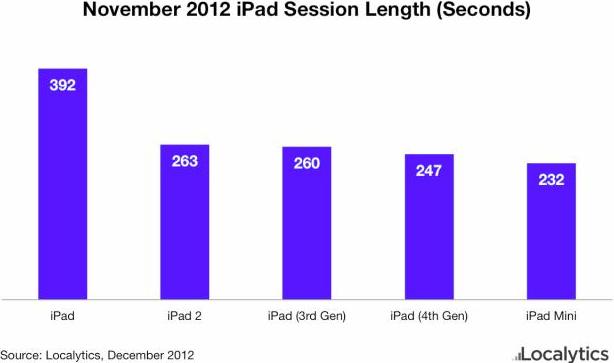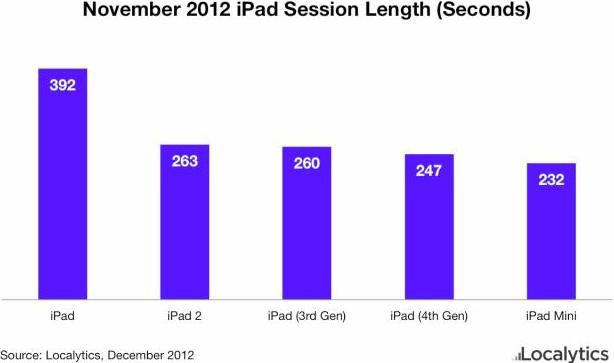 We have already described why marketers (especially mobile game developers ) are more focusing on iPhone platform compare to iPad. It's due to wider audience reachability. It's true that Apple took almost six years to sell 100 million iPhones, but it will nearly take 4 years to sell 100 million of iPads. However, "Localytics" has also chalked up to smaller form factor devices (iPhone's versions). Of all iPhones, the iPhone 5 now makes up 12% of all app usage, but iPhone 4S is ruling with 42% followed by iPhone 4 at 39%. More importantly, iPhone 5 has tied iPhone 4S in terms of engagement within two months of its launch.
Initially, Apple's new iPad Mini was criticized by consumers due to high price tag and specification, but this, the device is steadily gaining market share. According to a recent report, iPad Mini has grown up network ad impression at an average of 28% everyday in November, while its competitor in the Tablet segment (Amazon's Kindle Fire) showed off 19% per day during the same period last year.
Anyway, we could easily see that iPad 2 is still most popular version of iPad, besides it's second most popular version of iPad in terms of session length. Really, marketers has more opportunities to create a hoard of cash on Apple's second generation Tablet compare to other versions.