Google Nexus 7 has finally arrived to Google Play Store in India. Now, Indian users could buy the device directly from Google Play Store, which has recently added the availability of books. However, movies and magazines are still unavailable to the Indian Play Store. The Google Nexus 7 is available at the price tag of Rs 15,999 (~$300), and will be shipped by April 5 this year.
Not surprisingly, we have already covered specification of Google Nexus 7 earlier, but it's important to describe some eye-catching features of the device in nutshell. Nexus 7 features a 7-inch IPS display with 1280 x 800 pixels resolution, a 1.2 GHz quad-core NVIDIA Tegra 3 processor, 1 GB RAM, 16 GB internal storage, 1.2 MP front facing camera, a 4,325 mAh battery and Android 4.1 Jelly Bean (upgradable to Android 4.2).
But one of the disappointing news for Nexus 7 fans is that they could get only 16 GB version of device right now. The 32 GB and 3G versions would be launched later this year, hopefully very soon. However, the Nexus 7 without cellular connectivity and microSD card would be big disadvantages for it.
Google Nexus 7 Vs Apple Inc. iPad Mini In India
Right at the moment, there's no need to explain who (Nexus 7 or iPad Mini) is winning or losing. But one thing is quite clear that Google Nexus 7 has lapsed too much of time to debut officially in Indian smartphone market. On the other side, Apple Inc. (AAPL) takes Indian market very seriously, and this is the reason why the Cupertino-based company launched its 7-inch Tablet in December last year.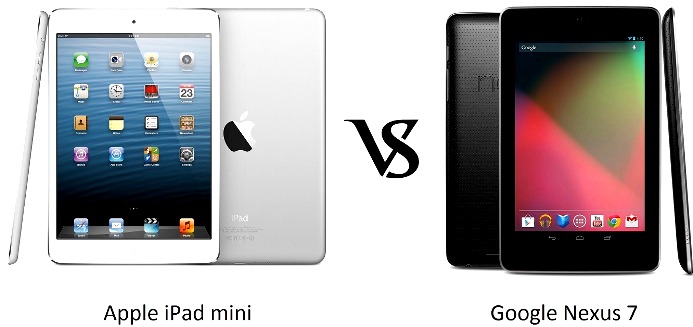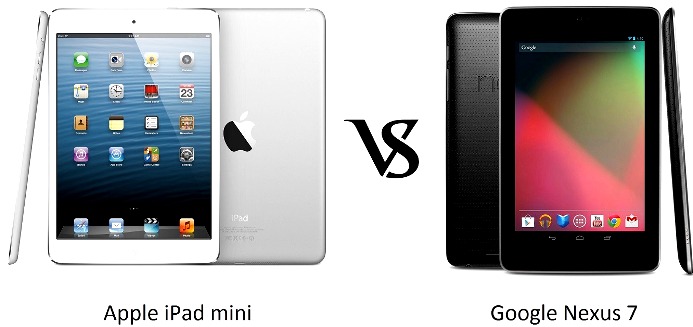 More importantly, Indian tablet market is being dominated by local vendors; global vendors are still struggling to make their stronghold in tablet segment. Till the end of Q2 2012, Micromax led the domestic market with 18.4% market share, followed by  the global vendors such as Samsung and Apple with 13.3% and 12.3% shares respectively.
Before discussing further, we should take a glimpse on some existing competitive tablets in the market. At the time, Indian market is flourished with low-priced tablets, and really, it's tough for either Google Inc. (GOOG) or Apple Inc. to compete with low-priced tablet manufacturers in the country.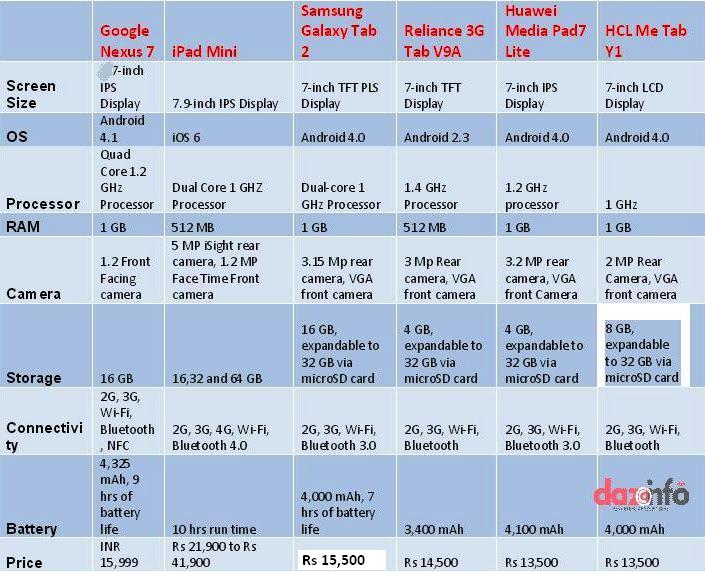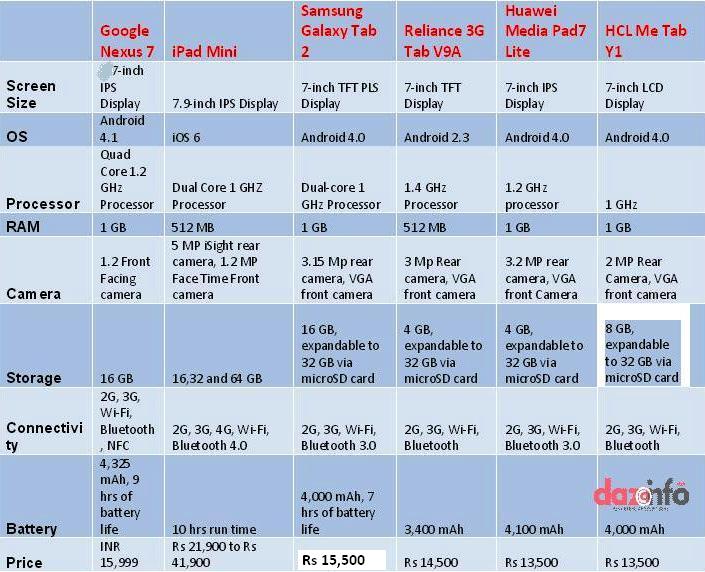 It's pretty much clear that none of the listed (above) tablets are vulnerable in any aspect to others. But our discussion is confined with Apple Inc. iPad Mini and Google Nexus 7. In terms of specification, I think iPad Mini is little better than Nexus 7, especially in camera quality, battery backup, 4G LTE support. Of course, it's time for Indian Nexus 7 fans to cheer up, as their one of the most awaiting Google Tablets has been officially launched in the country.
Pricing Is Important
It should be understood that Nexus 4 and Nexus 7 are still being sold through none-official channels, and interestingly, these devices are considered among top popular devices.  In comparison to processor speed and pricing, Google Nexus 7 would be more preferred by users. But still the Nexus 7 seems expensive compare to other existing device such as Huawei Media Pad7 Lite, Reliance 3G Tab V9A and HCL Me Tab Y1.