Although it has been a trend that Apple's every new products boost its stock price, but this time, the launch of iPhone 5 and iPad Mini have seen a lackluster response on its stock market. The company's shareholders are still in dilemma with recent products. However, they were initially little apprehended with iPhone 5 due to number of blames related to its Mapping app, absence of NFC and more. Despite, the device has already proven itself in the market.
Today, Apple's stock price dropped to $538.79 and its market capitalization reached to $506.84 billion. Over last month, Apple has shown its unbelievable volatility, in terms of pace at which price change occurred. Apple's volatility reached to maximal level in the month of May this year and the share of the company was predicted to be optimal. But the company turned all predictions wrong when its stock price bumped an all time high figure of $702.10 on September 19 this year.
However, Apple shares have experienced some troubles after the launch of iPhone 5 (detractors told that the product lacked innovations), but the company managed to gain volatility after an announcement of the iPad Mini.
You might have noticed that Apple has changed its product release cycle this year. The company has focused on both launching new products as well as revamping existing products. This time, iPhone 5 and iPad Mini are the two important products in Apple's queue to outburst in this holiday season.
But the question is: Whether Apple's sales are on the right track or not? On the basis of its product updates, stock trends and earnings, you can't predict that the company is on the safe side. At present, Samsung is the biggest rival of Apple amongst OEMs, and also, we can't deny with the fact that Samsung Galaxy SIII and Galaxy Note II are the two high-end products in the market. Both these products (Galaxy SIII and Note II) are considered as roadblocks for iPhone 5. However, it's not rationale to compare iPhone 5 with Note II (Phablet) because both are quite different to each other. But it's also true that Note II has somehow succeeded to clinch a significant number of users around the world.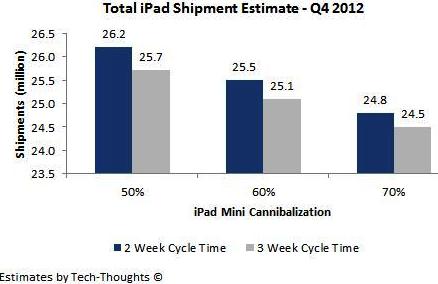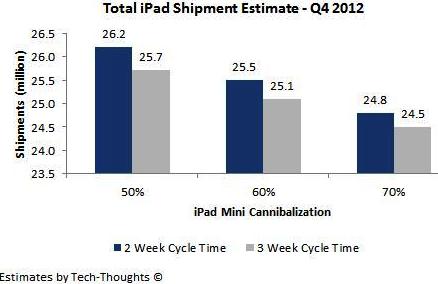 Undoubtedly, iPhone is the most important product for Apple, accounting more than 50% of the company's revenue. Sales of iPhone,fourth generation iPad and iPads are expected to surge in this holiday season due their increasing demand. With the shipments of 26 million units,  iPad will blow off the barn doors. According to Tech-thought prediction, Apple is expected to ship 24-26 million iPads this holiday season, including 19 million third and fourth generation iPad and 6-7 million iPad Mini.