Yesterday, Apple released its Q4 2012 earnings and which was somehow similar what it was expected earlier. But now, the company's Q4 2012 earnings report has sparked out a discussion whether it is moving in the right direction or not. It's true; the profit that Apple has made in last quarter is more than all time profit for a quarter that Steve Job made in his regime .
Before going ahead, it's important to highlight the shipments of Apple's devices for the fiscal 2012 in nutshell.  Apple succeeded to achieve a sale figure of $156.5 billion for fiscal 2012–biggest chunk what it made in Q1 F12 that was of $46.33 billion in sales. Apple's profit for the entire fiscal was $41.66 billion.
The company sold 58.31 million iPads in the fiscal 2012 and more than 100 million iPads as of end of its fiscal year since its launch. Besides, the company sold 125 million iPhones in fiscal 2012; It sold 37.04 million iPhones in just Q1 of F12, while 25.06 million, 26.03 million and 26.91 million iPhones were shipped in Q2, Q3 and Q4 of fiscal 2012 respectively. In addition to this, the company sold 35.16 million iPods, 18.15 Macs and 5.3 million Apple TVs in fiscal 2012 . By the end of last quarter, Apple had 390 retail stores, raised from 357 retail stores until the start of fiscal 2012.
Apple Q4 2012 Earnings:
Apple reported a revenue of $36 billion with a profit of $8.2 billion (or $8.67 per diluted share) for the Q4 fiscal 2012 . Apple beat marketers' estimation in terms of iPhone shipments, but missed the expectation in iPad shipments, profit and earnings-per-share. In Q4 2012, the company reported a decline of $600 million in profit (or $0.65 per diluted share) compared to the previous quarter. Apple sold just 14 million of Tablets, down from 17.1 million in Q3 2012.  Apple sold 26.9 million iPhones in Q4, up 58% compare to the same quarter of the last year.
iPhone contributed $17.1 billion to Apple's overall revenue in Q4 2012, while iPad and Macs accounted for $7.5 billion and $6.3 billion revenues for the same quarter. See the pie chart for more details: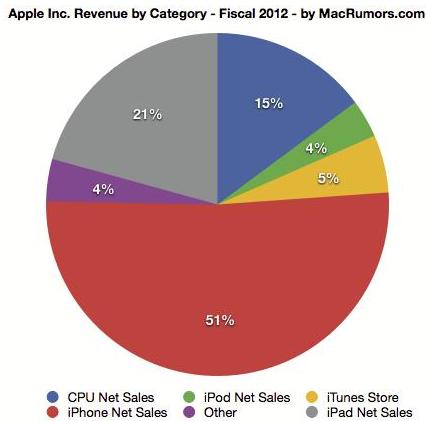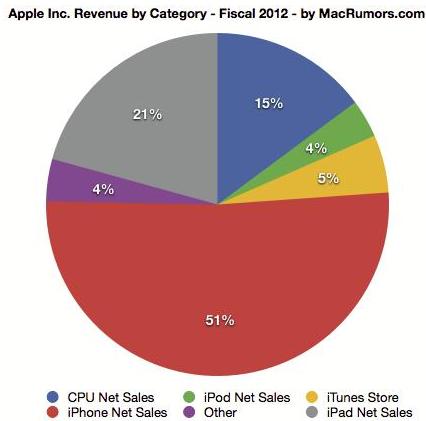 It's pretty clear from the the above chart that iPhone is still most important device for the company, accounting for more than half of its overall revenue. Apple has released slew of products in the past six weeks– including iPhone 5, iPad Mini, MacBooks Pro lineups and more–and these devices are expected to make up 80% of sales in Q4 of this year (calendar). Apple is projecting to create a revenue of $52 billion in Q1 fiscal 2013–which is even greater than the monster Q1 of fiscal 2012.
Noticeable Points In Apple's Q4 Earnings Report: 
iPad shipments dropped in Q4 fiscal 2012 compare to the previous quarter. It's pretty clear, quarter ended June was full quarter for 'new iPad' and clearly, it boosted the sales of the device. Apple shipped 3 million new iPads within three days of its availability, however, shipments of iPhones surged in last quarter due to arrival of iPhone 5; The company got 5 million preorders for iPhone 5 in first weekened of its availability. Profit of the company declined in the last quarter because the company offered iPhone 4S, iPhone 4 and iPad 2 at more subsidized price tags in order to compete with rivals' products.
Apple is offering iPad Mini at the starting price of $329 instead of $249 (as expected)—which is higher than other existing competitive 7-inch Tablets. Despite we could expect significant demands of iPad Mini Tablet in holiday seasons and this the main reason why  the company has set the price of device so high. Of course, iPad mini would be Apple's wild card for Q1 fiscal 2013.