Apple's iPod, iPhone and iPad have changed the trend of mobile industry over past few years. Besides, Android has also succeeded to make its stronghold around the world. As number of smart devices (Smartphone and Tablet) are mounting up, mobile web traffic is also moving up day-over-day. According to Mary Meeker, a venture capitalist at Kleiner Perkins Caufield & Byers, the mobile web traffic has grown up to 13% as of Q4 2012, up from 10 percent in her mid-year report.
We could see strong demand for smart devices in this holiday season.  As per Mary's report, 43% of Kids ranging age group between 6-12 years in the U.S. want to get their hands on an iPad, while 36% of kids want to have an iPad Mini this holiday season. It's obvious that the demand of iPad is going to ramp up as kids are also eager to own the device.
More importantly, Apple's iPad has surpassed even iPod and iPhone in terms of adoption—iPad has seen 3 times more growth compared to iPhone and siblings have left in dust. The number of Smartphone subscriber grew 42% to 1.1 billion in 2012 (as of the Q4 ), but the penetration of the device is still matter to be considered (representing just 17% of worldwide mobile subscriber base). On Black Friday, mobile phones and Tablets represented 24% of online shopping, up from 6% two years before.
Furthermore, mobile traffic represented 13% of all internet traffic as of December 5 this year, up from 4% in 2010 and 1% in 2009.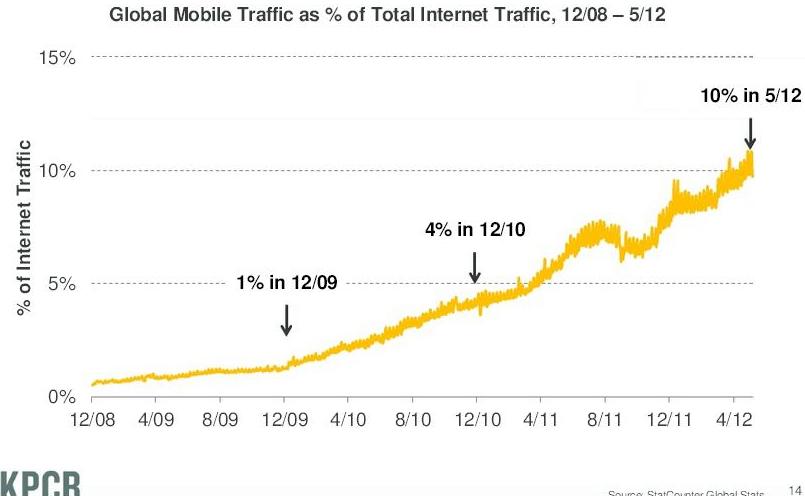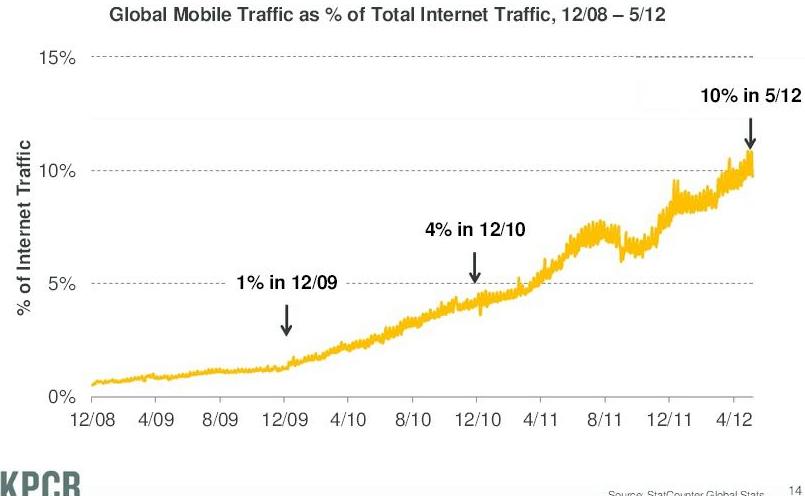 On the other side, the internet is also growing with dizzying pace, and as of Q4 2012, there were 2.3 billion internet subscribers worldwide. Although emerging markets such as India, Indonesia and Philippines saw the strongest growth over last year, but global internet penetration stood at just 32%. In addition to these, 3G connection is also surging month-over-month; there are 1.1 billion mobile 3G subscribers worldwide, representing 37% growth Y/Y.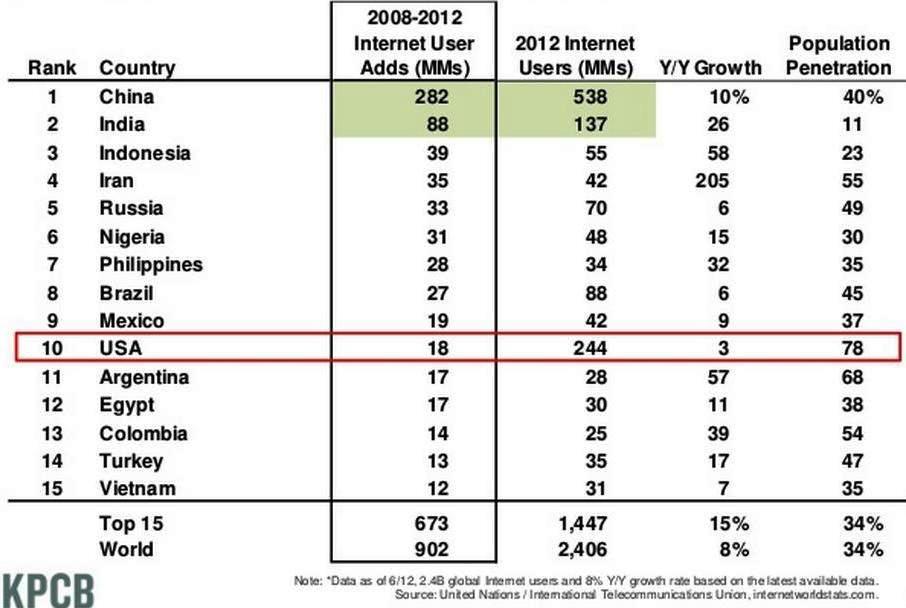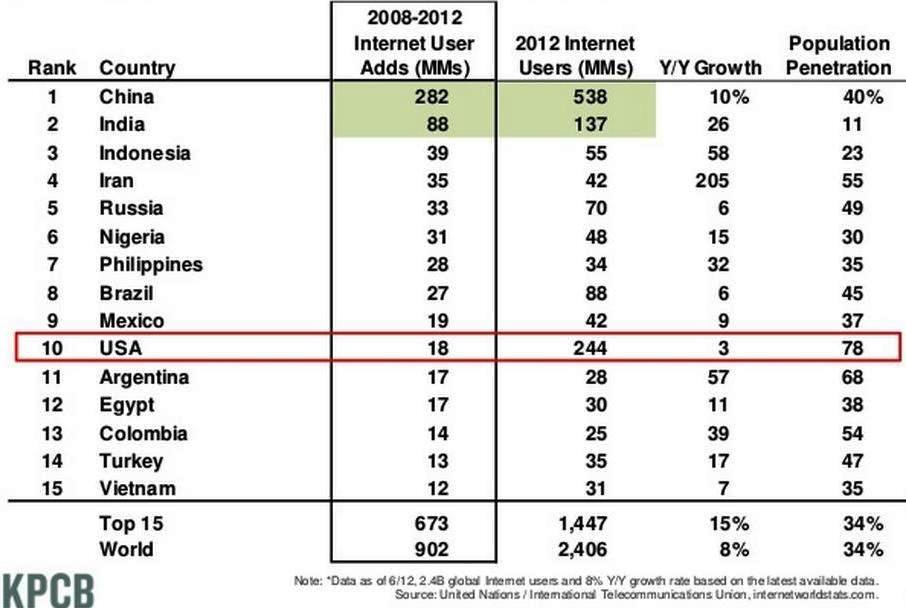 Now, the cumulative shipment of Smartphone and Tablet has outsold PC's shipments. Not surprisingly, Apple's iOS and Google's Android OS had 45% market share of overall computing OS as of Q4 2012, followed by Microsoft with 35%. Although India is the world's second largest mobile market in terms of subscriber base, but the smartphone penetration (with respect to total mobile subscriber base) is still pathetic–it's just 4%. However, the country has succeeded to manage more than 50% Y/Y growth in Smartphone subscriber base in 2012.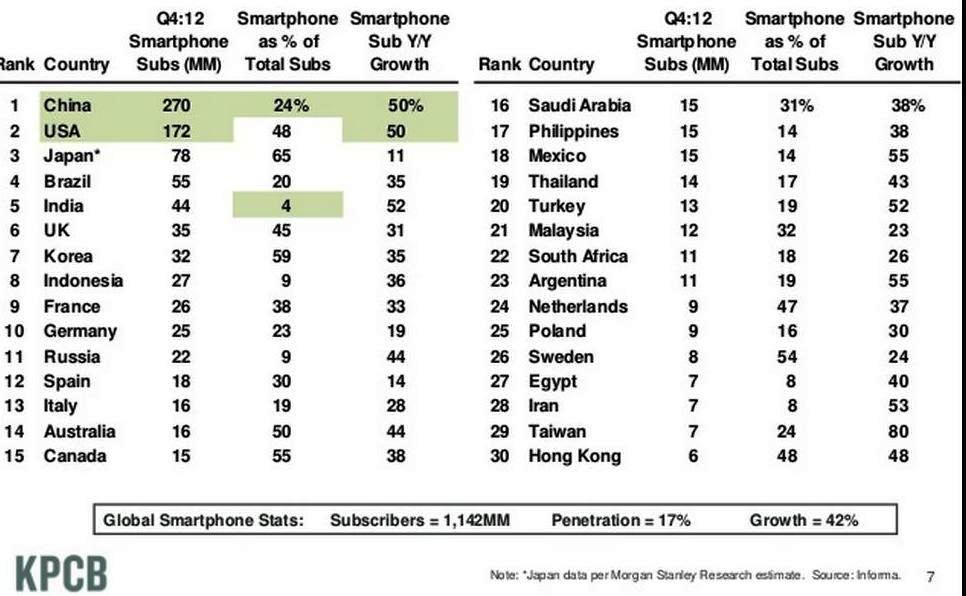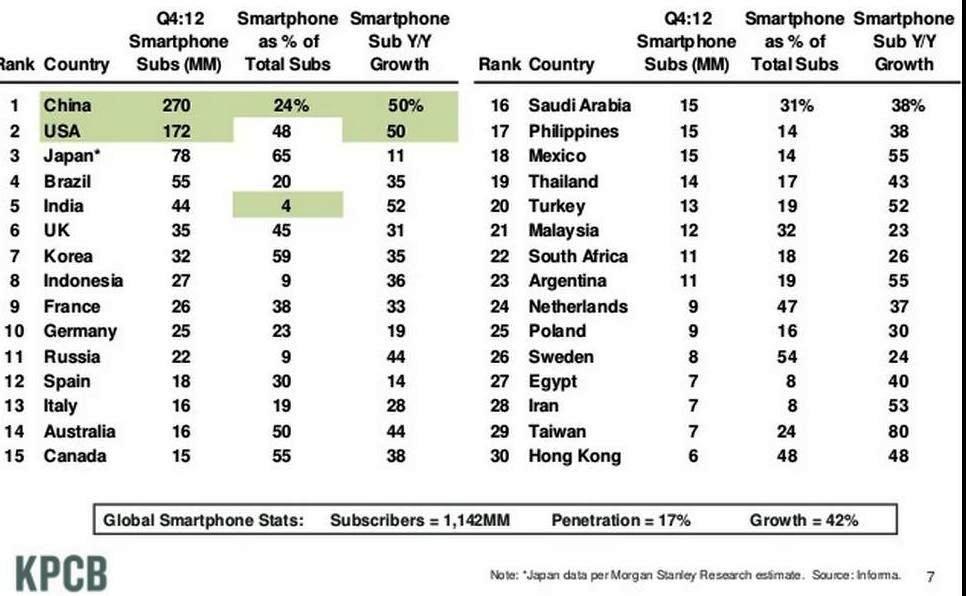 Despite of strong adoption of internet and Smartphone around the world, monetization of mobile device is still a major concern for advertisers. As per report, an effective CPM (cost per thousand) for the traditional online advertising is currently $3.50, while in comparison, an effective CPM from mobile is just 75 cent. Besides, an average revenue per user is dramatically higher on the traditional web platform compare to mobile.