None of us would be expecting A.R Rahman and Shekhar Kapur on a technology website, but only until they came up with Qyuki – a social network that aims at nurturing and unlocking potential talent of Indian youth. It provides a platform over the medium of internet where the Indian youth can come and showcase their talent by posting short movies, pictures, poetry, music etc. Backed up high profile celebrities like Shekhar Kapur and A.R Rahman – initiator of this platform, Poonacha Machaiah will be driving the complete show as the CEO. However, the complete project is subsequently being funded by Networking giant Cisco.
You might be thinking when so many social media sites are available then why would one join this?? Or what's so astounding in this, which would encourage you join? Qyuki is designed and launched mainly to focus and expose Indian talent. Finally, something on the social platform by the Indians, to the Indians and for the Indians. Besides, Quyki also provides an opportunity to work with some of most prestigious names like A.R Rahman, Shekhar Kapur, Imtiaz Ali, Chetan Bhagat, Ranjit Barot and Suresh Natrajan for amateurs and upcoming indian talents. Besides exposure, young talents would be blessed by the guidance and an opportunity to nurture their talent with the  collaboration of these celebrities – just like icing on the cake. The social network has two types of contents; one is created by the experts and other by the users which might need to pass through the process of co-creations.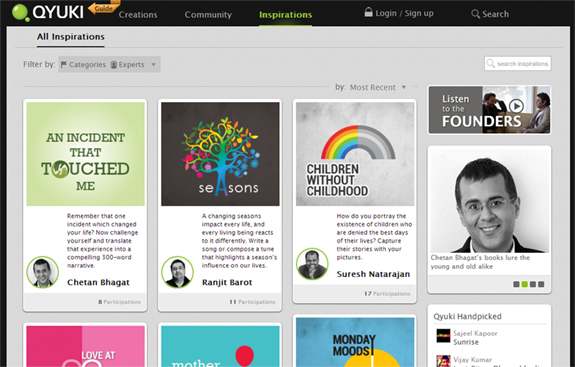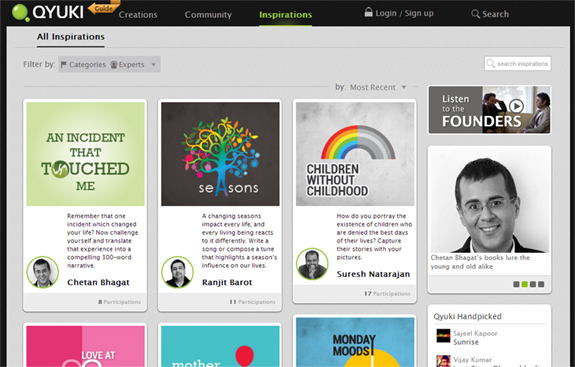 Launched yesterday, Qyuki is ready to serve all types of internet users including Smartphone App. The UI is quite influenced with Pinterest but the mix presentation of various features and modules make it much more interactive and useful for people who want to showcase their talents to a larger audience base.
Undoubtedly, a much appreciable initiative in social space by Indian community. It would be interesting to see how internet users in India are going to react to another newbie in already crowded social networking space. Due to emergence of multiple social networks, Indian users are slowly hand-picking their choices making the presence for any new network more than a challenge. Despite, 25% of Indian internet users are spending their time over social networks and 10% over online entertainment activities. Apparently, Qyuki is targeting combination of both the spaces.
Interestingly, Indian internet users are much more committed towards Facebook than any other social network. In fact, search giant Google has lagged behind in India in terms of time Indian internet users are spending over it.
With all such challenges it would be interesting to see how a high-profile social network would mark its existence among Indian users.