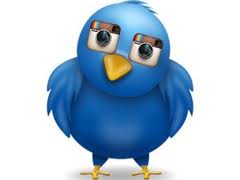 The trim of ties by Instagram with Twitter, turned off support for Twitter "cards". Well, Twitter "cards" is a feature that allows multimedia content like YouTube videos and Instagram photos to be embedded and viewed directly within a Twitter message. Instagram removed a key ingredient of its incorporation with Twitter, indicating deep gap between the two monsters of social media platform. This drift is definitely turning off users of twitter, as many were unknown of this fact and all of the sudden the photos uploaded from Instagram appeared cropped, eccentric, difficult to view and totally unpleasing to eye.
Later (yesterday), Twitter noted in a status update that Instagram disabled its Twitter cards integration. This can prove a right move to Instagram by gaining traction to its site. The change also isn't retribution for Twitter shutting down the ability for Instagram to get access to Twitter's user list,
Twitter and Instagram used to partner closely and greatly in order to compete with Facebook but things changed after Instagram's acquisition by Facebook.
When one thinks about the reason behind this scenario, first thing to strike our mind is the latest clash between Facebook and Twitter, when Facebook, outbid Twitter to nab Instagram.
Is Instagram pressurized to date only Facebook after acquisition? or Facebook wants to show off its acquisition dominance to Twitter ? Anyhow, all these suspects have come to an end. Instagram CEO Kevin Systrom has clearly explained it, as he doesn't want to share their credits rather than Instagram's own website. And this was nothing to do with Facebook's acquisition.
Despite all these Twitter is not mourning instead its concentrating more on services in-house and limit third-party options to users.  Also, its acquiring popular apps like TweetDeck and bolting services like TwitPic. The company's new "mobile first" strategy, quietly moved photo hosting in-house. Also it has rebuilt Twitterrific . Tweetterrific is a fun app which lets you read and publish tweets or posts to the Twitter community website. The user interface is clean and concise to use. Twitterrific is available for Mac desktop, iPad, iPhone and iPod Touch.
In this era of massive social media and brands which grow into social media, for a company to start scaling back on one of the largest outlets just being bought out by another largest seems a bit suspicious. Yes the Instagram CEO said it had nothing to do with Instagram being acquired by Facebook, but then people have been known to assumptions. A corporate obfuscation seems more plausible than a major photo sharing platform to use one of the major social media to its best abilities.