The mobile segment recoded an unprecedented growth in 2011. Many Smartphone manufacturers broke out all the dimensions of sales figures—Apple sold 37 million, while Samsung sold 35 million Smartphones in just Q4 last year. The mobile device has silently become one of the necessary commodities of our daily life—users are now more preferring to do shopping with their mobile devices rather than to present physically into the retail stores. According to a recent report from ComScore that there are almost 100 million Smartphone users present in the US alone. Similarly, a research analysis firm–Chitika–has reportedly stated that Windows web browser market share has declined by 10% since August 2011 due to extensive browsing from mobile or Tablet devices.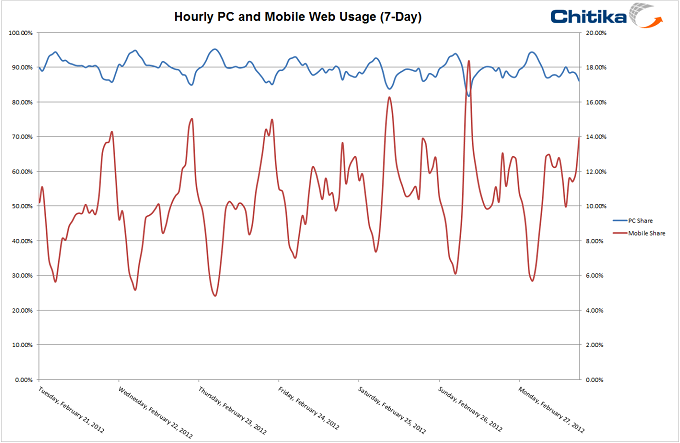 The graph demonstrates how PC and Mobile web use varies according to spending of day's  hours and day of week. Chitika took a sample of data from the last week of February that had included hundreds of millions of ad impressions. Both PC and mobile usage share has been plotted on the graph–the PC share has been provided on the left axis while mobile share on the right axis. All the mentioned hours are in East Standard Time (EST). The firm has reported that mobile traffic accounted an average of 10.55% of all web traffic over the one week sample period–a growth of 34.44% than the level that was measured in July last year. However, 89.45% of the total web traffic is dominated by PCs.
The graph (above) depicts interesting facts about the behavioral pattern of PC and Mobile web traffic by the hours. During sampled period in the US, the mobile web traffic was dropping off around midnight and gradually increasing while in the working hours.  In the US, mobile traffic is peaking around 8-10pm at the end of EST day. On the contrary, PC web traffic was recorded low in the early morning hours, and reach to extreme level (almost 95%) when mobile traffic reached to minimum level. The PC web traffic could be considered as the web for night-owls. PC web usage experiences the highest share of overall web traffic in the early hours of the morning (3-5 AM). Mobile Web use was growing from 5AM  to its peak at the end of day during sampled stint.
It's pretty clear from the above report that PC web traffic is at zenith during overnight while mobile web traffic is at the end of day. The report will be highly fruitful for publishers, advertiser, and businesses with a mobile audience–especially for publishers and advertisers these data will extremely be useful to advertise their contents.
Image credit: Chitika