It seems that iOS users are more interested in web browsing compare to Android users. Despite of introduction of a slew of Android-powered devices such as Kindle Fire HD, Google Nexus , Samsung Galaxy SIII, Galaxy Note II and more over the last six months, the trend of mobile web traffic has not changed so far. According to mobile ad network "Chitika", conducted an analysis on 1 billion ad impressions during six months average period ending November 27 this year,  iOS devices had generated more than twice as much web traffic consumption as Android-based browsers created during the same period.
Over the last six months ending November 27 this year, Apple also launched number of iOS products such as iPhone 5, iPad Mini and fourth generation iPad, and these devices had somehow played a significant role in mobile web traffic generation. In terms of mobile web traffic generation, iOS came away with a 67% browser share in November 2012, up 2% compared to May this year.
Apple's iPad unilaterally dominated in terms of overall tablet web traffic generation, but in terms of smartphone traffic, the company's iPhone faced neck-to-neck competition with Android smartphones. Credits to iPhone 5, launched in late September this year, which fueled mobile web traffic on iOS platform ( in smartphone category).
Although Android market share is on the rise, but the platform is still struggling to engage users. It's said that iOS users are wealthier than Android users, and disparity in the income levels is somehow responsible for poor user's engagement on Android platform. However, it does not mean that Android users earn less in general. Some Android phones such as Samsung Galaxy SIII and Galaxy Note II are considered as premium devices, which are no way cheaper than any versions of iPhones. The image (below) demonstrates the dominance of iPad on Black Friday this year.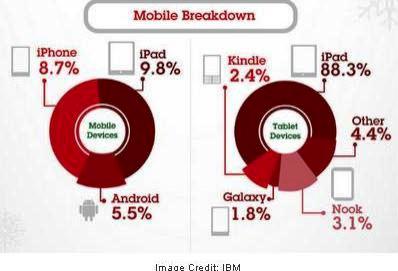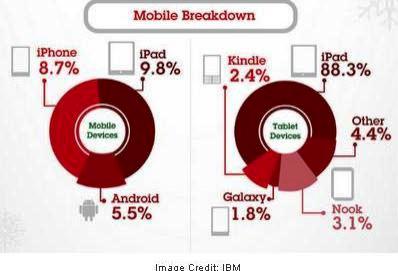 It has been noticed that users are more likely to browse the web through their tablets compare to Smartphones, due to better experiences especially when they do online shopping. Also, iPad dominance in the Tablet market today is the main reason why iOS dominates over other platforms in terms of engagement.
Web traffic on Android platform is mostly driven by smartphones, and of these, Android 2.3 (Gingerbread) plays a pivotal role. The predecessors of Android 4.0 (Ice Cream Sandwich) are reportedly vulnerable to render non-mobile optimized web pages, and also, users (those have Android 2.3 version or its predecessors) are less willing to stay for long time on their mobile device due to poor user interface. However, 'utilization factor' in Android 4.0 and its successors (Android 4.1 Jelly Bean) has been improvised dramatically, and this is the reason why engagement on these devices (Android 4.0 and above versions) is likely to grow in forthcoming quarters.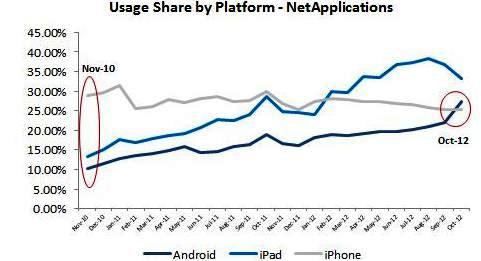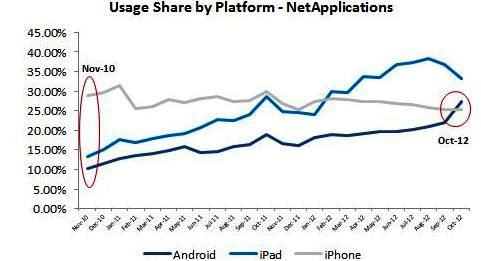 Furthermore, Android users lead iOS users in browsing over the cellular network. Although the activation and shipment of Android powered devices are ramping up, but users (owning Android devices) are still reluctant to make online purchases on their mobile device as majority of cheap Android devices don't exactly provide users an excellent browsing experience what they expect to have.
Image Courtesy: Chitika, tech-thought