India is undoubtedly second largest mobile market of the world after China. Besides, India is also one of the fastest growing country in number of mobile handset users year-over-year. A research analysis firm—Cyber Media Research—has reportedly stated that around 183 million mobile handset were shipped from January till December last year. Among the total shipment in last year, 11.2 million shipped were alone Smartphones. Smartphone shipment in 2011 marked 87% growth year-over-year.
Cyber Media has also said that Nokia dominated in total mobile handset shipment with 31% share followed by Samsung and Micromax with 15% and 5% respectively in terms of units shipments last year.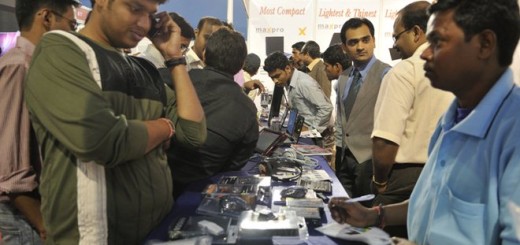 Nokia also dominated in the Smartphone shipment with 38% of the market share followed by Samsung with 28% market share and RIM (blackberry) with 15%. Despite of huge decline in the market share worldwide, RIM succeeded to grab 15% of total Smartphone's market share in India. A research Analysis firm–MediaNama–has reportedly stated that the share of Android-powered  Smartphones has incredibly increased from 9% in 2010 to 34% in 2011 in India.
The report also revealed that around 18 million 3G enabled phones were shipped last year,  a growth of 153% year-over-year. Nokia emerged as biggest player, and total number of 3G handsets were shipped during the entire last year, 52% were manufactured by Nokia. Samsung grabbed 27% of the total 3G handset mobile shipped last year followed by RIM (BlackBerry) with 6% share.
The total number of mobile handset shipped last year, 57% handsets were multi-SIM. Again,  Nokia dominated the market with 13% of share, followed by Samsung and Micromax with 8% each.
It's quite obvious from above report that the Smartphone penetration is continuously increasing in India year-over-year. Nokia is still biggest player in India followed by Samsung. In India, users more preferred to multi-SIM handset compare to single SIM handsets.  Micromax emerged as one of the largest player in India along with Nokia and Samsung. The demands of 3G handsets are also simultaneously augmenting year-over-year in India.