After enduring four consecutive quarters of declining shipments, India's smartphone market is now experiencing a gradual resurgence in consumer demand, fueled by the ongoing Festive Season Sale. Approximately over 45 million smartphones were shipped during Q3 2023, with a flat YoY growth. Surprisingly, India's top two smartphone brands, Samsung and Xiaomi, recorded the most significant declines among the top 5 during Q3, while Vivo emerged as the fastest-growing brand.
Let's explore some of the most fascinating highlights from the Counterpoint report on smartphone shipments in India for Q3 2023.
Top 5 Smartphone Brands In India: Winners & Losers
Samsung maintained its numero-uno position in the Indian smartphone market in Q3 2023, with a 17.2% share. Although this might seem like a triumph, it's worth noting that Samsung's share has dipped from 19.5% in Q3 2022 and 18% in Q2 2023. The success of the Korean giant in India can be attributed to its aggressive expansion in offline channels, offering enhanced incentives and maintaining price parity across different sales channels. Additionally, the company's focus on the rapidly growing premium segment and its commitment to innovation with the latest ultra-premium offerings have been instrumental in helping Samsung maintain its competitive edge.
Xiaomi regained its second spot in the Indian smartphone market in Q3 2023, however, its market share declined significantly when compared to the year-ago period. Xiaomi's market share in India now stands at 16.6% in Q3 2023, down from 20.6% in Q3 2022. It is slightly up from 15% in the previous quarter. The quarterly growth can be attributed to robust demand for the Redmi 12 series and Xiaomi's efforts to expand its offline presence. What's really catching the eye, though, is Xiaomi's strategic move to bring 5G technology to the budget segment. The latest Redmi 12 5G series has struck a chord with consumers, garnering an overwhelming response.
Vivo emerged as the fastest-growing smartphone brand in India among the top five during Q3 2023. The Chinese player recorded an impressive 11% YoY growth in shipments during the quarter. This growth propelled Vivo's market share from 14.4% to 15.9% over the last 12 months. The brand's strength lies in its strong offline presence, a keen focus on Colour, Material, and Finish (CMF) factors, and a successful strategy of targeting the mid-premium segment through its sub-brand IQOO.
However, in comparison to the previous quarter, Vivo lost its second spot to Xiaomi, accompanied by a decline in market share from 17% in Q2 2023. This suggests that Xiaomi has made a comeback and is posing strong competition in the Indian smartphone market.
Realme remained the fourth largest smartphone OEM in India, securing 14.4% market share in Q3 2023. Similarly, Oppo also maintained its spot as the fifth largest OEM in India's smartphone market during the same period, albeit its market share declined to 9.8% in Q3 2023, from 11% in Q2 2022 and 10.4% in Q3 2022.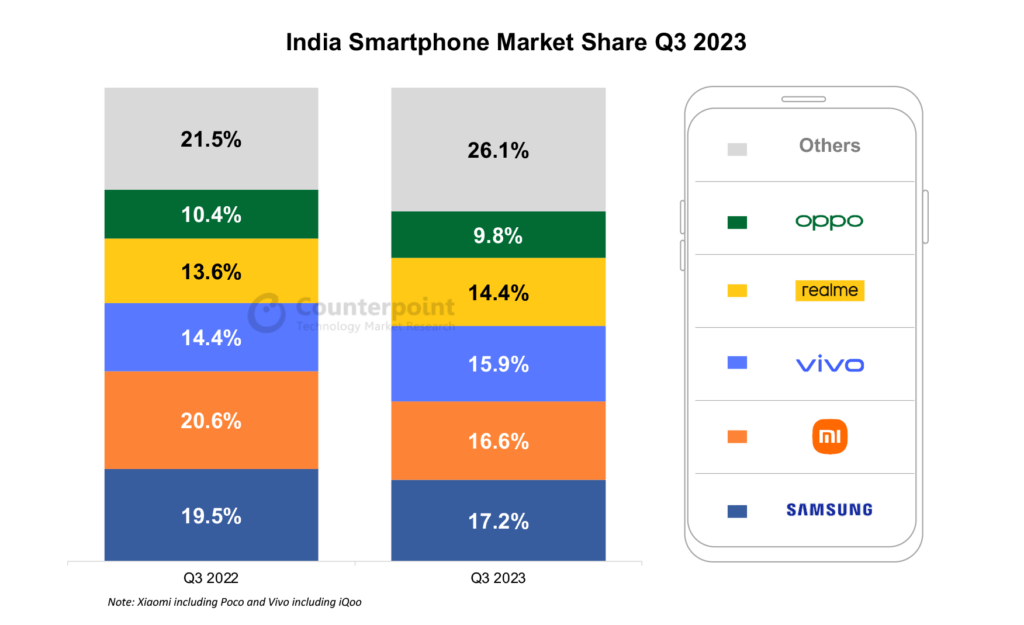 India smartphone shipments Q3 2023: Other Highlights
One of the most significant highlights of the Q3 2023 smartphone shipments is the exceptional growth of the Transsion brand. Transsion became the fastest-growing brand in India's overall smartphone market, achieving an impressive 41% YoY growth during the September quarter.
On the other hand, Apple's performance is equally noteworthy, experiencing an impressive 34% YoY growth in iPhone shipments during Q3 2023. The third quarter was also the first time when Apple iPhone shipments exceeded 2.5 million units in the country.
With a 29% share, OnePlus has successfully secured the leading position in the competitive affordable premium smartphone segment, with prices ranging between INR 30,000 and INR 45,000 (~$360-$540). The growth in shipments was driven by strong sales of the OnePlus 11R.
A Sneak Peek into Q3 Strategies
During the third quarter of 2023, smartphone manufacturers turned their focus toward launching new devices and stocking the channels in preparation for the upcoming festive season.
The Indian smartphone market witnessed exciting launches, featuring key elements like 5G technology and higher RAM (8GB), even in affordable smartphones (sub-INR 10,000, ~$120). The premium segment and 5G adoption took centre stage, with numerous launches dedicated to these areas.
Many OEMs introduced innovative financing schemes in collaboration with financial institutions. They ingeniously marketed the per-day cost of owning a new device, making high-end smartphones more accessible to the masses. The market is steadily inching toward growth, and positive consumer sentiment is palpable as the festive season sales kick into high gear.
With pent-up demand, an extended festive season, and the rapid adoption of 5G technology, India's smartphone market is poised for an exhilarating upswing in the coming quarter.