Till date, both  iPhone 5 and Samsung Galaxy S3 are among the best high-end smartphones. Apple launched its fifth-generation iPhone in late September last year, while Samsung unveiled its third iteration of Galaxy S lineup in the mid of the second quarter last year. Undoubtedly, both the devices have different flavors. iPhone 5 made record in terms of selling; 5 million units of iPhone 5 were  shipped in the first week of its availability. While on the other side, Samsung Galaxy S3 is on the way to hit 60 million sales figure.
But while there's a discussion about internet accessing, iPhones always dominate over Android smartphones. It's true that Android's previous versions (predecessor of Android 4.0 Ice Cream Sandwich) were less internet friendly. However, the Samsung Galaxy S lineups have succeeded to obliterate these myths. Despite,  iPhone is still the king in terms of smartphone web traffic. According to a study report from Chitika, conducted study on the smartphone web traffic from February 1 to February 9, 2013 in North America, the iPhones 5 accounted 51% of web traffic. In comparison, Samsung Galaxy S3 accounted for 49.0% of smartphone web traffic. However, the percentage gap of web traffic between both the devices is still marginal, but it might increase over the next few months.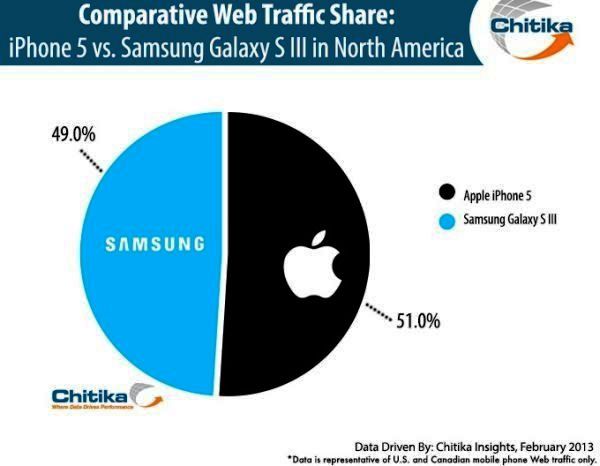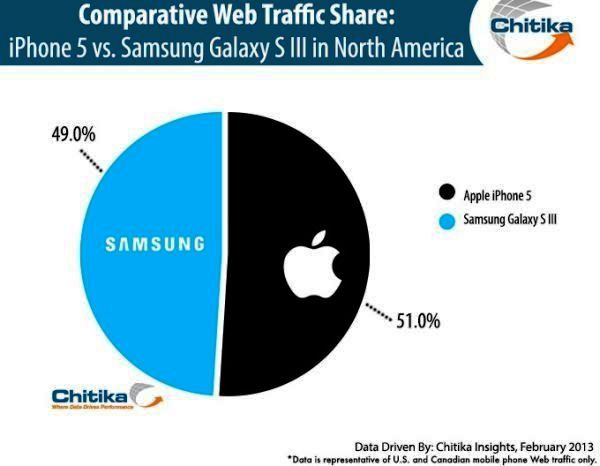 The firm also incorporated other smartphones in the study. Overall, iPhone 5 accounted for 6.6% of total smartphone web traffic, followed by Samsung Galaxy S3 with 6.4%. In terms of aggregate smartphone traffic, iPhones are quite ahead of Samsung smartphones; iPhones alone accounted for 41.5% of overall smartphone web traffic during February 1-9 this year in North America. In comparison, Samsung smartphones could generate 20.6% of smartphone web traffic.
Furthermore, other smartphones accounted for 37.8% of overall smartphone web traffic during February 1-9 this year. In other ways, Samsung' smartphone and Apple's iPhones together generated more than 62% of smartphone web traffic during the study period.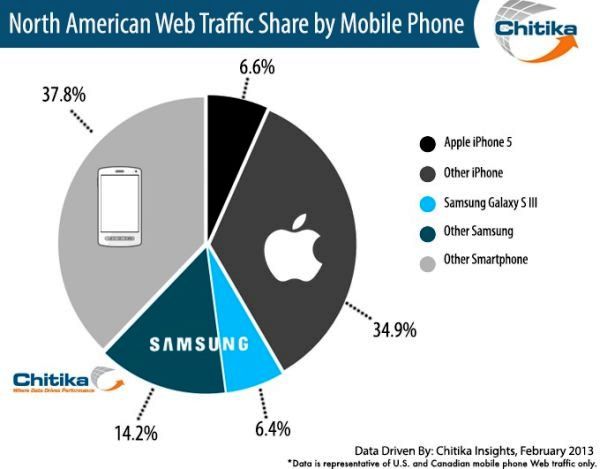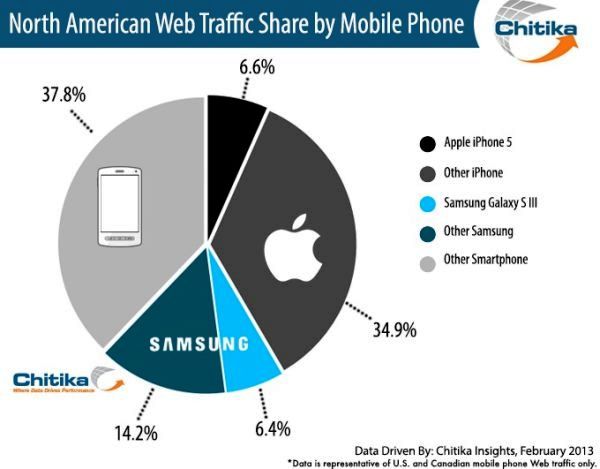 At present, Samsung and Apple are biggest rival to each other in both smartphone and  tablet segments. However, Samsung is currently the world's leading smartphone vendor in terms of sales, while Apple is quite ahead of the South Korean mobile handset vendor in terms of tablet sales. Anyway, Apple is still  leading in web usages share over other smartphone vendors. Actually, people are more passionate to surf mobile web on iPhones.