Facebook is leaving no stone unturned to keep its millions of users in India glued to the platform. The company has apparently taken a cue from one of the fastest growing apps among the youth and has added similar features to the platform, albeit focused on regional content.
A recent report from Economics Times put to light some of the major apps that have been dominating Indian Social Media for the past few months. It comes as no surprise that topping all of them is the relatively recent video-app, TikTok. The app which allows users to make 15-second long lip sync videos has been attaining a growing user base in India. TikTok. previously known as Musicaly, has gone viral and racked up close to 100 million downloads so far. It is also reported that the 20 million monthly active users in India.
TikTok is a Chinese app and launched in India just a few years ago though, India accounts for more than a quarter of the worldwide downloads of Tik-Tok. And this has apparently caught the eyes of people sitting at Menlo Park and constantly crunching data to keep the growth of Facebook intact.
Taking a cue from the exponential growth of TikTok in India, Facebook has also decided to bring music under its purview. Facebook India has recently tied up with top music labels including T-Series Music, Zee Music Company and Yash Raj Films, to have a license of their music for use in social experiences such as videos, messages, stories and other creative content on Facebook and Instagram.
"We're living at a time when we're talking to one another from across the globe using audio-visual language. One video with music and lyrics connects with billions across India and the planet. There's nothing more to be said. And where do they connect? Social Media. So, the idea to officially make available rights of Bollywood songs, which can be heard in every corner of the globe, to Facebook users so they can express their feelings through their posts, memes and messages with added masala and tadka, is an inevitable stroke of genius. Now, just say it with a Bollywood song. Even better, make it a T-Series song!," said Bhushan Kumar, Chairman and Managing Director of T-Series,
Going further, Facebook users in India can make the most of commercial videos, songs and music by including it in their posts. This will, indeed, help hundreds of millions of Facebook users make their updates more engageable and personal.
Facebook India Music: Why Now
Facebook witnessed its base of daily active users growing 9% to 1.52 billion in Q4 2018. The growth was largely driven by the increasing users base in developing markets like India, Indonesia and the Philippines. The daily active users (DAUs) represented about 66% of the 2.32 billion monthly active users (MAUs) in the December 2018 quarter.
APAC is the largest region by the number of DAUs, which clocked 947 million by the end of 2018. Nearly one-third of the users in the region are based in India, making it the single largest country by the number of Facebook users.
It does not come as a surprise that Facebook is used more by the youth of today – So much so that about 47% of all Indian Facebook users are between age 18 to 24. The second largest group includes people between age 25 to 34 years, who make up about 29% of all FB users in India. Only 5% of users are of age 45 & above!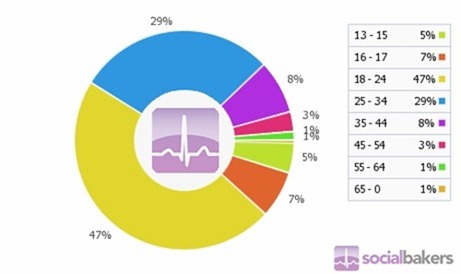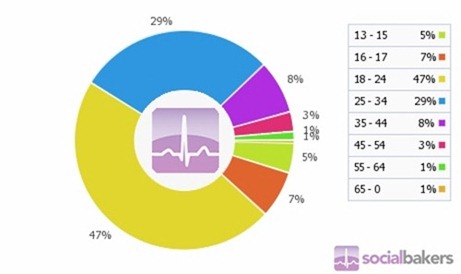 All the above such growth figures make India as the most favourite destination for Facebook to launch regional music.
With its collaborations with major music brands and names in India, the users base of Facebook is bound to grow further. These musical mammoths themselves are excited about the growth that their own industry will witness assisted by the commercialization that they will receive from Facebook. It is a phenomenon that will unfold itself with time and we must all sit back and watch.