The latest data from eMarketer emphasizes what many of already know; Google and Facebook Inc. (NASDAQ:FB) are the kings of the US digital ad industry. Together, the two tech giants will account for 63.1% of the investment in digital ad industry in the US in 2017.
Despite the competition from new entrants in the market, along with old-time rivals, both Google and Facebook have managed to maintain their dominance in the digital ad industry, even beating analyst expectations of a 60.4% of the total digital ad investment quota in the US.
Leading by an overwhelming margin is search engine giant Google. Google, along with its subsidiary YouTube, will account for 42.2% of the US digital ad industry in 2017. This comes to about $35 billion in digital ad revenue, which represents 18.9% year-over-year growth. Google's revenue split between mobile and desktop is fairly even. However, 2017 is expected to be the first year when mobile ad revenue overtakes desktop with a 54% of the total US ad share. Growth in smartphones and tablets is also outpacing aggregate growth at 28.6% year-over-year to $18.90 billion. This means that mobile will stake an even larger revenue share going forward.
Coming in at second is Facebook and Instagram. Together they accounted for 20.9% of the US digital ad business. However, Facebook's growth (including Instagram) is far more impressive than Google's, with 40.4% year-over-year growth amounting to a net total of $17.37 billion. Facebook's fortunes are also much more intrinsically tied to mobile than Google's. The mobile ad revenue accounted for $15.28 billion, or 88% of the company's total ad revenue. Instagram was one of the largest single avenues for growth, with a 90.7% year-over-year growth in mobile ad revenue totalling to $3.08 billion in 2017.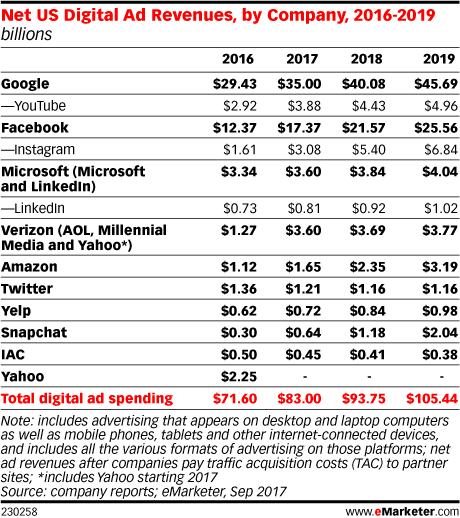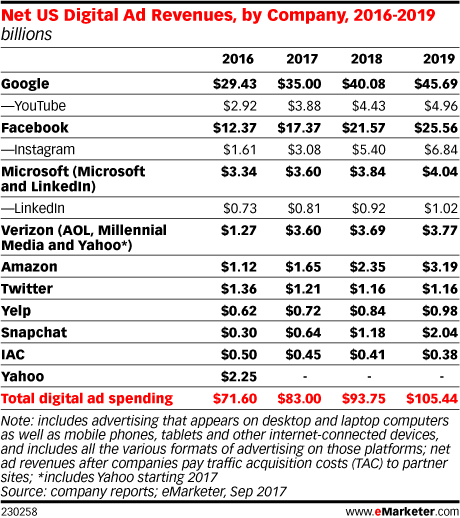 So, what are the reasons behind the market dominance of these two players? Perhaps the biggest one is the increasing demand for targeted digital advertising. Ad publishers are increasingly demanding more focused targeted audiences for their ads. Both Google and Facebook are in a unique position to offer exactly this. Facebook is able to provide highly targeted ads based on consumer interests and demographics. Similarly, Google is able to provide targeted advertising based on search patterns and history.
The flip side, however, of Google and Facebook's strong growth is that other players are suffering. Snapchat is expected to fall below expectations with a mere 1.1% share of the US mobile ad revenue in 2017, as opposed to the expected 1.3%. Their overall ad revenue share is even lower at 0.8%. Twitter's situation is even worse, with the US ad revenues dropping to $1.21 billion. This represents a depreciation of 10.8% YoY, lowering their overall US mobile ad market share to 1.8% compared to 2.6% last year.