The future of payment belongs to digital currency, and most of it would be transacted through mobile phones. Realising the fact that almost every tech major has set its eye on the mobile payment market, and Huawei is no exception. The Chinese tech giant is apparently gearing up to tap the global mobile payment market with its own mobile payment service known as Huawei Pay.
Nearly a year ago, Huawei first introduced its mobile payment service in China, which works on NFC technology. Encouraged by the response in the homegrown market, the company has decided to extend its mobile payment service to more countries. Consequently, Huawei has already started putting things in place. As a first baby step, the company had reportedly filed for a trademark in Europe two weeks ago. Taking a step further now Huawei has filed for the trademark in USPTO, the authorised body of assigning trademark in America, too.
Huawei had completed all the formality for the trademark in America on September 13, and the application has been accepted by the office as well. However, it may take up to 3 months for the USPTO to assign an examining. The filed categorisation of trademark clearly explains what Huawei is up to. In the trademark filing, Huawei has explained the trademark as
'Computer and mobile software for processing electronic payments and for transferring funds to and from others; authentication software for controlling access to and communications with computers and computer networks; magnetically encoded credit cards and payment cards'
Few people familiar with the matter, on the condition of anonymity, have hinted that Huawei Pay may be available as early as January 2018. And, soon after introducing in the US, the company may set its eyes on India.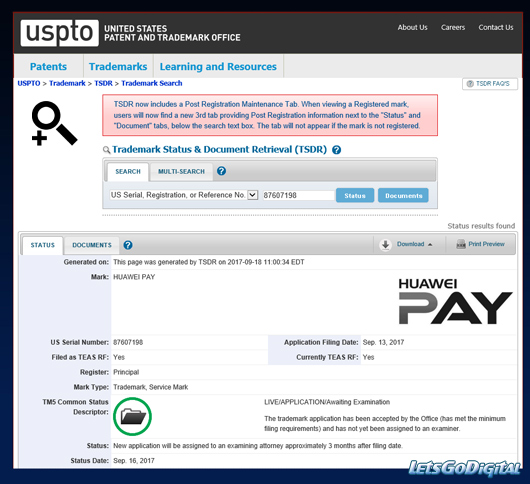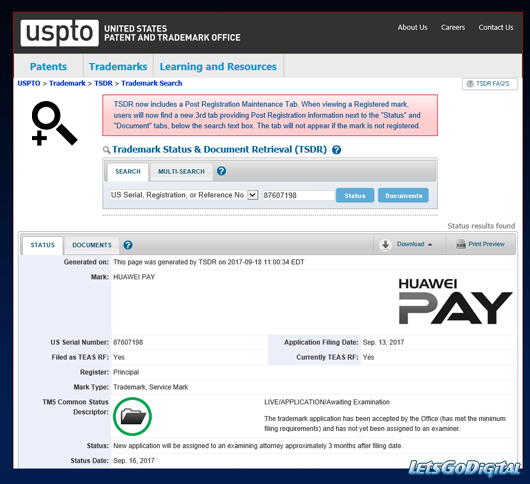 The global mobile payment market is estimated to reach $3.3 trillion by 2022, registering a CAGR of 33.4% between 2016 – 2022. Led by China, Asia Pacific market will be driving the growth of global mobile payment market by 20222.
Huawei's decision to take its mobile payment service beyond China wall has come as no surprise to many. The company has strong footprints in China and European smartphone market. In China, Huawei is the biggest smartphone manufacturer, followed by Oppo. In Europe, the situation is no different for Huawei as the sales number has been rising with each passing quarter. Excited by the performance in China and Europe, Huawei has started tapping India, the second largest and the fastest growing mobile phone market, for the last two years.
Therefore, for a company that has been enjoying pole position in many promising markets, it makes sense to launch its mobile payment service in dominated markets. Huawei has, probably, realised that the best time to penetrate the global market with its Huawei Pay is now. All the leading smartphone players, be it Apple, Samsung or Google, have already started penetrating global mobile payment market in a bid to capture a sizeable share of it. With the introduction of Huawei Pay, it would be interesting to see how the equations will change, and who will emerge as an undisputed market leader.