The future belongs to mobile. This is a fact that we have known for a while now. The landmark presentation "Mobile is Eating The World" by analyst Benedict Evans very aptly showcases how smartphones have infiltrated practically every aspect of our lives. For a while now, mobile has been replacing desktop as the premier method to access the internet. In fact, Google's Android OS is set to overtake Microsoft's Windows as the market leader in terms of internet usage. A recent study by Flurry Analytics confirms some expected trends, but also surprises us with some unexpected facts.
The State of Mobile Report by Flurry Analytics reports that the mobile app usage registered a growth of 11% YoY (sessions) in 2016. The growth, however, is much slower compared to the 58% YoY growth recorded in 2015. This is to be expected, as the market matures and reaches a saturation point.
On the other hand, as more and more people are getting used to smartphone and embracing mobile internet, people are spending more time in apps. It is clearly visible from the fact that the time spent in apps grew by 69% YoY in 2016. In a practical sense, this translated to nearly 5 hours of screen time daily for the average American consumer!
Predictably, the report also finds that apps dominate smartphone usage, with the mobile web only accounting for an 7% share. It is abundantly clear that we are gravitating towards a completely app-based ecosystem.
Dissecting The Trends
The report provides us with some interesting insights on user behaviour patterns, which are vital for any app development company. The salient points are:
The Massive Popularity of Messaging and Social Apps:  
Messaging and Social were the biggest drivers of the growth of mobile app usage. Together they registered a 44% growth in usage and whopping 394% growth in time spent in 2016.
The impressive growth in mobile app usage can be attributed mainly to few factors. First is the increasing prevalence of messaging and voice/video calling features on many social media platforms. The expanding feature set and versatility of these apps have led to increased adoption and usage by users.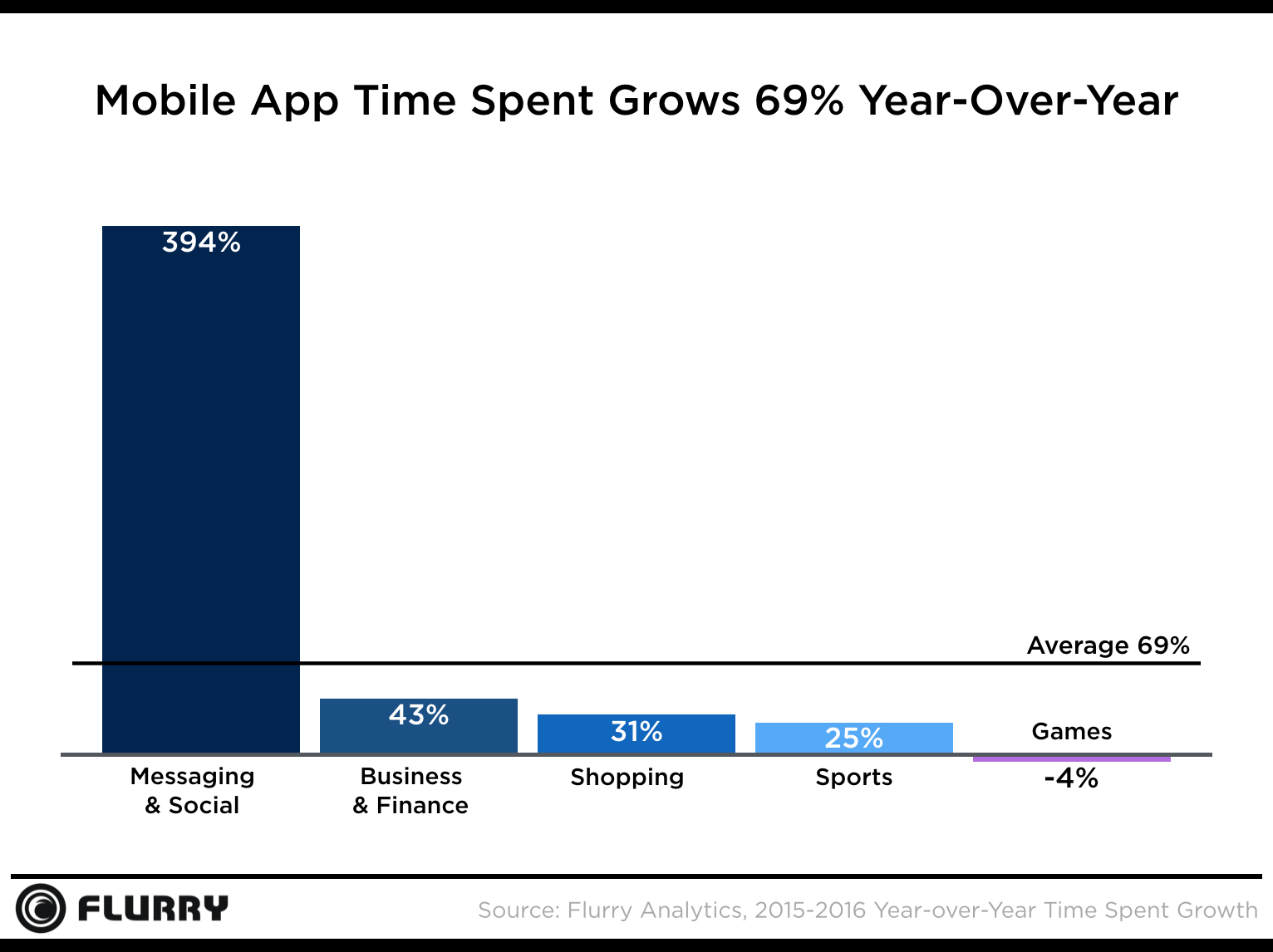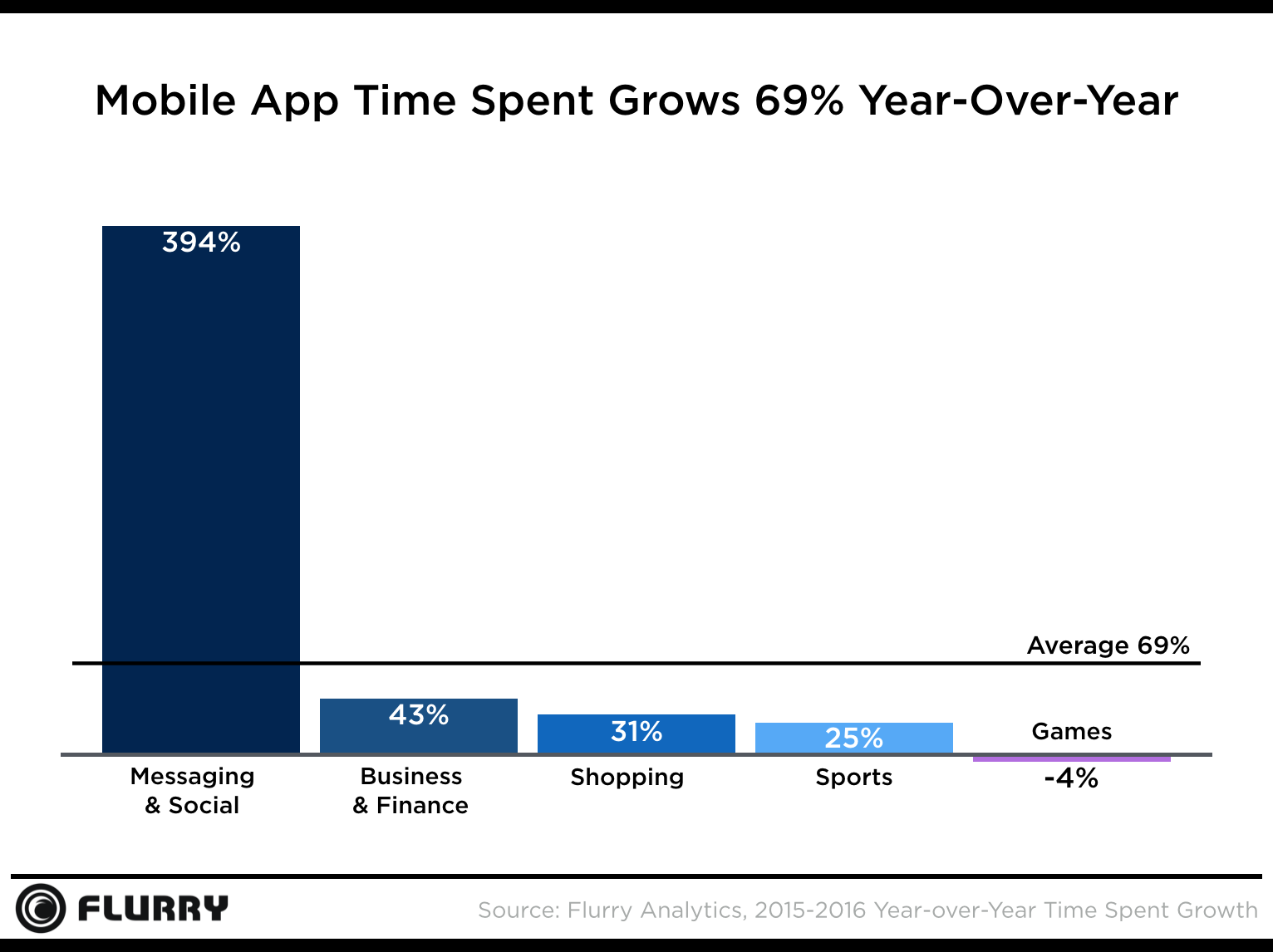 The second factor involves the rise of the "communitainment", which is basically communication for the sole purpose of entertainment. This is exemplified by the extraordinary popularity and growth of Snapchat. The unexpected contributor to the massive growth of these apps has been their popularity with 35-49 age demographic. According to the latest report by Nielsen the middle-aged demographic spend the most time on social media. People belonging to age group 35-39 years were found to spend nearly 7 hours per week on social media. This is more than the time spent on apps by any other age group.
The Dichotomy of Games on Mobile 
Games on mobile experienced a decline in app usage (sessions) for the second year running. According to the report, games depreciated by 15% in app usage. The time spent in games was also down by 4%.
Though the trend may suggest a fall in user interest in mobile games, but a deeper look paints a different picture. Newzoo reports that mobile gaming overtook PC as the premier gaming platform in 2016. Mobile Gaming generated a revenue of $36.9 billion, accounting for 37% of total gaming revenue. This hints to the fact that mobile users are more willing to spend money on their games than ever before. A lot of the "freemium" games on mobile allow users to pay to skip portions of the game, and this could explain increasing mobile game revenues in the face of decreasing user engagement.
Additionally, these findings can also be put down due to an anomalous year. Mobile gaming is a hit based industry, something which was lacking this year.
The Startling Decline of Personalization Apps
Another notable statistic was the fall in usage of personalization apps, which was down by a whopping 46%. As mobile operating systems and apps have matured, they have expanded their feature sets. Many of the features that required separate apps previously are now in-built. This has led to immensely reduced usage of dedicated personalization apps.
Mobile is Going After TV
Back in 2015, Bloomberg reported that time spent on mobile surpassed TV for the first time ever. The gulf between them has only grown since then. The on-demand nature and convenience of watching from anywhere has made mobile the preferred platform for watching videos. With major video streaming giants like Youtube and Hulu planning to offer OTT bundles to users, it looks like traditional TV is going to continue losing market share.
The Smartphone Software Wars Have Commenced
After years of astonishing growth across the board, mobile apps have started eating into their own. Social media and sports categories have experienced tremendous growth, while personalization apps have had a catastrophic fall. Wall Street Journal reports that handset shipment growth has only been a mere 0.6% in 2016. This suggests that the battlefield has shifted to the software side, with hardware having stagnated. This would mean that the mobile app industry is set to become more competitive than ever.
Takeaways
Mobile has become the preferred platform for media consumption at the expense of desktop and traditional media platforms such as TV.
The "Phablet" form factor is slowly becoming the de facto standard due to an increasing demand for larger screen sizes for media consumption.
Gaming on mobile continues to rake in big bucks even as user engagement declines.
With stagnating hardware growth, the mobile software market is becoming more and more competitive.