The growing adoption of smartphone and mobile internet has given a much-needed boost to mobile wallet industry in India. Players like PayTM, MobiKwik, Freecharge are all set to take the charge of the next revolution in mobile space. 
In a country like India with a massive user base of 239 million smartphone users, it comes as no surprise that smartphones have assumed the mantle of primary Internet gateway for a majority of Indians. Smartphone proliferation has directly influenced a change in the behaviour of  the Indian audience. The payment system is witnessing a change in the air, as people spend more time on apps, they have started trusting and adopting online shopping services as well as online payment apps. In a recent report by Neilsen, it has been revealed that not only big urban cities but more than 58% of the residents of smaller towns in India are using mobile wallet apps.
Till now, mobile payments especially contactless payments have been considered to be a form of technology that would only gain relevance in highly mature smartphone markets like those of the US. However, one of the most interesting fact that this report has brought to light is the increasing number of Indian consumers who have been using mobile wallet apps in their everyday life. In spite of the popularity of mobile wallets, there is one persistent question that is stuck in our mind- are people using Wallet Apps like PayTM only for their offers? Or has the convenience of online shopping nurtured a feeling of ease in the Indian smartphone user's mind? Stick with us as we get to the bottom of the thriving mobile wallet app ecosystem.
India Goes Cashless; Embraces Online Payment Gateways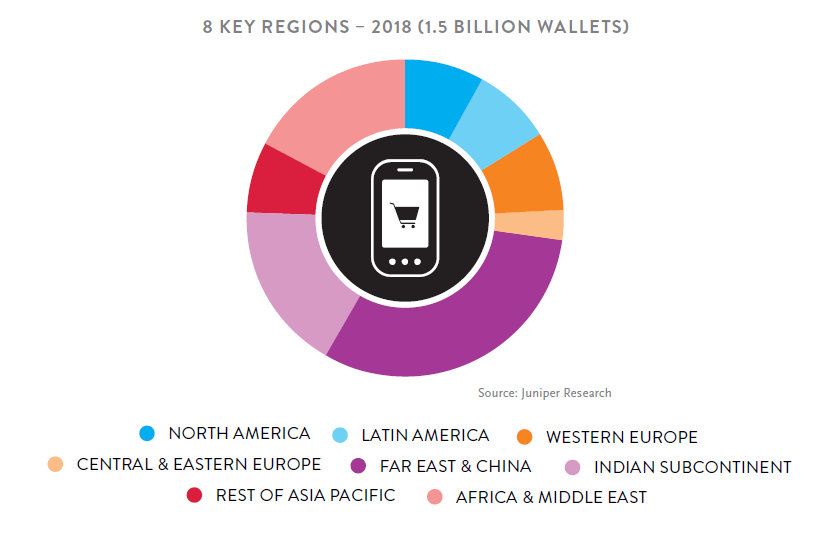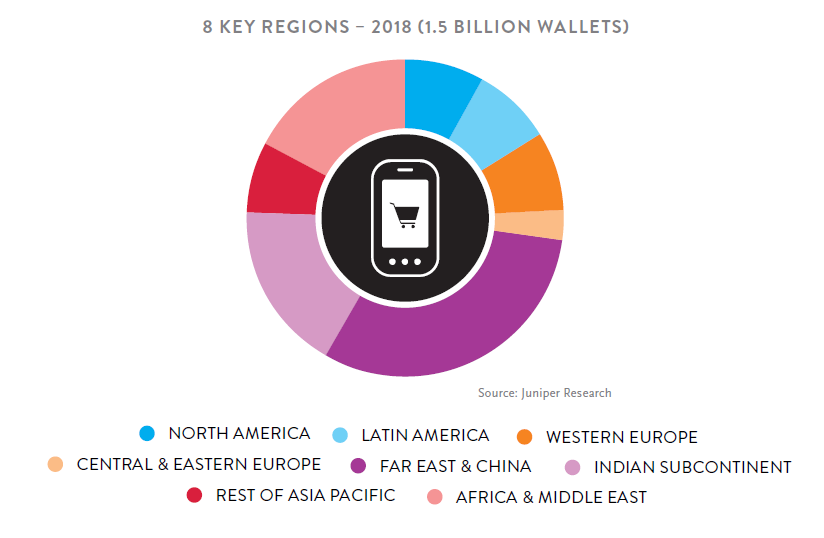 A quick glance at the infographic above reveals that India, despite not being a mature market yet, has staked its claim in the fledgling market of mobile wallets and contactless payments. As the market continues to evolve, contactless payments will continue to become more common with 1 in 3 mobile wallets worldwide supporting NFC-based transactions. The research by the UK-based firm, Juniper Research, states that more than 50% of developed markets will feature NFC-based payment terminals by 2018.
Barring the month of September, Indian consumers have been pretty consistent in their mobile wallet usage across the entirety of 2015. In fact, time spent inside the app has increased incrementally throughout the year, ending at an all-time high of 95.37 mins spent. But was this growth of mobile wallets paved on organic growth and discovery, or was it fueled by festive offers of the holiday season in December? In an effort to answer this very question, we try to make sense of these numbers by dividing the diverse Indian smartphone user base on the basis of geo-location and gender.
#1. Indian Males Show Strong Preference for Mobile Wallets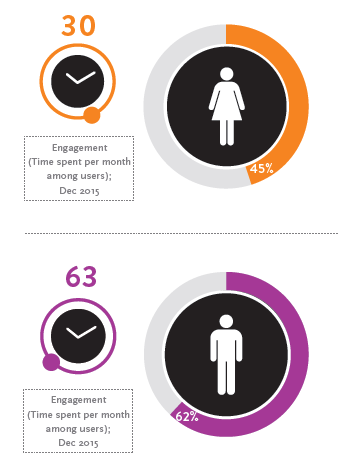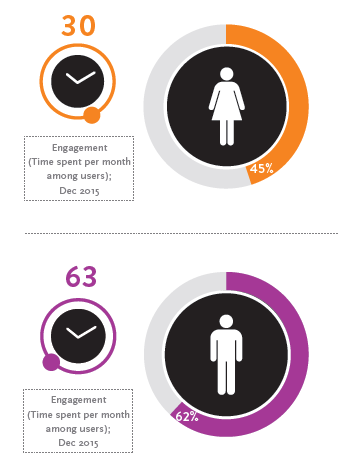 Despite 2015 being a great year for women in terms of online shopping, it seems that they still fall a little behind the men, when it comes to awareness and interaction with online payment apps. Men have traditionally been known averse to spend time on shopping, and this study seems to provide more fuel to the fire with men being 2x times more engaged than women in mobile wallet apps. It seems the convenience of these apps have struck a chord with the Indian men as we find that 62% of Indian men were using a mobile wallet service compared to just 45% of women.
#2. Mobile Wallets Prove Equally Popular in Large as Well as Small Towns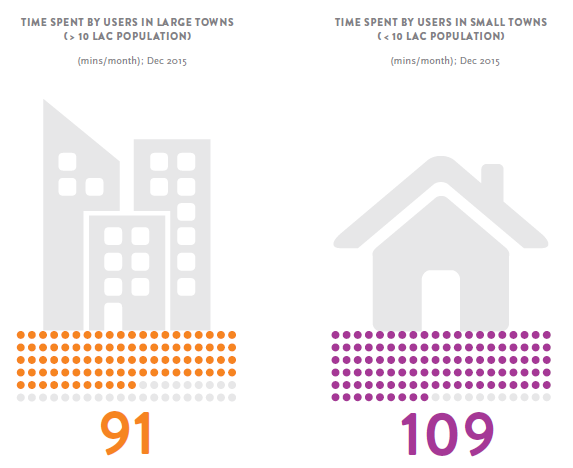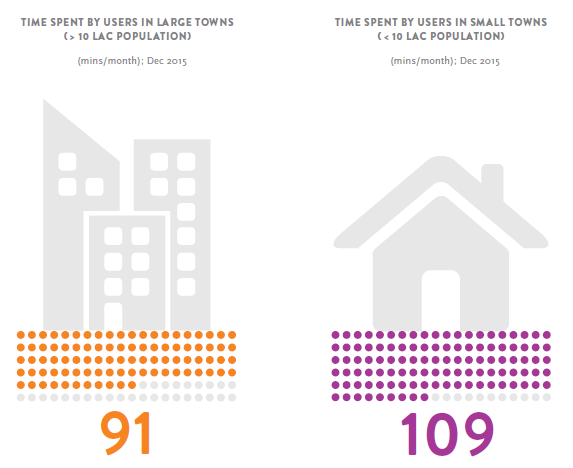 Although the smartphone proliferation is significantly higher in the metros compared to smaller cities, we find that the falling ASP of smartphones in recent months and the increasing tendency of Indian consumers to shop online has brought along a sea change in the mentality of the people. Small towns are almost at level with 58% of people using online payment apps compared to 60% in bigger cities.
However, the most surprising factor was that users from small town spend a significantly more amount of time on these apps compared to their counterparts. Not only that, at 109 minutes, small town consumers used the apps for almost a quarter hour more per month, compared to the nation's average. Nearly 2 hours of usage per month is no mean figure especially for a mobile payment app, and this is why in our next segment we will look at the apps that have received so much attention and try to figure out the secrets behind their success.
PayTM Takes The Top Spot Among Indian Mobile Wallets
With 39% of the users preferring to use PayTM, the mobile wallet service comes out on top as the clear winner among the many online money transaction solutions that abound in the Indian marketplace. Dissecting the success of PayTM though is not easy, as the app has evolved from a simple recharge gateway to an online marketplace and has even made its way to the number 2 spot in popularity among India's Online Retail offerings.
Operating on the simple strategy of giving consumers what they crave most, here are the four pillars of success which have helped raise PayTM to new heights.
As the industry moves towards a more app focused model, we find that the key to success in any online marketplace is having a simple and easy to use the app. PayTM has hit this nail on the head with their Android App receiving more than 10 million downloads. In fact, their popularity is such that every 3 in 10 Indian smartphone user who uses online payment services, uses their app compared to every 1 in 10 who uses the website.
Offers and discounts drive up user interaction considerably, and by running daily offers and sending push notifications of great deals to their customers, PayTM has evolved from a simple wallet app to an online marketplace.
Diversification is key. Instead of conducting mega sales like Flipkart and hurting their own bottom line, PayTM very intelligently gives discounts in the form of PayTM Wallet money thus, urging the consumer to spend the rewards in the same ecosystem.
And finally, comes the ability to multi-task. For any app user retention is the key and PayTM's ability to pay for myriad different services like DTH, electric bills combined with mobile recharges and movie tickets have added to the 'stickiness factor'.
While PayTM has received massive success by following their current business model, the strategy of luring customers in with jaw-dropping discounts might not be sustainable in the long run. We have talked about this and some other pitfalls that the mobile wallet industry in India might face in the time to come.
Final Thoughts
The above comparative graph of the top 3 contenders in the mobile wallet space in India portrays a worrisome scenario. The sharp drop in usage to almost 1/3 rd of the installed consumer base in the space of the 2nd to the 3rd month shows that many of the initial installs were instigated by the first-use promo codes and offers, or by other ways.
Apps must step away from offering such rewards and schemes for first-time users as one-time users do not interact with the app, once they've utilised the promo codes. Instead, companies in the mobile wallet space should look to improve their user interface and reward long-time consumers for their loyalty. To that end, we have jotted down a few pointers that should help out both, new and old, entrants in this space to stay relevant for the longer run.
One of the primary danger of mobile payments and online transactions is the fear of exchanging money online. With more secure APIs for apps, a standardised interface across banks and integration of bio metric authentication into the app itself can help mobile wallet apps to pull in more consumers who have remained skeptical till now.
Wearables is a booming industry and so are contactless payment procedures like Apple Pay and Samsung Pay. One of the primary pull factors of the online wallets has been the ease of use and convenience attached to being able to pay by just a few taps and clicks. By integrating NFC-based payment solutions, we can make that process that much seamless by reducing the payment procedure to just one tap.
60% of all shopping and 50% of all travel related queries in India for the year 2015 originated from mobiles. This just goes to show how big a part mobile is playing in the modern Indian e-commerce scene. If mobile wallets can connect themselves intrinsically with the e-commerce sites, there is a wealth of growth opportunity in that sphere just waiting to be exploited.
"From planning holidays, to decorating homes, to buying groceries, watching their favorite videos online, mobile internet is beginning to influence, and in many cases define, an Indian user's first experience online- and the Industry is taking notice, says  Rajan Anandan, VP & MD, Google India. He continues,"looking at these trends, it is clear that the Indian users are embracing the internet like never before."
It seems that the world has awakened to the possibility of India as the new smartphone and Internet giant. How the mobile wallets can use this to their advantage, that is something that still remains to be seen!