India, home to a billion people, had finished 2015 with 239 million smartphone users, surpassing even the USA in sheer volume. In a country where smartphones have become the first and in many cases, the only gateway to the Internet, it is interesting to note how the e-commerce industry of India has evolved as smartphone penetration has increased at a steady rate. The latest study from Coupon Rani has brought to light some of the interesting trends noticed among the Indian online shoppers, the most surprising of which has been a major shift in preference from the mobile e-commerce websites to their app counterparts.
In stark contrast to the scenario of a year earlier, where 1 out of every 2 people was not happy with App only shopping; this time around, a whopping 42% of respondents had voted that they preferred shopping apps over other means of shopping online! So what has changed in the span of just one year that could have swayed the public opinion on its head? Increasing familiarity with shopping online and the steady proliferation of smartphones in the Indian market both played their part, but individually none of these factors could have been strong enough to change public opinion in such a short time span. In today's analysis, we dig deep to find out the hidden spark that ignited India's app only revolution!
Rise of the Mobile E-Commerce App
Indian smartphone users spend nearly 1/8th of their day on their smartphones browsing through the various apps. Thus, it comes as no surprise that when surveyed, a whopping 42% decided to go with mobile apps as their preferred mode of buying things online. However, one of the more surprising data that was revealed during this survey was that people prefer to browse on the app rather than using the web browser to search for products and using the mobile website.
In fact, 4 out of 5 people included in the survey confirmed that they shop via their smartphones, and this single statistic shows us how much smartphone-centric the online Indian has become! With only a meagre 15% sticking exclusively to desktop shopping, one must wonder why the good old browser has fallen out of favour, be it on PC or mobile. With this very question in mind, we move on to our next segment, where we discuss the various reasons for the phenomenal success of the e-commerce apps in capturing the public's eye, as well as their heart.
Apps Trump Mobile Websites in Time-Savings & Convenience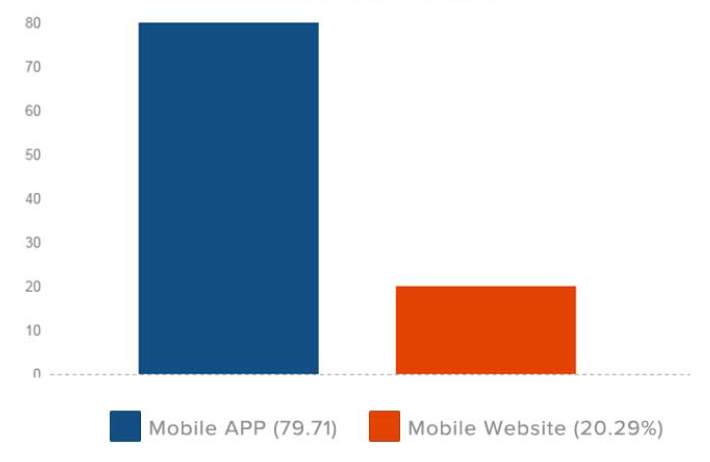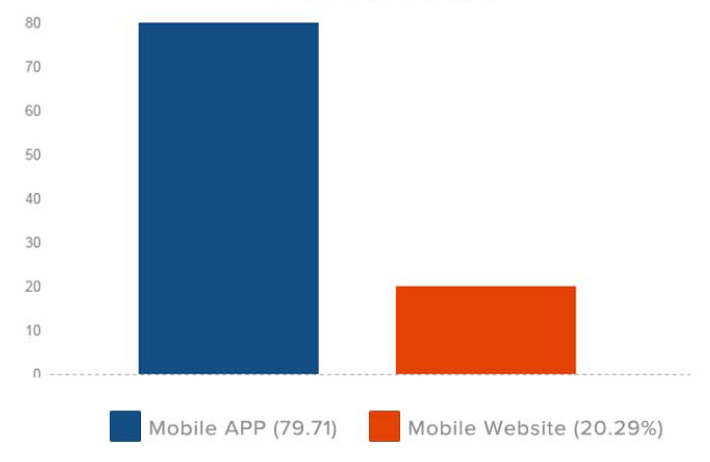 A thumping majority of nearly 80% considered that the mobile app was faster than the website. While technical issues like optimisation are also at play here, the major differentiating factor for most consumers had been the startup time. The one click procedure of choosing an app that is already installed was given preference compared to the relatively tedious process of firing up a web browser and then navigating to the necessary mobile website.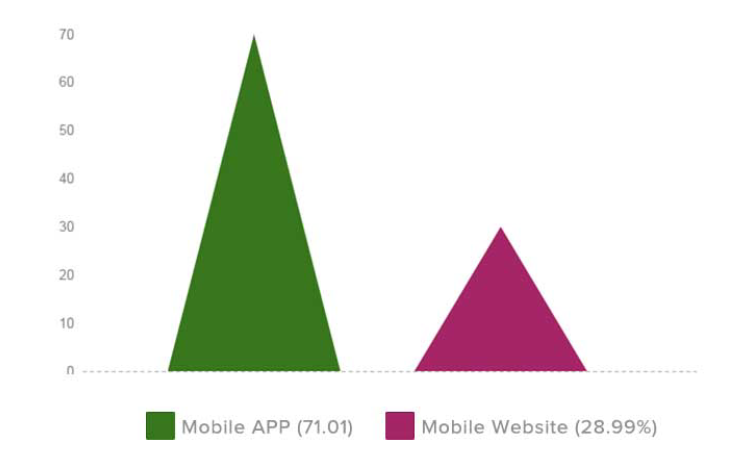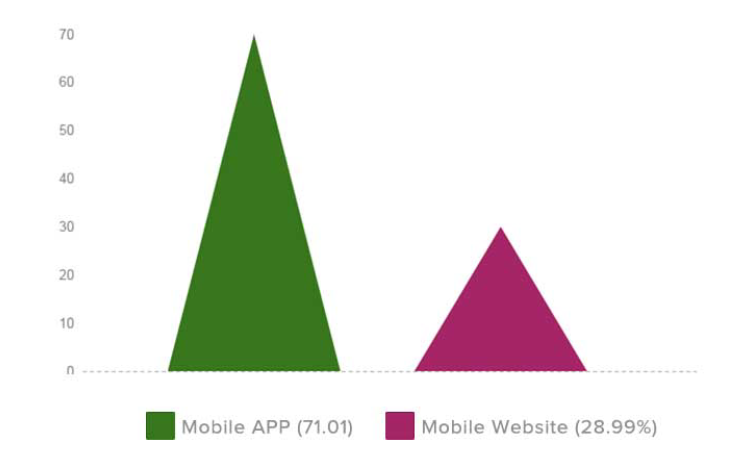 Not only did native apps use the underlying system APIs to a performance advantage, but they also helped in providing a more fluid and easy to work with interfaces as well. As a result, we find that 71% of the people prefer visiting an app store rather than the mobile website as the product description layout, and general convenience in navigation is better on the app. However, the scenario changes when price comparisons come into play as customers looking to compare prices across various e-commerce stores prefer the mobile websites over the app environment.
The Ascendancy of Flipkart in Indian E-Commerce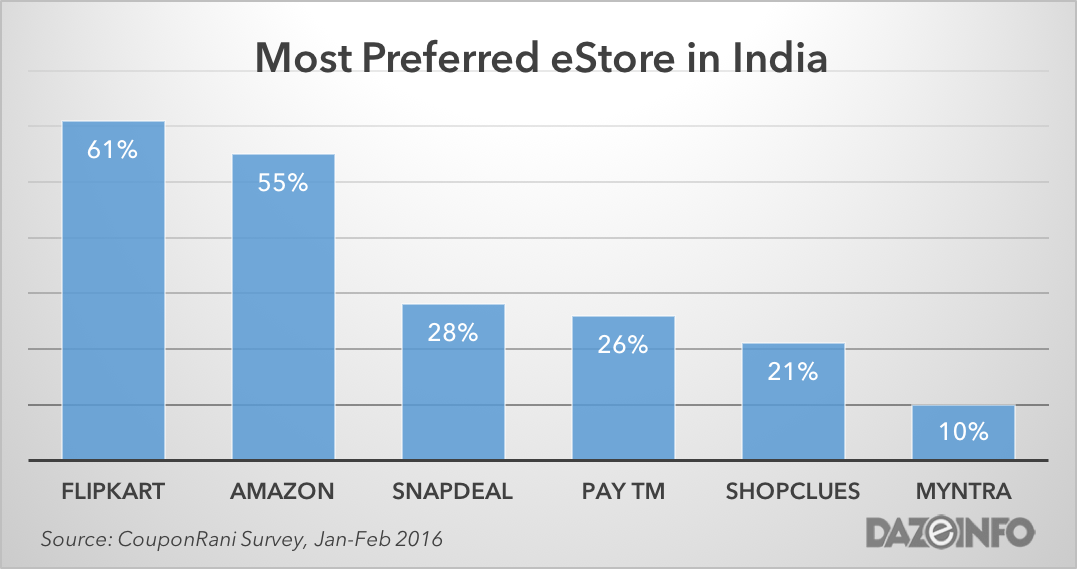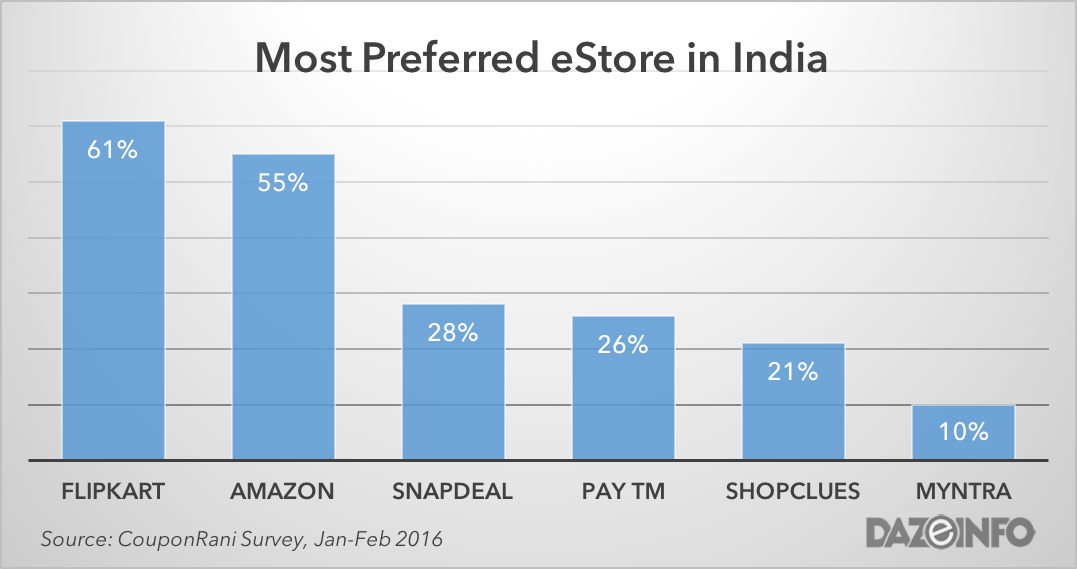 As is apparent from the graph above, Flipkart has managed to hold onto their supremacy in the Indian e-commerce scenario with 61% of the consumers voting for the site as one of their favourite sites to shop from! Close to its tail is Amazon with 55% of online shoppers voting for it while the other competitors Snapdeal, Paytm and Shopclues all at under the 30% mark.
So what has been the major reasons for Flipkart's success? We have highlighted a few points down below that have been essential in their path to clinching the top spot in the Indian e-commerce industry.
Almost a year ago, Flipkart decided to shut down their mobile website and go for an app only route on mobile. While they might have faced a tremendous backlash at first, in the end, it seems the customers have preferred the smoother and more cohesive app experience, and Flipkart has been repaid handsomely for their gamble.
Keeping in line with e-commerce stores across the world, Flipkart has also introduced a messaging service called Ping which helps in providing a more immersive and social experience for the online shopper. This ultimately leads to better customer retention and customers spending more time inside the app.
And lastly, they've drawn in customers to exclusively use the app by offering app only discounts. While sales efforts like the Flipkart's Big Billion Day might not have made much economic sense for sustained growth, app only offers has helped Flipkart retain a large portion of their audience and get them to check out their app daily with push notifications for daily offers.
However, despite all the efforts put in by various e-Commerce companies to tie in customers to a particular store, online buyers looking to compare prices and use coupons still prefer the desktop environment. With many such problems like these plaguing the app-only model, how does the future look for the Indian e-Commerce giants and their app ecosystems? We try to answer that question and in the process raise a few more in our ending segment of this analysis.
Final Thoughts
Myntra one of the few e-Commerce sites to have gone completely app only fared the worst among the customer popularity with only 10% of the people considering it as a favourite e-commerce website. While some may brush it off as Myntra is a niche store catering only to wearables, we think that there is a much more deep-rooted problem at play in here.
43% of shoppers responded that they preferred a desktop site when searching for coupons, deals and comparing various websites for prices. While the mobile is compact and easily accessible, the abundance of real estate on desktops makes it a formidable force to reckon with even in a smartphone-centric eCommerce economy such as India.
As this $16 billion industry hurtles towards a new future, here are a few things that e-Commerce giants would do well to keep in mind
Mobile wallets and Contactless payments must be introduced to facilitate easier online transactions for consumers. In the financial year 2015, 14% of the total transaction from India came in the form of online transactions and as an app based online shopping continues to boom, we shall see this percentage climb higher year over year.
E-Commerce sites must maintain the basic rules of website design and navigation so that consumers who might happen to chance onto the mobile web page are not turned away by it.
And finally, apps must consider implementing a better system of comparisons along with developing easier ways for customers to find out about discount coupons and other offers. The use of phablets are on the rise and app developers must look to utilise the increased screen real estate to compete with desktops in terms of information density.
While smartphones and apps are the future of e-Commerce in developing markets, and this latest report confirms it beyond any reasonable doubt, the participants of the report, in a very broad sense, might have shown us a glimpse of the age distribution and mindset of smartphone-toting online shoppers in India.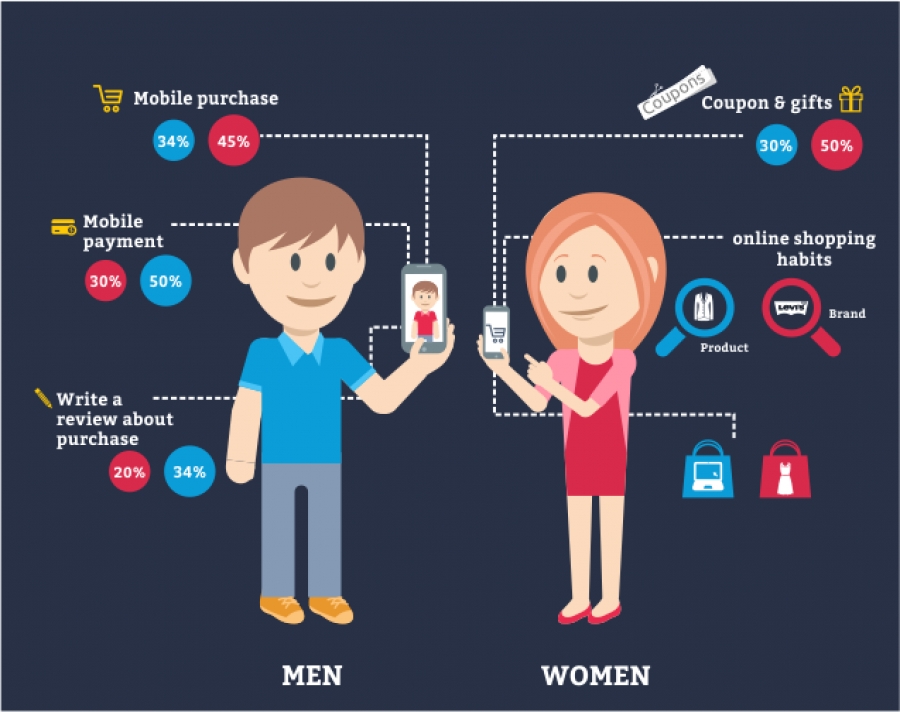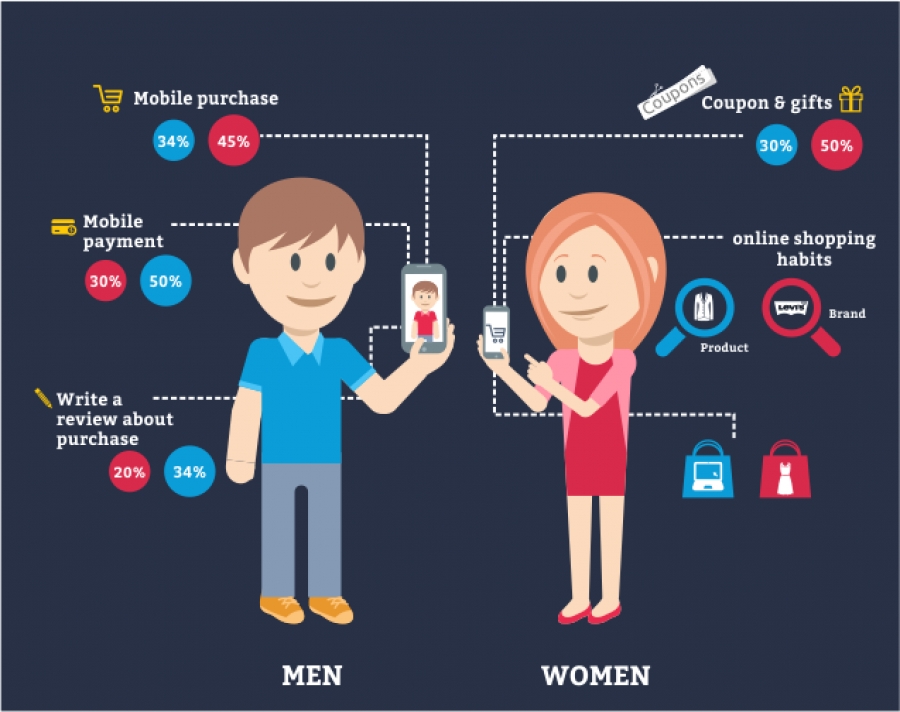 Among the people who took part in this CouponRani survey, 44% were in the 26-40 age group while 33.33% were 25 and younger which means that the convenience of online shopping has attracted almost all age groups. Another interesting factor that came to light was that 60% of the online shoppers were male and sure enough, this remains a norm not only in India but across the world.
And with this little nugget of human behaviour in our minds and great hope for the Indian e-Commerce industry in heart, we come to the end of this analysis!