Apple Inc. (NASDAQ:AAPL) and Samsung Electronics Co Ltd. (KRX:005930), the two smartphone behemoths, are emerging as the key players to drive the worldwide growth of NFC based mobile payment system in 2016. According to the latest study, titled Contactless Payments: NFC Handsets, Wearable & Payment Cards 2016-2020, from Juniper Research, the number of smartphone users making payments via their NFC-based mobile payment solutions, i.e. Apple Pay or Samsung Pay, will reach 148 million in 2016. But, what is more interesting to look into the study is, the contribution of Apple and Samsung, together, will account for 70% of the new users.
The study also highlights the strong, but positive, market reaction to the launch of Apple Pay and Samsung Pay – mobile payment solution – in many selected key markets. In China, one of the most promising markets for Apple, nearly 40 million payment cards were reportedly registered within 24 hours of the launch of Apple Pay in mid-February.
Global mobile payment market is estimated to hit US$620 billion in 2016 and NFC-based mobile payments will account for a sizable chunk of the pie, predicts TrendFroce, a Taiwan-based analytical firm.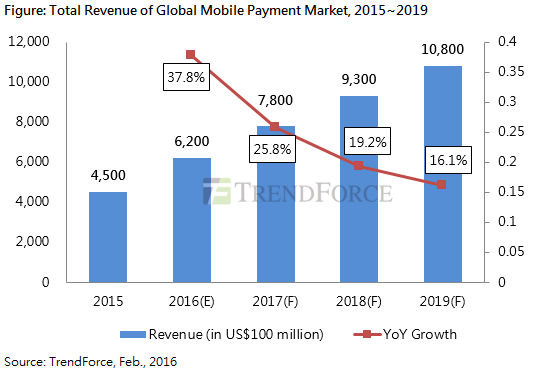 The trends are clearly discernible; as most of the latest smartphone devices are equipped with NFC (Near Field Device) technology and therefore, adoption of NFC-based mobile payment will witness an all-time high in the next 2-3 years.
The challenge, however, lies with the Retail Outlet installing of NFC readers. In a developed country like US, only 1 in 5 POS (Point of Sales) at retail outlets are capable of accepting contactless NFC payments. While in China, smartphone users have given an encouraging response to NFC-based mobile payments while emerging markets like India and far East Asia are yet to pace up.
NFC is the Future of Mobile Payments
Have you ever wondered why almost every tech giant, including Apple, Samsung and Google, is betting big on NFC-based mobile payment, especially in an era of mobile internet where people can easily make a payment using their Digital Wallet? Why do we need to have a payment system where dependency on hardware – requirement of NFC-based chip in smartphones and NFC readers at retail terminal – is really high?
The NFC-based mobile payment system is being considered as the most secured mobile payment environment where neither the consumer nor the retailer has to have an access to the card information like card number, security code etc, stored in a chip known as Secure Elements. Consumers need to save their secure elements in their smartphone once and make a payment just by bringing their smartphone closer to merchant's contactless payment-capable POS system. Once the connection is established, user will have to approve the transaction either by scanning his fingerprint or by entering a secure password into his smartphone.
Due to the complex structure of mobile phone transmission, the robust system is quite invulnerable to hack.
Banks Embracing HCE To Make NFC Mobile Payments More Secure
Banks and financial institutions are thinking a step ahead to make NFC-based mobile payments more secure. Instead of storing consumers sensitive account/card details inside the smartphone chip, called Secure Element, banks are opting for a cloud-based HCE (Host Card Emulator) solution where all the ultra-sensitive information of a consumer will be stored in a cloud, bypassing all the third party players involved in providing Security Element (SE).
https://vimeo.com/94520313
Key Takeaways:
If you are still wondering, rather unconvinced, as to how NFC-based mobile payment solution would be able to penetrate the market, read our another analysis that explains how NFC-based Mobile Payment Systems are ready to take over Retail. Besides Apple and Samsung, LG has also placed its bet on the market with LG Pay. Among all, it's Apple that has taken the lead position.
As most of the latest smartphone devices are NFC equipped, the mobile payment will soon go through a revolutionary shift where a majority of consumers will prefer NFC-based mobile payments. OTT (Over The Top) players like Google and Microsoft who are offering the service, must increase their security measurements to make sure they stay competitive.
The other leading regional OTT players offering mobile payments must see NFC mobile payments as a gateway to the next generation of mobile computing. They should start working in the direction to deploy and offer NFC-based payment solution to their existing customers.