The APAC region – Indonesia, Singapore, South Korea, Hong Kong, China and Japan – has its own choices and tastes. The people here share content for different reasons than other socially active users across the world. These findings have been derived from a recent survey, conducted by Branded.Asia, about sharing content across social media platforms. China and Hong Kong based users were found to be the most active sharers, while the Japanese were found to be least active in this region.
Educational Content More Popular Among Social Media Users In Asia
Users across China, Hong Kong, Japan and South Korea were more likely to share educative or informative content while entertaining and funny content was found to have more takers in Japan and Hong Kong.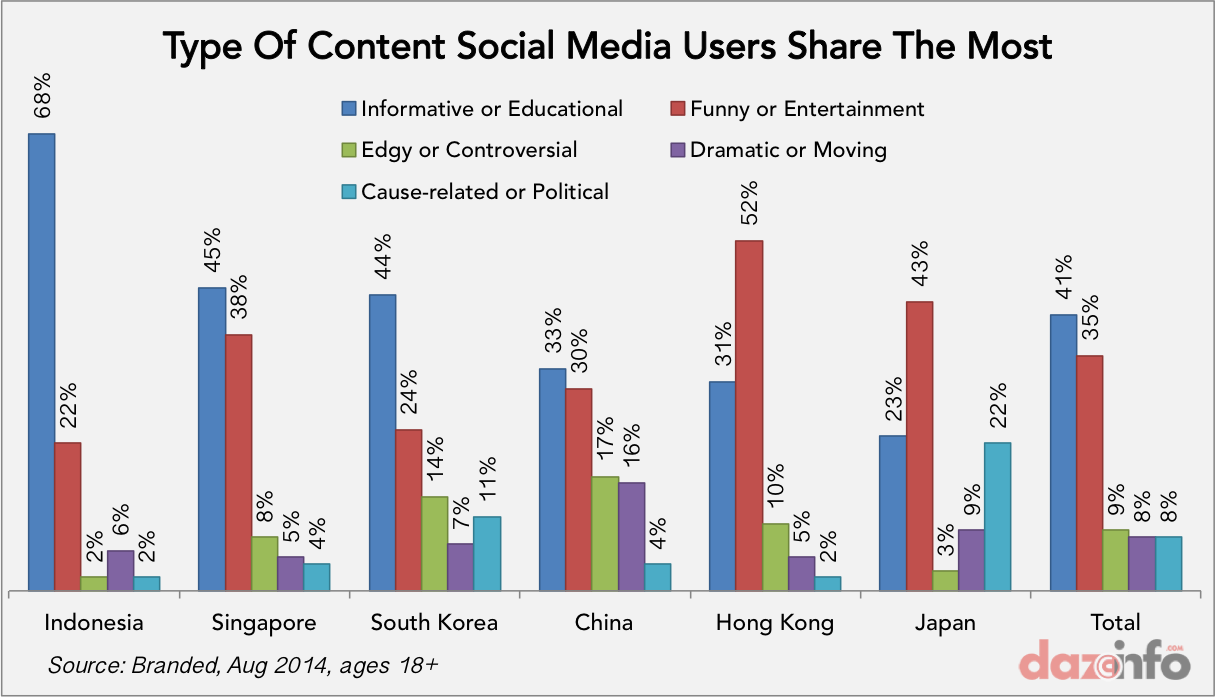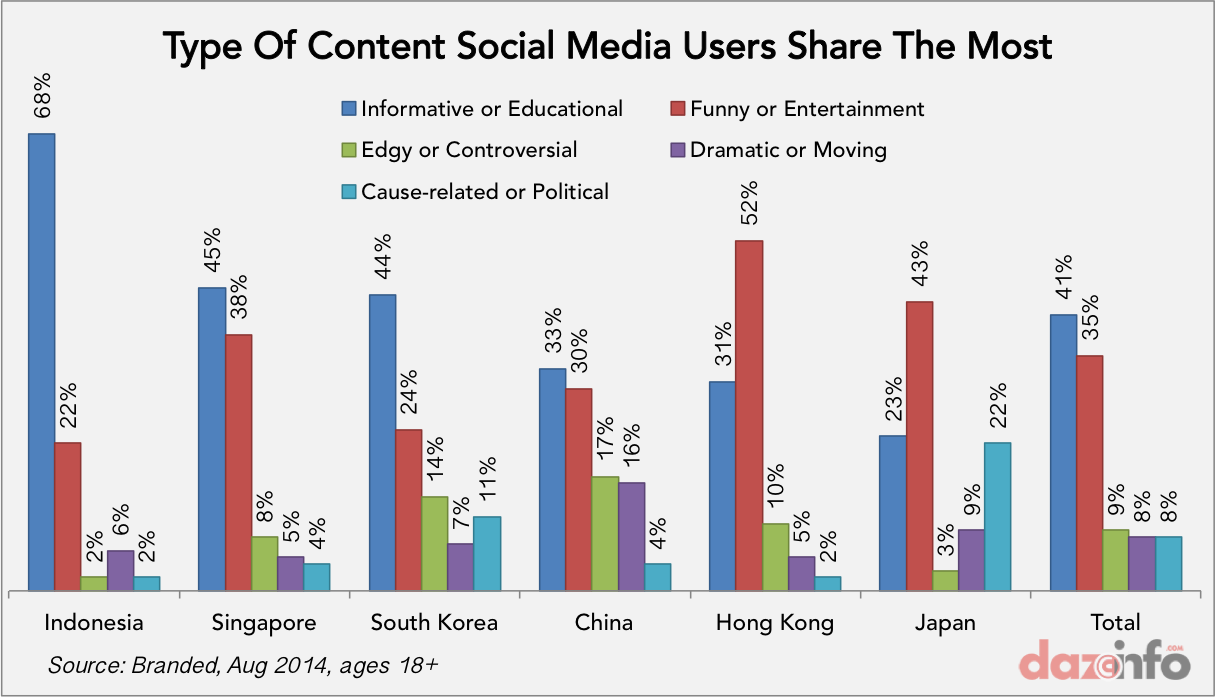 This clearly indicates one thing – companies and content marketers who intend to reach out to prospective buyers or markets using social media sites in the APAC region will have to go in for a judicious mix of informative content with high doses of entertainment and humor thrown in.
Users Shy Away from Sharing Political or Dramatic Content
While the Japanese platter does seem to relish political or cause related content as well, going by the findings of this survey, it is not likely to get shared in Indonesia, Singapore, Hong Kong and China.
Controversial and offensive content is also, by and large, avoided except by users in China and South Korea (17% and 14% respectively) who do show some love for it on their social sites.
The appeal of dramatic or emotionally charged messages is highest in China, with 16% of the users tending to share such content. The appeal of such content to social media users its appeal to the rest of the region is negligible.
Brand Engagement
Waggener Edstorm had, in January 2014, carried out a survey in the region to find out how consumers here engage with brands and branded content, in a bid to study online consumer behavior and found that 78% of the users in the APAC region, click on ads to know more about products and services while 74% watch out for better deals and offers on social media sites. 68% of the respondents share the information about products and services and buy-worthy deals with their friends.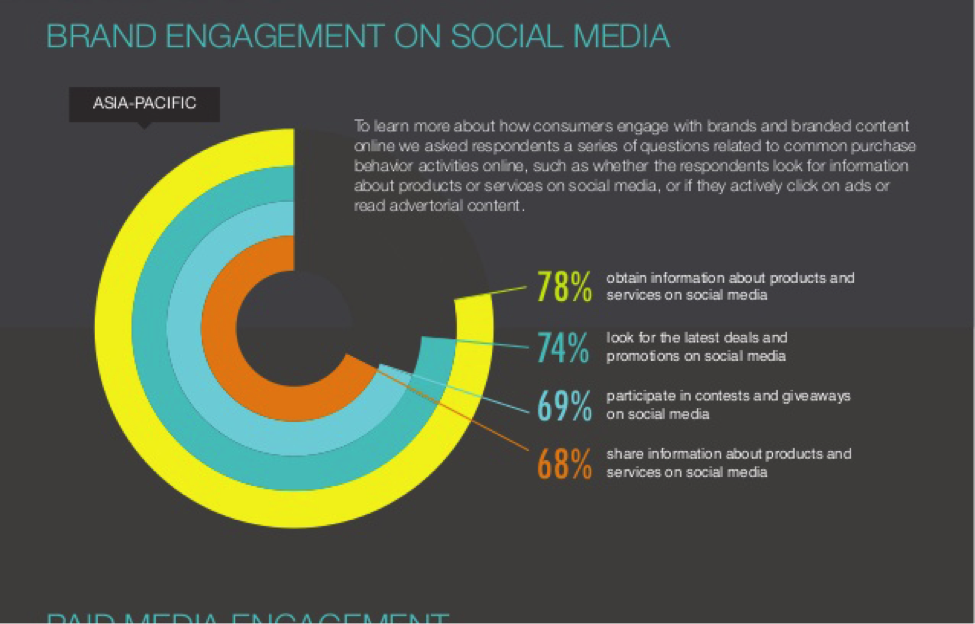 This is in sharp contrast from the global average what [email protected] and SurveyMonkey had found out in an online survey in which they questioned 6,500 people from 16 countries; less than one fourth of social media users who do watch branded content at various social sites share it.
This probably underlines the difference in social media user-behaviour across developed and emerging markets. Another key finding is that the source of the content makes little difference as long as the users find the content useful and/or funny.
Similarly, content volume did not seem to put off users in the region. Only 14% Indonesian users and 13% Japanese users cited too much content as the reason for them to act negatively.
Globally speaking, almost 75% of the consumers rated the quality of branded content to be low or average, but the APAC users did not seem to mind what source their content came from as long as they had something interesting or useful at hand.
Infact, Asian markets (27%) say they are more likely to use content from established media outlets as a way to share their own perspective, compared to that of their European counterparts (19%).
At a time when social media and content sharing is influencing consumer decisions more than ever before, content producers and marketers will find this information very useful.
Why We Are Talking About the APAC Region in Particular?
With 52% of the Earth's surface area and 40% of the world's population, understanding the consumer psyche and their social behavior in the APAC region is going to be crucial for the success of any global entity. It is also one of the most economically dynamic regions of the world, accounting for 44% of global trade and 53% of world real GDP in purchasing power parity (PPP) terms.
Nearly 46% of internet users globally are in Asia-Pacific region. China and India are the two of the world's largest countries by the number of Internet users. Interestingly, these are also the two of the top three largest countries by the number of social media users. Therefore, tracking the sentiments and sharing behavior of users in Asia Pacific can help to understand the content engagement and the popularity of social media users worldwide.
This was obviously one of the reasons why Mark Zuckerberg decided to visit the APAC countries of Indonesia, South Korea and Japan after he visited India earlier this month with a hidden agenda.