Singapore has become a hub of technological innovation and digital transformation, but the increased risk of cybercrimes comes with that. As a result, the country has been hit by a growing number of cybercrimes, with young adults aged between 20 and 39. According to the latest figures from the Singapore Police Force (SPF), the number of scam and cybercrime cases in Singapore hit an all-time high of 33,669 in 2022, with a 25.2% YoY increase.
It is worth noting that scams accounted for a whopping 94.2% of all cybercrime-related cases reported last year. The number of scam-related cases in Singapore increased 32.6% YoY in 2022, totalling 31,728. The total amount victims claimed to have lost through all scams was S$660.7 million in 2022, a 4.5% increase from S$632 million in 2021.
The rise in online crime highlights the growing need for more extraordinary cybersecurity measures and awareness to protect consumers and businesses.
Types of Scams in Singapore
Phishing, job, e-commerce, investment, and fake friend calls were the top five types of scams reported in Singapore last year. These top five scams totalled 23,565 in 2022, accounting for 74.3% of all scams used to deceive victims.
Phishing scams topped the list with 7,097 reported cases in 2022, up 41.3% from 2021. Nearly half of the victims (49.8% to be specific) were aged between 30 and 49.
Scammers usually use emails, text messages, or phone calls to deceive their targets. For example, they pretend to be officials or trusted entities to convince victims to reveal their personal information, such as bank accounts or credit card details. Scammers then used the data to carry out unauthorized transactions.
Another main highlight of the report was the E-commerce scams that continued to be among Singapore's top five scam categories for four consecutive years. As the adoption of the Internet and smartphones has grown in the last five years, so has the number of cybercrime. Surprisingly, the number of e-commerce scams in Singapore surged 74.5% YoY in 2022 to 4,762. Additionally, the total amount reported to have been defrauded through e-commerce scams increased 261%, from just $5.9 million in 2021 to at least $21.3 million in 2022.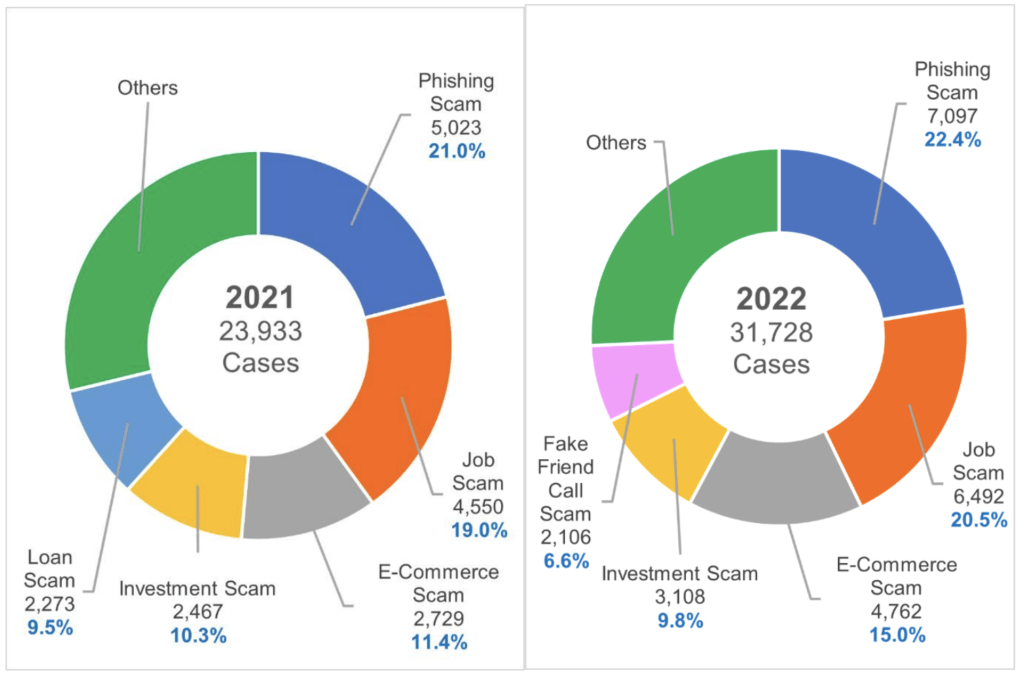 More people are coming online to shop for clothes, groceries and electric items from e-commerce websites/apps than ever before. Unfortunately, in these reported e-commerce scams, the victims typically do not receive the goods and services they paid for. Popular online marketplace Carousell accounted for 89% of e-commerce scam cases.
The methods used by scammers have also evolved, with messaging, social media, and online shopping platforms being the most popular channels used to contact their victims. Among the cases where scammers used messaging platforms to get victims, WhatsApp was the top choice in 56% of the scams, while 36.1% used Telegram.
On the other hand, Facebook was the most commonly used social media platform to contact victims, accounting for 59.6% of incidents last year, followed by Instagram at 34.2%.
Who is more likely to fall for scams?
The SPF report highlights that young adults are the most likely to fall for these scams. Young adults aged 20 to 29 and 30 to 39 made up 26.7% and 26.8% of all scam victims, respectively. Scammers typically turn to social media, messaging, and online shopping platforms as modes of contact, where most victims in these age groups fall prey to job, e-commerce and phishing scams.
Adults aged 40 to 49 and 50 to 59 made up 19.2% and 11.8% of the total number of scam victims, respectively.
On the other hand, elderly people aged 60 and above made up 8.8% of all scam victims reported in Singapore last year. Roughly 22.7% of this age bracket fell prey to phishing scams, 14.2% to fake friend call scams and 10.9% to investment scams.
Actions taken against scams and cybercrimes in Singapore
To combat growing cybercrime cases, Singapore set up the Anti-Scam Command (ASC) last year to unify critical resources into a central unit, including scam investigation, incident response, intervention, and enforcement. It comprises the anti-scam centre and various investigative and enforcement branches within the Police.
According to the SPF, over 11,100 targeted scam victims were alerted due to interventions conducted by the ASC last year. In a separate incident in May 2022, the ASC partnered with DBS, a local bank, to recover $11.5 million, the largest sum ever retrieved from a single scam. The victims in this incident were involved in a business email compromise, where the scammers pretended to be the victims' clients. As a result, the victims were deceived into making transactions amounting to $15.5 million to DBS accounts.
The government has urged the need for shared responsibility in preventing online scams following a massive phishing scam involving OCBC Bank customers, resulting in losses totalling S$13.7 million ($10.18 million). As a result, several measures were introduced to beef up local banking, and communications infrastructures, including a "kill switch" banks, must provide to enable customers to suspend their accounts in a suspected breach.
Local mobile carriers terminated over 6,500 mobile lines, and over 22,800 WhatsApp lines were believed to be used for scams last year. In addition, the ASC worked with social media and e-commerce platforms to remove suspicious accounts and advertisements. This month, Singapore started tagging SMS messages from organizations not registered with Local ID as spam and explored measures to combat online scams.
Singapore has seen a significant surge in scams and cybercrimes, with young adults being the most vulnerable group. The government has taken proactive measures to tackle the issue, including establishing the ASC, and is exploring further steps to prevent online scams. However, it is also essential for consumers to exercise caution and be vigilant when conducting online transactions to avoid falling prey to these scams.