What started off as a giant platform for books two decades back has now become one of the biggest and most formidable online shopping portals which has the potential of catering to almost all human needs- from the bare essentials to the esoteric with the click of a mouse. At the most competitive of prices. And delivery periods which could put most rivals to shame.
Yes, we're talking about Amazon.com Inc. (NASDAQ:AMZN).
Like a true strategist, Amazon has positioned itself into the market by not eating away its profits, but by plowing a substantial part of them into improving and expanding. And getting so big that is has become almost synonymous with the word shopping.
For most people, buying an article online means logging in to their Amazon account. Just like searching for information online means 'Googling' to most of us.
Which is probably why the head of the search engine giant, Eric Schmidt, stated on Monday that he sees the e-commerce giant Amazon as its most formidable rival.
"Many people think our main competition is Bing or Yahoo. But, really, our biggest search competitor is Amazon," he said. "People don't think of Amazon as search, but if you are looking for something to buy, you are more often than not looking for it on Amazon".
He also expressed concerns over Google's dominance in the market, saying it was under constant threat from upstarts and innovators.
"Someone, somewhere in a garage is gunning for us. I know, because not long ago we were in that garage," he said. "Change comes from where you least expect it. The next Google won't do what Google does, just as Google didn't do what AOL did."
Coming back to Amazon, it has now reached a level of market dominance which is suggestive of one word: MONOPOLY.
Now, while the word 'monopoly' would conjure up images of blood-thirsty, stingy, parasitical creatures which would get rich by exploiting someone else's weaknesses, monopolists like Amazon and Google Inc. (NASDAQ:GOOGL) lead by example. They are the torchbearers of this new generation monopolists who wouldn't mind bending on their knees to give their best shot to their users and towards enhancing their user experience. These new behemoths are happy (while laughing all the way to the bank) while providing the best of bargains to their ever expanding and loyal fan-base.
Just like a diehard Google user is not likely to search over Yahoo! or AOL, it is highly improbably that an Amazon user will shop elsewhere. No matter what he/ she is looking for- kids' diapers or eBook readers. Pepper mill or Shower curtains.
Over the last 20 years, Amazon has become rattlingly huge. From producing its own TV shows to producing its own line of cell phones to selling server space to the CIA.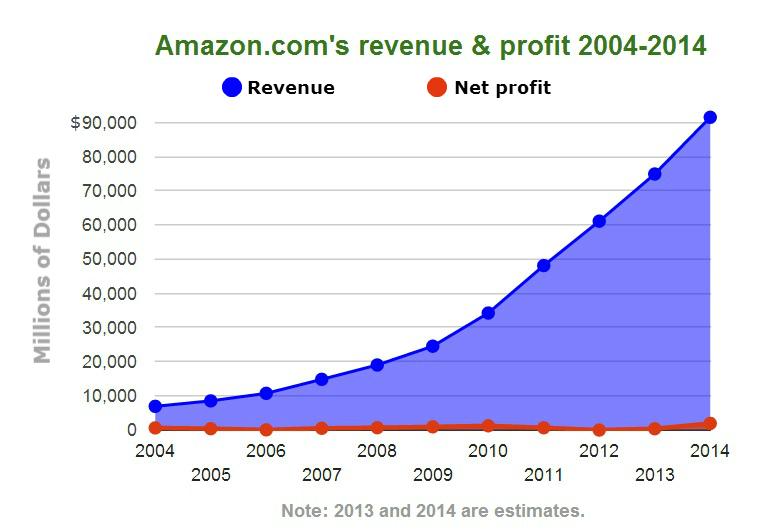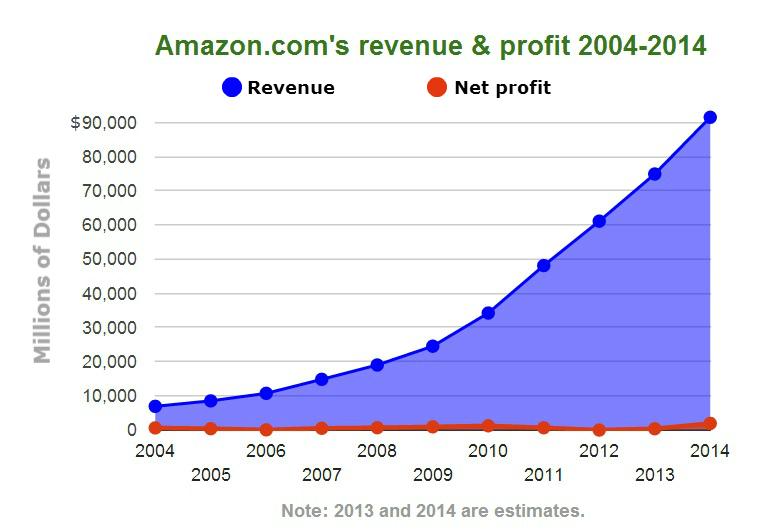 Two internet technology dependent companies-both market leaders. Both of which have come out very far from their core businesses, draw comparisons which are inevitable. Working as they do, in overlapping user bases, their interests have often collided with each other's though this brush-up has never been as pronounced as it has got in the past few months.
It began with Amazon following in Google's footsteps and coming up with its own line of mobile phones. It later also allured an erstwhile Google Glass worker to work on an undisclosed project.
Not only this, the e-retailing giant which was earlier twitching to acquire Twitch, a game streaming service (dubbed by industry watchers as the "next YouTube"), in which Google had shown interest in August 2014, has gone ahead and acquired the same for an astoundingly huge $970 million. Twitch will help Amazon get an entry into the video advertising market, again threatening YouTube.
Amazon has also, much like Google, started using its huge databases to serve targeted third party ads to users. The company is "developing its own software for placing ads online that could leverage its knowledge of millions of web shoppers," the WSJ reports.
Amazon has also suggested something vaguely similar to the Google Adwords program which allows advertisers to buy sponsored links and its AdSense network.
Gearing up to the challenge, Google announced its online shopping and shipping service which it has been testing for a few months in Northern California and parts of New York and Los Angeles. The service, which will be called the Google Express, has now been extended to three more American cities. That leaves no doubts about the fact that Google is trying to hit upon Amazon's core business as well.
eMarketer predicts a 30% market share of online advertising for Google in 2014, with Amazon is getting a mere 1%. That, alone, accounts for 90% of Google's earnings.
What conjures up a comparison between the two giants is their willingness to invest heavily to become market forces.
Though Schmidt has every reason to be worried, it will be a long time before Amazon emerges as a major threat to Google. Though the retail giant as been running ads on its own homepage and other sites owned by their flagship, it looks like a fledgling chick in front of the mammoth like Google.