The fledging domain of social business is gradually expanding its roots in the recent times and is drawing an increased attention from almost every sector. Lately we've been discussing loads on the increased spendings of the marketers on the social ads all across the globe. But these dispensers are now not only restricted on this social pulpit for promoting and propagating  their products and services. They have also started to utilize it for transforming their organizations by creating a value i.e. Measuring their efforts put in for the social business.
Almost an year back we had analyzed a report titled "The Social Business" and now in a recent study report, published jointly by The MIT Sloan Review and Deloitte, the initial highlighted beeline seems to be finding its course in quick succession. According to this new report, there has been a substantial increase in the proportion of the number of marketers who have started to apprehend the importance of social business. Starting from 52% in 2011 to 74% in 2012 this trend is continuously upsurging  and adding to it 90% of these entrepreneurs see its future prospect on a three-year time span.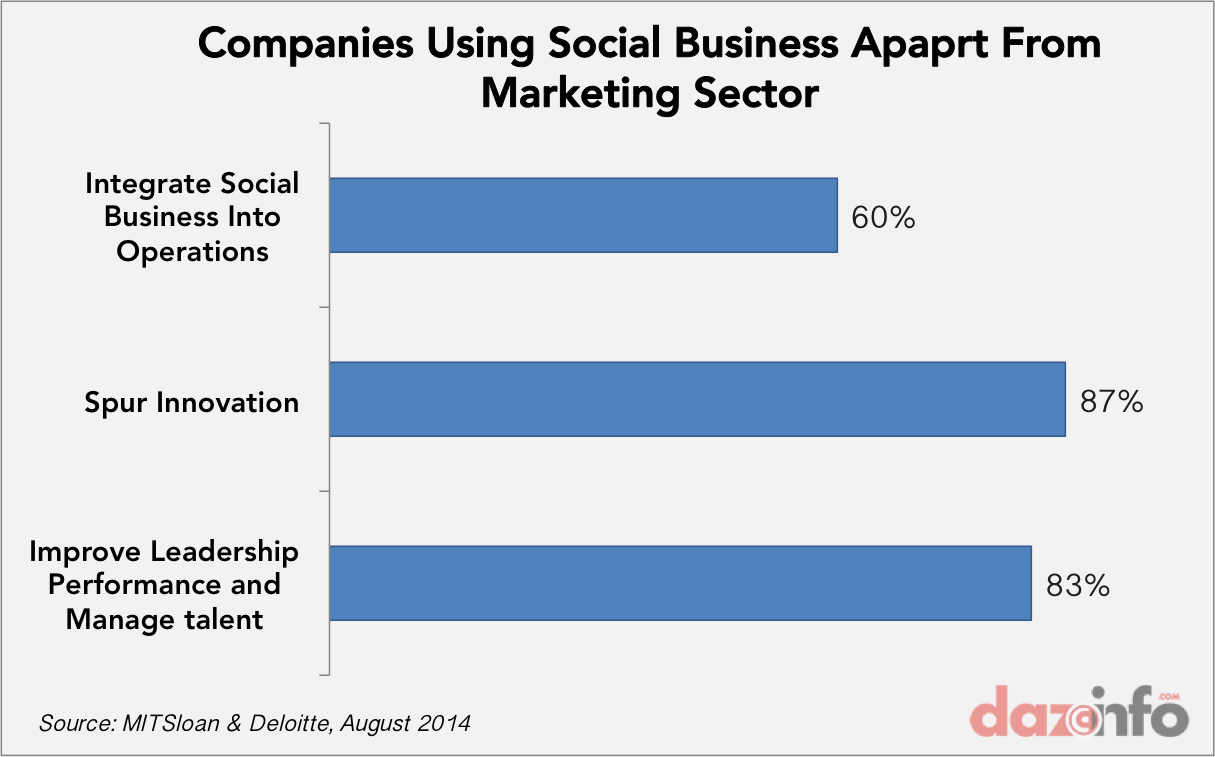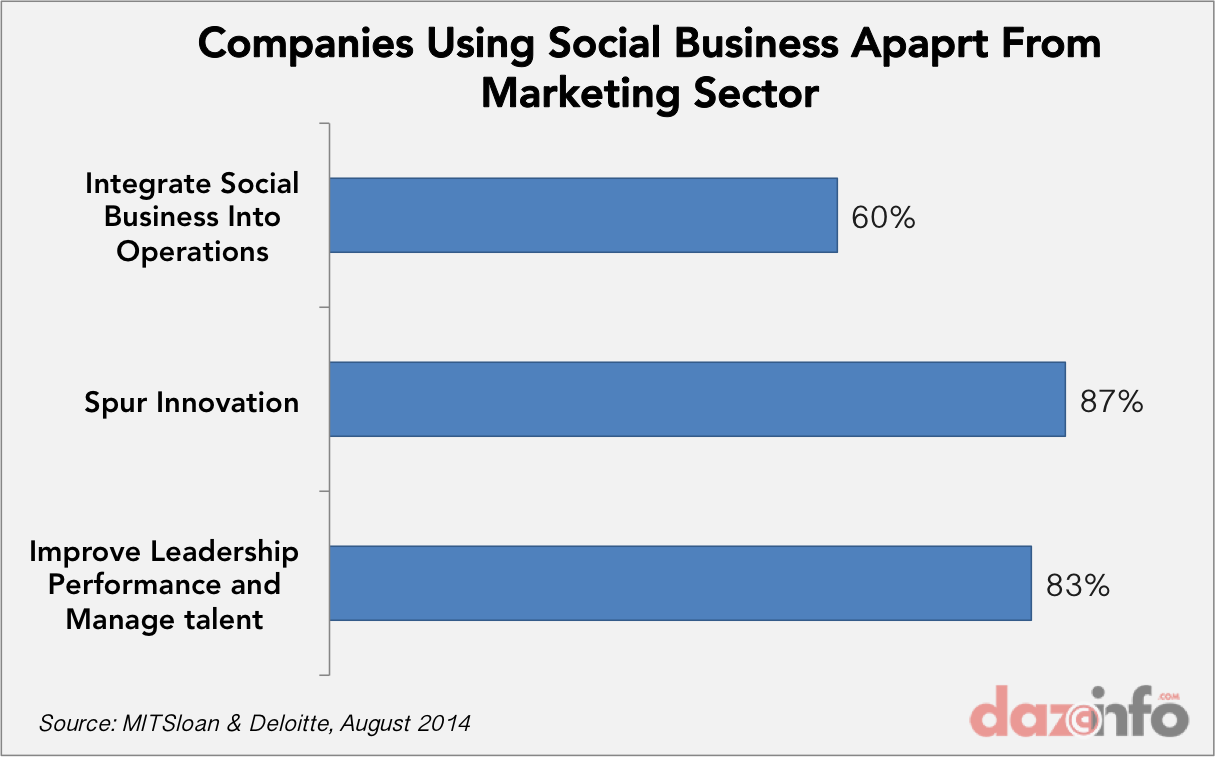 The idea of Social Business
Social business en masse social media (Facebook, LinkedIn), social software (wikis, blogs) and tech based social networks (employee and community forums) to establish connection between people, information and assets and the ontogeny of this is directly proportional to the success levels a company can reach. The three basic drivers to a company's increased level of social business maturity as outlined by the report are:
Analyzing social data: About 80% follow this practice and even 67% integrate it for further reference to enhance their social business avocations.
Having an authoritative vision about succeeding through social business: More than 90% agree to this fact that their leaders believe in this notion.
Taking it beyond the marketing realms to harness its

potential

: 87% use it to spur innovation, 83% to improve leadership performance and manage talent whereas 60% integrate social business into operations.
The recent two annual surveys conducted by the study researchers also revealed that social business has gained an equal importance among both the B-to-B (Business to Business) companies well as to B-to-C (Business to consumers) companies which was its initial blooming zone with a ratio of 60 to 68 on the positive impact of social business outcomes. Working On these grounds the main focus of these B-to-B firms is to incorporate social media both within and outside their organization by sharing proficiencies, collaborating with the trade partners and keeping their product database up to date. The best example for this in recent times is the Stackoverflow which has its own online developer community for providing better programming standards with the help of shared ideas.
The report also highlighted the relation between the impending employees and the social business value of a firm by disclosing that 57% of the assessed employees accepted to the fact that they preferred social business maturity also as one of the parameters while choosing a company and this data was mainly consisted among the employees aged between 22 and 52.
The socially maturing companies are not simply socializing, but are efficaciously using this data to provide optimal business values. The core logic behind this is to improve efforts and find insights which wouldn't have been observable otherwise. This basically involves
Surveilling

data and absorbing the Social environment which includes the recognition of opportunities for the change and impact.
Integrating social business data into systems and processing it.
Facebook Inc. (NASDAQ:FB),  for example, is joining hands with other companies to help them integrate their data with knowledge from various online and offline sources which people share with it and generate a powerful enterprising insight for the marketers.
The barriers to success
The top three blockades to the success of social business have been fairly consistent, but their priorities keep on shifting from year to year:-
Abundance of the challenging priorities
Lack of strong entrepreneur case
Absence of an overall business blueprint.
Advancing ahead on the maturity levels
Enumerating certain additional efforts the companies need to extend their horizons from the "Likes" and "Clicks". For a matured social business level, they need to understand its full impact by employing financial and operational metrics. The leaders of the organization need to integrate these efforts because they are the actual resource providers and have the ability to communicate its importance in the organization. As the employees are seeking the help of social media to probe its working culture, hence the companies should  also not leave any stone unturned on the field of social business.