The self-destruction photo sharing app is now the third most widely used social app right after Facebook Inc. (NASDAQ:FB) and Facebook owned Instagram. A report by comScore mentioned that Snapchat has grabbed the third-position with 32.9% of smartphone penetration among the list of leading social media apps used by smartphone users in the US aged between 18 and 34.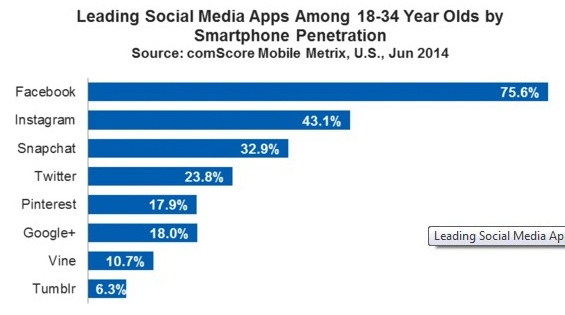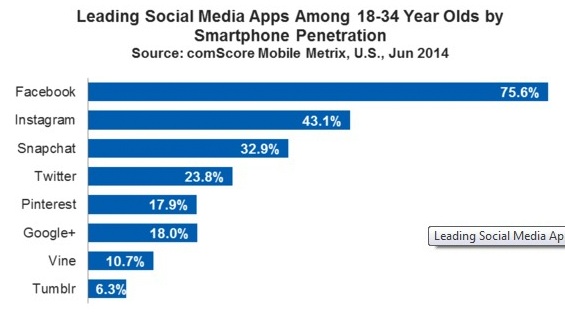 It seems that the Millennials just can't get enough of photo sharing. The rising popularity of Snapchat is because of the ease of sharing photos without being bother about illegitimate access, use or presence in the future. This tactile feature is found to be very popular among the Millennials as they can share photos or videos, called 'snaps', on the go, not worrying about how good or bad it looks or the fear of being commented upon as it will be deleted automatically from the recipient's phone after a particular duration. The only way to respond is by replying with a photo 'snap'. The later Introduction of 'my story' section to the app lets its users string together, stories of friends in the past 24 hours after which they will be erased. These stories are now viewed more than the snaps which may be the sole reason of its popularity.
According to Statista, the number of total photo messages sent in Snapchat reached 700 million and 500 stories last month.
Although Snapchat is quite popular, it is yet to reach the elder population of the internet. People above the age of 25 are yet to fit into the usage of the app.  With the majority of Snapchat's user base being only the people of age between 18-24 and because the app is popular enough in the US driving in huge amount of traffic, its main priority now must be to attract the segment of mobile internet users who are yet to experience Snapchat and still using traditional mobile messaging apps like WhatsApp or WeChat. However, this might be hard initially as the app doesn't offer anything beyond photo and video sharing service, which the matured population would not find so entertaining. However Snapchat should try tapping into this audience of above 25 years of age by making sure that their app somehow would benefit the small population of users well.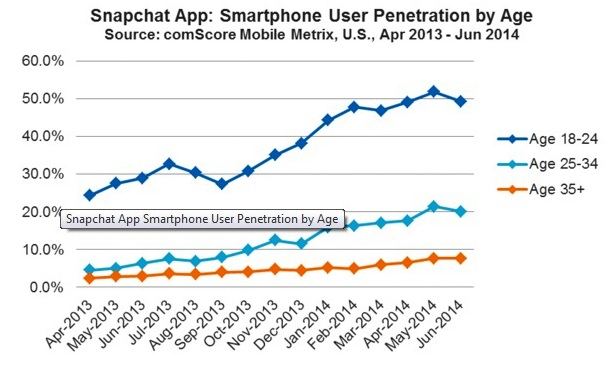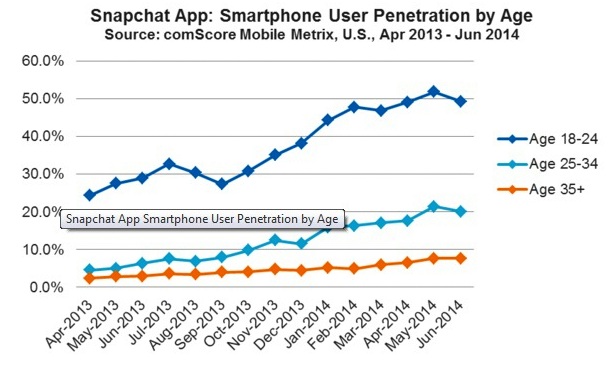 Snapchat

has a lot in store: Brands are now turning to Snapchat
Brands now use Snapchat for marketing their products. Taco Bell, Karmaloop and Audi were the few brands that garnered success through Snapchat. Brands make friends with their customers and send snaps which gives a preview of their products and services. With the young audience always hooked to Snapchat, brands now use snaps to capture the attention of users by attractive video snaps. The brand snaps creates a sense of excitement among the users, which makes the ads very effective. Audi's campaign using Snapchat was the biggest success of a brand in Snapchat. Within three days of Audi using the app, it had more than 10,000 followers on Snapchat. Audi's campaign received 100,000 views on Snapchat and 2,400 mentions on Twitter. Audi's fan following base on Facebook surged by 9000 and Twitter's by 2500. Because Snapchat is different from its counterparts due to erasable content media, marketers can use Snapchat to create ads that would be attractive, informative and erasable! This will surely create a sense of excitement in all the users so that they may want to compulsorily watch the snap ad before it is vanished.
Snapchat has not minted its share of money until now. In February 2013 Snapchat received US$13.5 million, which evaluated the company to around US$60 million. By mid July of 2013 the company was evaluated at US$860 million. Recent talks rumoured that Snapchat is up for US$10 billion valuation with Alibaba's investment, which did not materialise. However, the bid for Snapchat by Facebook for US$3 billion and by Google for US$4 billion, which was also turned down eventually, will have us think that Snapchat might be up for something big.
With a growing user base and net evaluation Snapchat would be the platform for brands to market ads and popularise their services. A quick snap of the Brand's product is all that is needed. The traditionally different platform will avail users to give their feedback through snaps only, be it negative or positive.