Facebook Inc. (NASDAQ:FB) owned photo sharing app, Instagram with over 150 million users, is evolving at a steady pace to provide better user experience and monetize itself to provide returns to its parent company's investment. Earlier it had announced a roll out of ads in the form of soothing and attractive photos by brand advertisers, which could occasionally appear in the user's Instagram feed. Now, the world's fastest growing photo sharing app has announced a messaging service called Instagram Direct, an extension of the app by which users can now privately share or message photos with their friends or their desired destination users/group of users. Currently, Instagram Direct is available for iOS and Android powered devices.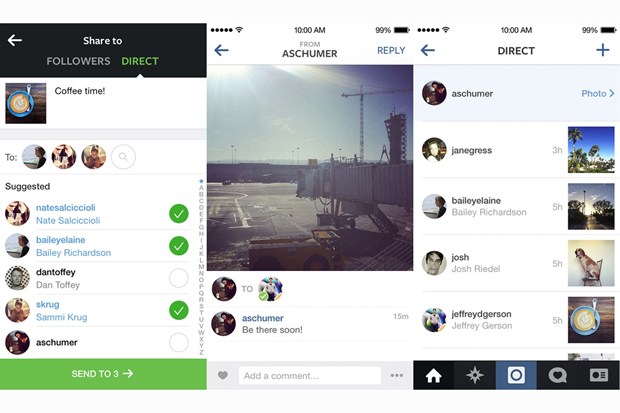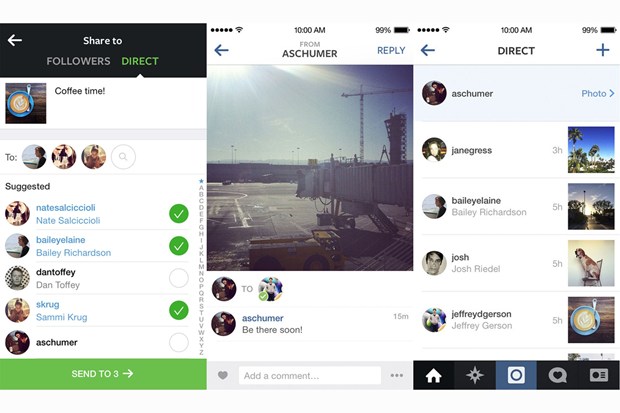 Is Instagram Direct Feature Worth A Shot Amidst The Booming Alternate Messaging Services?
Instagram Direct can be described as a move to develop more personalized communication means, a more user-to-user based connector. Instagram users who wish to share their photos and expect engagement only by certain users or groups of users (maximum 15) who are in the photo or might find it valuable to view or engage with the photo, can do so by switching to Instagram Direct tab within the user's profile.
Instagram Direct has evolved around the idea that a user might sometimes, not want certain photos or videos to remain public and share it with a desired set of users. Instagram Direct is more interesting because users can exchange photos without following each other. If a particular user whom you don't follow sends you a picture, a notification pops up as a pending request, the user can then accept the request and view or engage with the photo. However, the pending request is limited only to a single messaging transaction and if the user is expecting further updates or access the entire stream of photos, he should follow the sender. Instagram users can also use the Facebook Connect search to find Facebook friends on Instagram, but the two groups and services are still separate. Direct messaging may be useful for brands to handle customer service issues on a one-to-one basis by visual conversations through a video or image templates of standard replies.
The Instagram Direct initiative is probably an attempt by the social media titan Facebook, as the personalized messaging services hae gained importance. But there are a lots of doubts regarding the success of this move by Instagram amidst the booming messenger app industry. WhatsApp, WeChat, Viber, BBM, Nimbuzz and other mobile messenger apps which host more than 1.3 billion users has numerous other features in addition to Instagram's photo sharing option. Teens are widely getting attracted to messenger apps as they promote a better social platform to interact than Facebook, also their usage is very easy and more economical. There are very minor chances of Instagram surpassing above messenger app giants in near future.
Is Instagram Direct A Move To Challenge Snapchat?
There are many rumors regarding the Instagram initiative as a move to evade into Snapchat's territory, as the social media biggie (Facebook) failed to acquire Snapchat in month old talks. But there are a few major differences between the two. Instagram is limited to mere photo sharing, whereas Snapchat is known as a service which users, especially teens, can even use when they have nothing to say. Snapchat is a tool to turn the frustrating and boring moment of the day into a funny one by sharing a funny, random hand art or picture with texts.
In Snapchat user can draw a random meme, free hand art, goofy images, or even send any censored images to the target users and the image self destructs from the inbox in about 10 seconds. In Instagram, the sent photos remains permanently in the inbox of users and can be viewed anytime in future. For users who wish to capture precious memories within images, provide more attractive filter effects and wish to view them in future, Instagram Direct can prove to be quite useful. Whereas Snapchat is more useful for those who wish to have random pointless conversations with their friends or colleagues via options other than images. Also, in Instagram a user cannot mark up photos and videos with avatars, meme text or a digital magic marker. Instagram's main sharing system is same, only the audience or viewers of photo posts are more specific and related to users.
Is Instagram Ruining Its Amazing Stranger-To-Stranger Social Connector Tool?
Facebook and its properties like Instagram have hardly introduced any feature with zero intentions of monetization. As of now, Instagram Direct has been claimed as a move to make the social media platform more personal and there were no hints of monetizing the platform with ads. The user experience is likely to deteriorate if ads of the Instagram user feed are introduced into the private messaging section.
Instagram, since its inception 3 years ago was known as one of the fastest growing social media platforms, even faster than Facebook. Social media analysts claimed Instagram is a bound-to-flourish social interaction platform as it dominated stranger-to-stranger social photos, meaning a product which connects people who don't know each other. Facebook and most of the other social media sites dominate friend to friend interaction. But Instagram was born as a social connector for strangers with similar interests. Users who engage on the platform are basically photo lovers and they actively browse and engage for various attractive and soothing images via Hashtags.
The latest Instagram Direct, which might persuade users to utilize the platform for sharing images more privately is bound to cease the social discovery feature of Instagram. It is not just a pointless and futile effort by Instagram to tackle rival messenger apps but also a move which might harm the main essence of Instagram.
Source: Instagram Blog